Here's How Much St. Vincent Is Really Worth
Amanda Edwards/Getty Images
Musician and producer St. Vincent — born Annie Clark — is a bona fide rockstar, so it makes sense that she would have a rock star's bank account. Per Celebrity Net Worth, St. Vincent today has amassed a fortune of a whopping $6 million. 
So how did she get so wealthy? The musician got her start as a member of the band Polyphonic Spree, before going solo and releasing her first album Marry Me in 2007 (via Dallas Observer). Over the years, St. Vincent has released her own critically acclaimed albums — most recently Massseduction in 2017 — as well as accumulating serious cred in both the indie, rock, and pop worlds via collaborations with the likes of David Byrne, Dua Lipa, and even Taylor Swift (via The Guardian).
St. Vincent has also found her footing in the fashion world. In 2017, she appeared in the Tiffany & Co. ad campaign "There's Only One," alongside the likes of Elle Fanning, Zoë Kravitz, Janelle Monáe and more (via Pitchfork). And in 2020, St. Vincent announced that she was bringing some of her unique style that she usually brings to the red carpet to the athleisure line Outdoor Voices, with a collaboration called STV.OV (via NME).
"I am very excited to announce my clothing collaboration w/ @OutdoorVoices!" St. Vincent wrote on Twitter. "It may come as a shock to some, but team sports & exercise have been a massive part of my life since I was young."
Musical talent runs in St. Vincent's family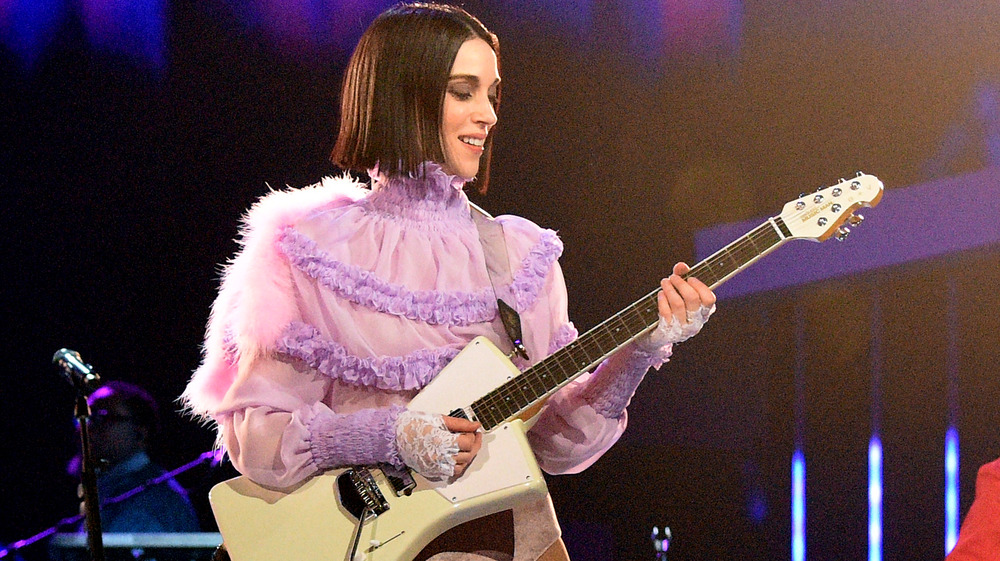 Kevin Mazur/Getty Images
Seemingly one reason why St. Vincent chose to collaborate with Outdoor Voices is because the female-driven company is based in Texas. St. Vincent herself was born in Tulsa, Oklahoma, and raised in Dallas, Texas (via Pitchfork). Following her parents' divorce, St. Vincent re-located with her mom to Dallas. Eventually they became a blended family with her stepdad and two stepsisters. While St. Vincent is private about those years, she did tell Pitchfork, "Pain and feeling unworthy is just as good a motivator of success as feeling like you're entitled to everything."
When St. Vincent was 15, she got her first taste of rock-and-roll stardom when she performed "The Wind Cries Mary" by Jimi Hendrix at a show in Dallas. Joining the audience as spectators were her aunt and uncle, Tuck Andress and Patti Cathcart, also known as Tuck & Patti, world-famous performers in their own right. "Even at that early age she was able to go into an all-or-nothing performance mode," Andress told Pitchfork. "She was no more ridiculously outgoing than the average person, but when she was on stage she was like a fireball, even that first time."
Three years later, it was on to Berklee College of Music, and Annie Clark was well on her way to becoming the uber-wealthy St. Vincent we know today.