Mariah Carey Had This Surprising Response To Getting Her COVID-19 Vaccine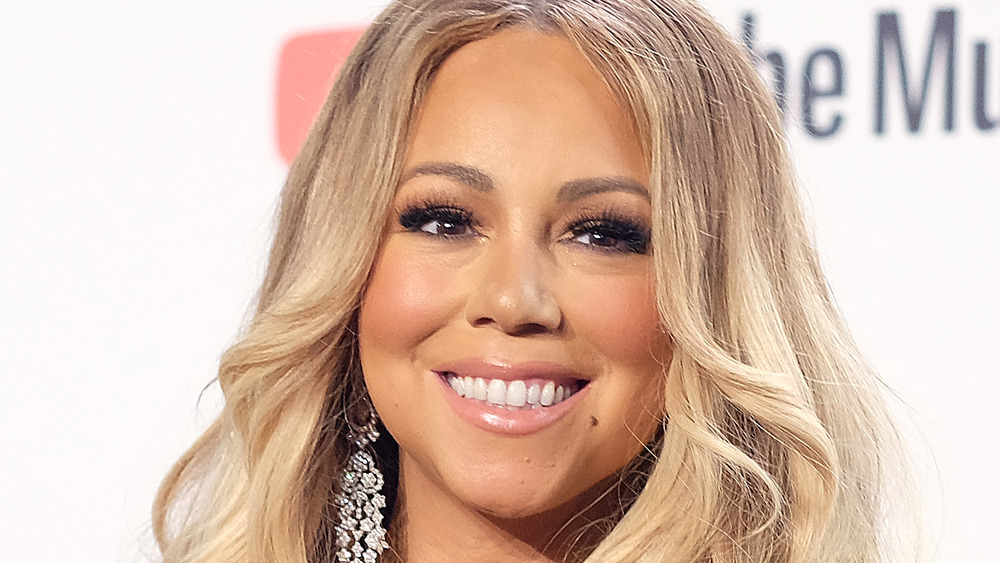 Matthew Simmons/Getty Images
Amid the ongoing coronavirus pandemic, celebrity vaccine videos are becoming a regular occurrence on our social media feeds. The latest megastar to share her vaccination experience with the world is the one and only Mariah Carey, who uploaded a clip of herself getting the shot to Instagram on April 3, 2021. 
In the video captioned "Vaccine side effect: G6," Carey said she was "excited and nervous a little bit" about receiving the vaccine. 
"Here were are, all the way from that first post, washing my hands with Roc & Roe in New York, trying to encourage people to really be safe," she said. "You know, we're still in this battle together." Later in the clip, the Grammy Award winner attempted to pose for the cameras with her hand on her hip. However, she was quickly told to relax her arm. "I'm filming, that's the problem, I'm in my filming stance," she quipped. 
Upon receiving the shot (with no blood following the puncture), the singer let out one of her staple whistle notes, before joking, "See? I've proven my point I am actually a vampire." Carey ended the video on a positive note, exclaiming, "We're all in this together as we've said. Love you much!"
Other celebrities have shared their vaccinations on social media
As Page Six reports, Mariah Carey is one of many famous faces to share the details of their COVID-19 vaccinations publicly. She joins with Steve Martin, Al Roker, Dolly Parton, and Amy Schumer who uploaded videos and selfies of themselves getting the shot to their respective social media accounts. 
The momentous clip came shortly after Carey celebrated her 51st birthday, which she calls her "anniversary," on March 27 (via People). In a heartfelt tribute post on Instagram, her boyfriend Bryan Tanaka shared a selfie of them with a loving caption that read, "Today is my favorite day. Happy Anniversary my love!" 
Celebrity admirers including Stranger Things actress Millie Bobby Brown, TikTok star Addison Rae, and Mariah's recent "Oh Santa!" collaborator, Jennifer Hudson, also sent the singer birthday messages. 
"Team Jhud pls help me wish @mariahcarey A big Happy anniversary you are truly the best ! And I know how much you love Jhud productions, so we want to say to you here at Jhud productions, we take care of our own and we do consider you and all your lambs our own !" Hudson wrote in an Instagram caption, referencing Carey's fans. "Lol we love u!"