Jill Biden's Recent Fashion Statement Has The Internet Divided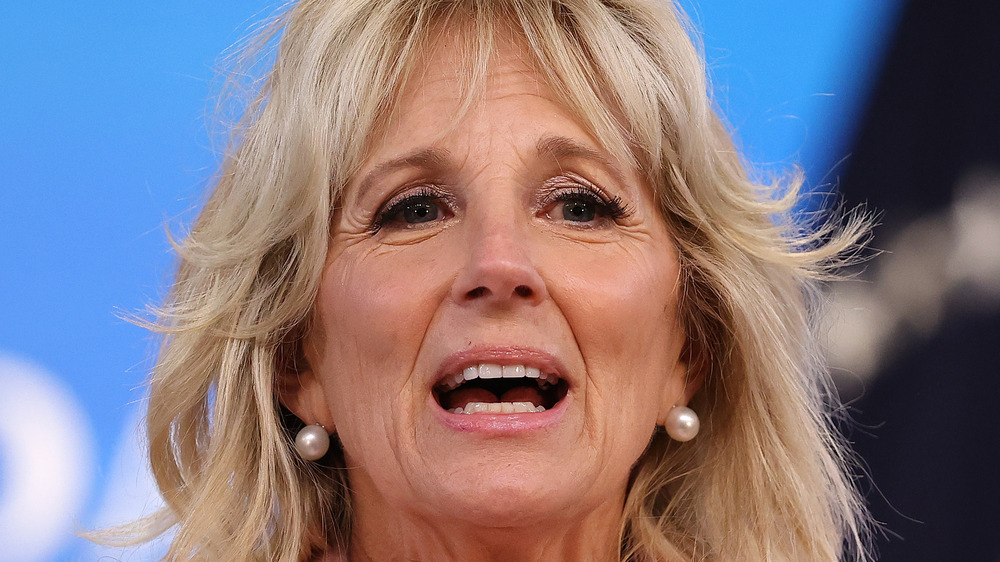 Chip Somodevilla/Getty Images
First Lady Dr. Jill Biden has certainly turned heads with her fashion choices since she entered the White House in January 2021. There was the time she stepped out in the most '90s of fashion accessories – a scrunchie – as she was picking up Valentine's Day treats for President Joe Biden (via Glamour). Now she's done it again, this time for stepping off Air Force One wearing an all-black outfit, a pair of patterned pantyhose and a pair of high-heeled ankle boots. 
InStyle says the getup was likely part of the First Lady's April Fool's prank aboard Executive One Foxtrot, when she pretended to be a flight attendant named "Jasmine" who handed out ice cream bars while hiding under a black wig. She later returned to the cabin after she removed her wig to reveal who she was.
While the prank went down very well with reporters, Dr. Biden's getup didn't meet the same reception in the battlefield that is social media, particularly with conservatives who pointed out that it was inappropriate for the First Lady to be dressed in what they called "fishnet stockings" (via Independent).  
Dr. Jill Biden's supporters explained fashion to conservatives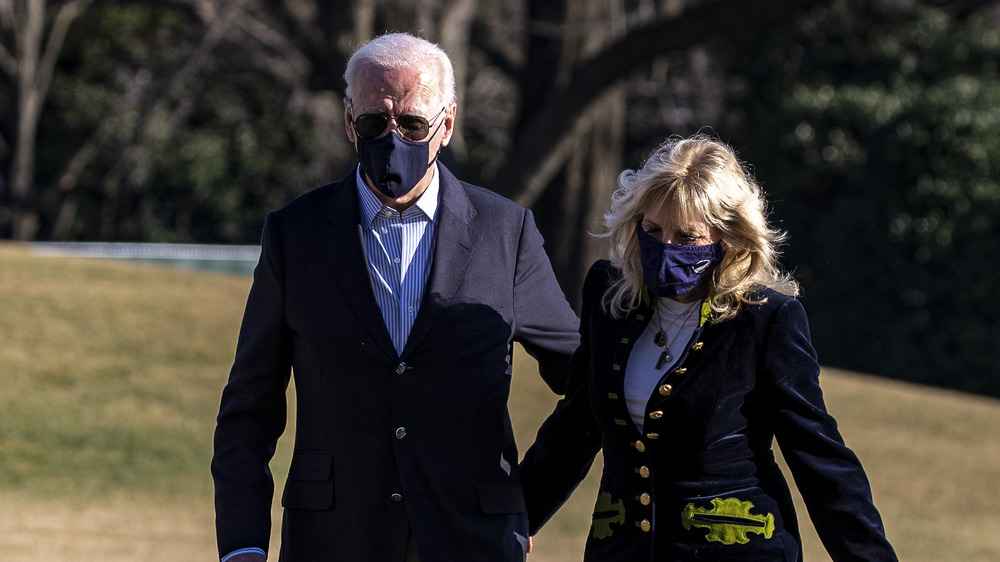 Tasos Katopodis/Getty Images
The internet was divided over the outfit, with Dr. Jill Biden's supporters pushing back on the criticism, which they felt was unfounded. Some were annoyed by the press' inability to distinguish between fishnet and patterned stockings. 
"Guuuurl, it's all over and I'm going to need you to join me in my outrage," raged one fashionista via Twitter. "And they keep calling them 'fishnets' which show exactly how NOT into fashion they are because every fashionista *clearly* knows the difference between 'fishnet' and 'patterned!'" 
Another fan wrote, "Dr. Biden's stockings are not fishnets end of story. Honestly I don't care what she wears I do care about her actions. I voted for joe Biden, no where on the ballot was Dr. Jill Biden's name. Although it could make WH more exciting if both were elected offices."
A Twitter user also reminded the internet that this type of outrage was not new. "There is absolutely nothing wrong with Dr Jill Biden's outfit or choice of hosiery, (which fyi, are NOT fishnets, but textured stockings — and she's rocking them!)," they explained. "But leave it to the repressed GQP to turn this into a scandal rivaling Obama's tan suit ..."