The Truth About Phil Mickelson's Wife's Cancer Battle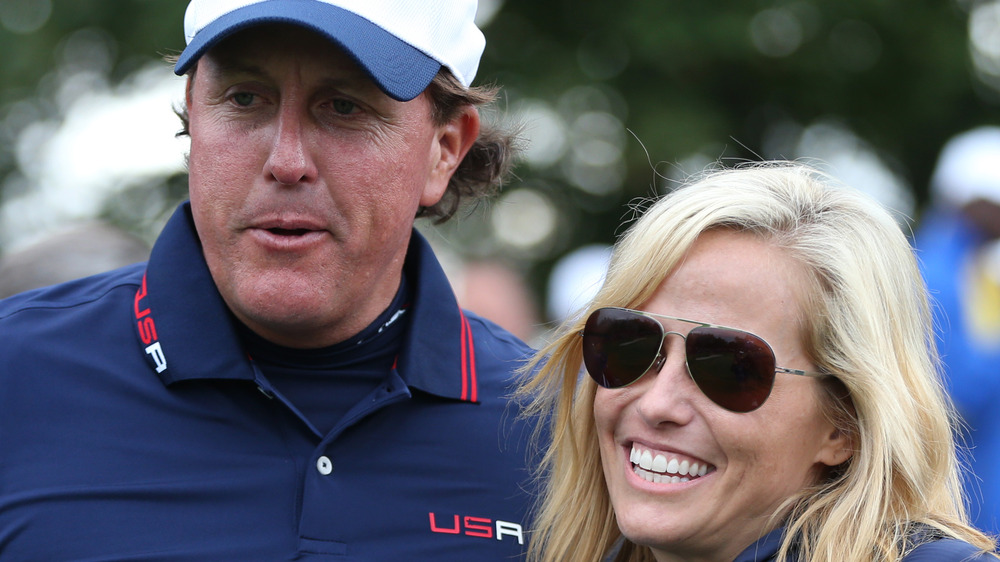 Ian Macnicol/Getty Images
Phil Mickelson is a professional golfer, a member of the World Golf Hall of Fame, and 44-time winner of the PGA Tour (via philmickelson.com). CBS Sports' experts predict that in the 2021 Masters, which will begin on April 8 — less than five months after the last tournament that was postponed because of the coronavirus pandemic — "his course knowledge will be disproportionately valuable" since he's been flushing his iron shots. 
As for his family, Phil has been married to his wife Amy McBride since November 1996. The couple shares three children: Amanda Brynn, Sophia Isabel, and Evan Samuel (via Golf Monthly). In 2004, the couple founded the Phil and Amy Mickelson Foundation with its main focus on "supporting a variety of youth and family initiatives."
Phil wrote on his website, "Family is our own number-one priority. Both Amy and I benefited by being raised in our own strong, loving families and now we're fortunate and thankful to be in a position to help others strengthen their own family bonds."
The two work to honor cancer survivors and raise awareness about cancer as well (via PGA Tour). It's a cause that hits home for the Mickelson family; in 2009, Amy was diagnosed with breast cancer. 
Phil calls his wife Amy a "supportive and loving life partner"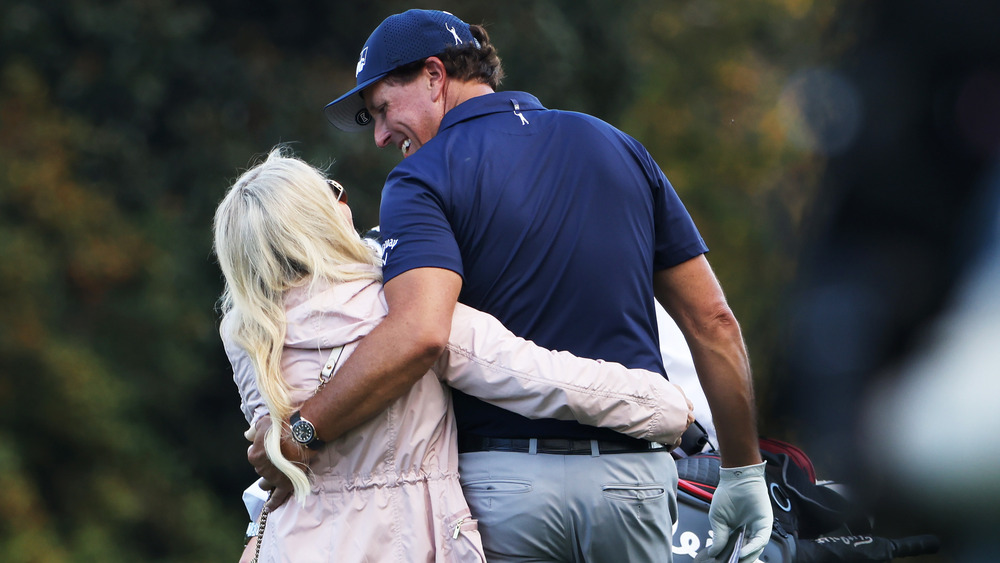 Jamie Squire/Getty Images
According to an article from ESPN, the breast cancer was discovered early, and they had "a wonderful team of doctors helping." At the time, Phil Mickelson stopped his participation in the PGA Tour (via Golf Monthly).
"Amy [Mickelson] is such a supportive and loving life partner," he wrote on his website. "She has always put me and our family first. Now it's time for her and her health to come first as we face this challenge together."
As reported by FanBuzz, the happy couple met in 1992 while attending college at Arizona State University. He was golfing (obviously) while she was a cheerleader for the National Basketball Association's Phoenix Suns. 
Following her beast cancer diagnosis, Amy faced surgery and chemotherapy. After battling for 11 months, she beat it. While the mother of three was not always able to watch her husband golf during those months, she was there when he won his third green jacket at the 2010 Masters Tournament.