Why This New Pic Of Donald Trump Has The Internet Buzzing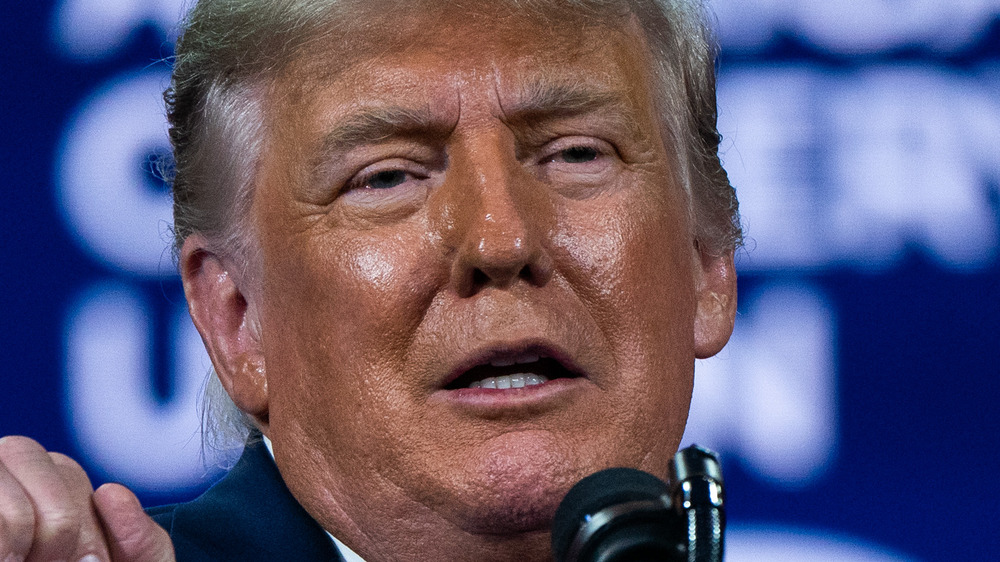 Bloomberg/Getty Images
Usually, saying someone has a "problem with the bottle" indicates that it's time to get help. In Donald Trump's case, however, it's another kind of bottle that's landing him in the headlines — in a way he didn't expect. Following the passage of new Republican-led Georgia voting laws that will make it more difficult for urban residents to vote (via The New York Times), a number of major corporations, including Coca-Cola and Delta Airlines, publicly spoke out against the legislation. Major League Baseball responded by pulling the 2021 All-Star Game out of Atlanta. This didn't sit well with the former president, who called on his supporters to protest with their dollars.
Through his senior legal advisor Jenna Ellis, he released a statement (via Twitter) over the weekend saying that "Radical Left Democrats" had a history of playing "dirty" by boycotting products out of principle. "It is finally time for Republicans and Conservatives to fight back — we have more people than they do — by far!" it read. "Boycott Major League Baseball, Coca-Cola, Delta Airlines, JPMorgan Chase, ViacomCBS, Citigroup, Cisco, UPS, and Merck. Don't go back to their products until they relent. We can play the game better than them." 
He went on to claim (once again) that the 2020 election was rigged and concluded with a dubious holiday greeting: "The Radical Left will destroy our Country if we let them. We will not be a Socialist Nation! Happy Easter." 
While Donald Trump's reaction was predictable, what happened next wasn't.
Donald Trump may not be following his own boycott
Several days later, former presidential advisor Stephen Miller tweeted a photo of himself with his one-time boss, writing, "Just had a terrific meeting with President Trump!" The photo was taken in Trump's new office, with the ex-commander in chief sitting behind his desk. Sharp-eyed viewers noted a curious detail. Behind Trump's phone, there appears to be a glass bottle of Diet Coke — a beverage he loves so much that he actually had a button installed on his Oval Office desk that he would push to have the soda delivered to him. 
Viewers didn't hesitate to share their observations. One Twitter user corrected Miller's statement: "You mean the former guy. He's no longer in office. Also, he put out a statement that said to boycott Coke, but I guess he meant for 'other' people." Users pointed out the apparent hypocrisy of using a boycott to protest "cancel culture." 
It might also be noted that boycotts on both sides of the political spectrum are nothing new. Conservative politicians and consumers have done their share of "canceling" –  and Donald Trump has been right there with them. At various times over the years, he has either supported or suggested boycotts: of Nike, for featuring Colin Kaepernick in an ad (via Reuters), of Harley-Davidson for moving manufacturing overseas (via CNN), and Glenfiddich whisky for giving an award to a man who refused to sell his land to Trump for a golf course (via Medium).