The Chrisley Family Has Exciting News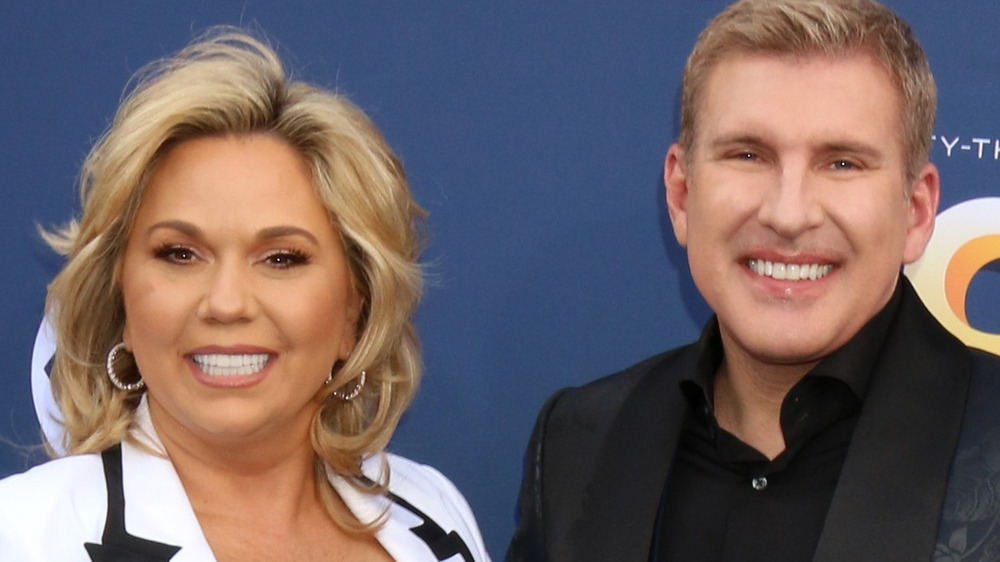 Shutterstock
When Chrisley Knows Best first aired in March of 2014, all of Todd Chrisley's kids were series regulars. In that first season, Todd's eldest son, Kyle Chrisley, from his previous marriage, revealed his struggles with drug addiction. Kyle quickly left the show but has remained a topic of conversation in the media. In 2014, it was reported that Kyle suffers from bipolar disorder (via Daily Mail), which his father later confirmed in a tweet. Kyle was hospitalized for a suicide attempt in 2019, which he explains was a bad side effect of his medication, per E! Online.
Since that time, Kyle appears to be doing much better. He recently posted a photo to his Instagram account for his father's birthday with the caption, "You have a faith in all of us like Jesus does and I could never thank you enough for believing in the best of me. That faith is what brought me to where I am today. I am so proud to be your son." Kyle has also been posting photos with his siblings and daughter Chloe, who has been under the care of Todd and Julie since she was 6 months old (via Distractify). In addition to spending a chunk of his time with the other Chrisleys, he has been enjoying the company of "the love of [his] life" (via Instagram).
Kyle Chrisley marries Ashleigh Nelson
News of the couple's engagement was announced on both Ashleigh Nelson and Kyle Chrisley's Instagram accounts in February. Ashleigh shared a selfie, showing off her engagement ring in the photo, accompanied by a caption that read, "I've been keeping my life super private ... I'm always worried about what people may think but ya know what, f*** what they say, we're getting married!!" The photo was posted on February 15, which suggests that the proposal may have taken place on Valentine's Day, but fans of the couple will have to wait to see if they ever share details from the special moment.
People revealed that Kyle Chrisley married Ashleigh Nelson on March 30 in St. Augustine, Florida. The outlet reports that the couple got their wedding license on March 29 in St. Johns County but do not have any witnesses to the ceremony named on the marriage certificate. Ashleigh told People, "I've always known from the beginning that Kyle is who I would marry. To know the Chrisleys is to love them, and Kyle is no different." She added, "Kyle says he hopes he can be half the husband his dad is to Julie."