Good Bones's Mina Starsiak Hawk Clears Up Confusion Over Daughter's Birthmark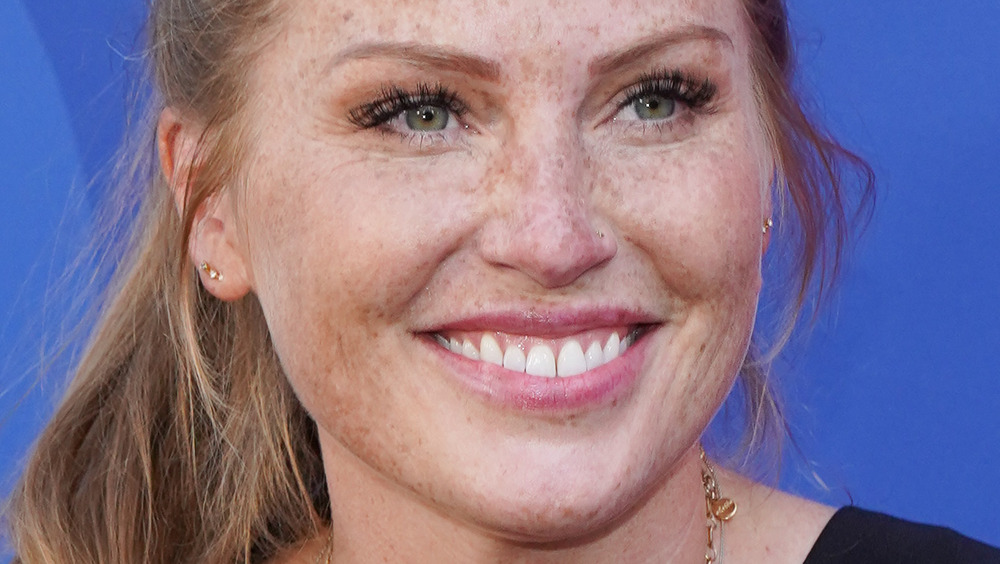 Rachel Luna/Getty Images
A photo shared by Good Bones host Mina Starsiak Hawk's to her Instagram profile is sparking an insightful conversation. In the adorable picture of her 6-month-old daughter Charlotte Hawk, the infant has baby food smeared all over her face. But it's the birthmark on the child's forehead that garnered questions from the HGTV host's fans.
One fan privately messaged Hawk, which she shared to her Instagram Story, per House Beautiful, and asked, "Not trying to be rude but generally curious about what's in [sic] her forehead? Was she born with it or did it develop after birth?" Hawk replied back, writing, "It is a hemangioma. A lot of people call them strawberries. Something. Of [sic] a north mark. It typically will grow larger for the first year then start to shrink."
Another fan also messaged the television personality to express her support for generating awareness on hemangioma. "My daughter has a hemangioma on her forehead as well," hey wrote "To see someone on such a large social media platform let it shine and not try to hide it makes this picture even better."
This is not the first time Hawk has sparked meaningful discussions. She has candidly talked about how she navigated the challenges she faced working with her mom on Good Bones in the past as well as her decision to get plastic surgery.
What exactly is a hemangioma?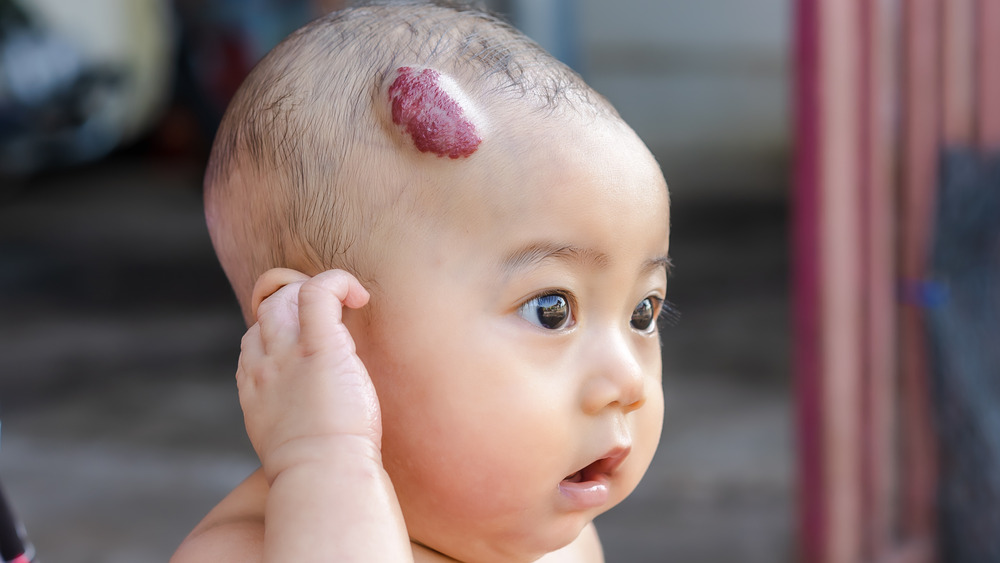 Shutterstock
According to Mayo Clinic, a hemangioma is a scarlet, raised birthmark that consists of excess blood vessels. These birthmarks generally occur on the face, scalp or upper body and typically progressively decrease in size with most completely vanishing by the age of 10. 
John Hopkins Medicine says that an infantile hemangioma on a baby will typically be "80 percent of its maximum size" by about 3 months of age. They usually start shrinking and decreasing in redness by the time the baby has their first birthday in a process called involution. Almost half of those who had an infantile hemangioma will have scar tissue or excess blood vessels remain.
Dr. Denise W. Metry, a dermatologist at Texas Children's Hospital, wrote a report on ten lessons she learned at a hemangioma clinic. In the report, Metry wrote that people should avoid referring to hemangiomas by the word, "strawberry." 
According to Metry, there was a medical myth during the Dark Ages when people thought that hemangiomas were caused by women eating strawberries during pregnancy. Metry also wrote that there are still several unknown variables that continue to puzzle scientists, like the correlation between hemangiomas and genetically female children and babies with low birth weights as well as how the development of hemangiomas could be connected to the placenta.
John Hopkins Medicine notes most cases of hemangioma go away on their own without any treatment, however pediatricians will typically monitor these children to make sure they are healthy.
When hemangioma causes concerns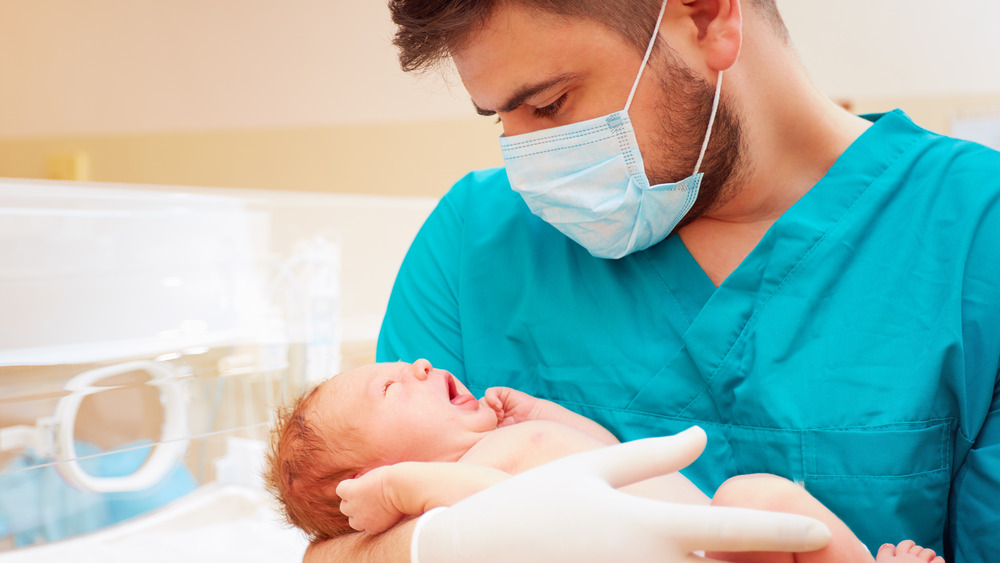 Shutterstock
Mayo Clinic says parents should talk to their child's pediatrician if the hemangioma develops into a sore, which could cause bleeding and/or an infection. If the hemangioma affects the child's breathing, sight or hearing, a pediatrician should be consulted immediately.
Hemangiomas that grow larger in size could be a symptom of the PHACE syndrome. According to John Hopkins Medicine, syndromes includes malformations in the brain, hemangioma, abnormal arteries in the brain or near the heart, and more.
If the hemangioma requires treatment, propranolol, a beta-blocker, has been highly recommended by NYU Langone Health. Dr. Seth Orlow, a pediatric dermatologist, says, "Parents have told me they see a difference after just days of treatment." The medication can be used in children 5-weeks-old and older. Beta-blockers constrict blood vessels, and it is thought that the medication helps by reducing blood circulation within the hemangioma.
In September 2020, Pierre Fabre Pharmaceuticals USA, Inc. released a statement to PR Newswire regarding a new diagnostic digital tool to help diagnose children with hemangioma-related complications, called the Infantile Hemangioma Referral Score (IHReS). According to the press release, infantile hemangiomas affect roughly 10 percent of infants, and of those infants, around 12 percent have serious complications.
Dr. David Darrow, a medical doctor and professor at Eastern Virginia Medical School, explains, "This study validates the Infantile Hemangioma Referral Score as a simple and reliable tool that should reduce these delays by assisting primary care providers with medical decision-making earlier in the evaluation phase."