What Prince Philip Really Thought Of Princess Diana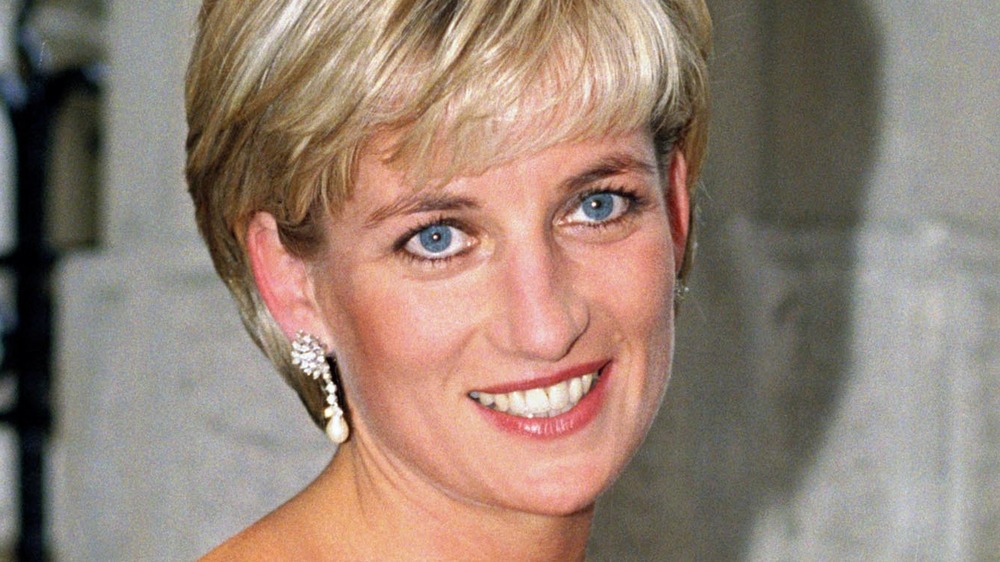 Antony Jones/Getty Images
The tributes are pouring in for Prince Philip, the Duke of Edinburgh. The 99-year-old royal died on April 9 at his Windsor Castle home following a series of health crises. He will be mourned deeply by his wife, Queen Elizabeth, as well as his four children, eight grandchildren, and ten great-grandchildren (with another on the way, courtesy of Prince Harry and Meghan Markle). If fate had taken a different turn years ago, he would also have had another family member to grieve his loss: his former daughter-in-law, Princess Diana. 
"Lady Di" Spencer joined the royal family in 1982 when she married Queen Elizabeth and Prince Philip's oldest son, Prince Charles. The world was charmed by the young princess' warmth and fashion sense, and Prince Philip seemed to have found a kindred spirit. "I guess there are some similarities in that, you know, it's another outsider, a position that he obviously has been in," suggested actor Tobias Menzies, who studied the duke's history in preparation for playing him in The Crown. "Maybe he has some kind of appreciation for the challenges that she's going through" (via People).
At first, Philip offered to help Diana through her divorce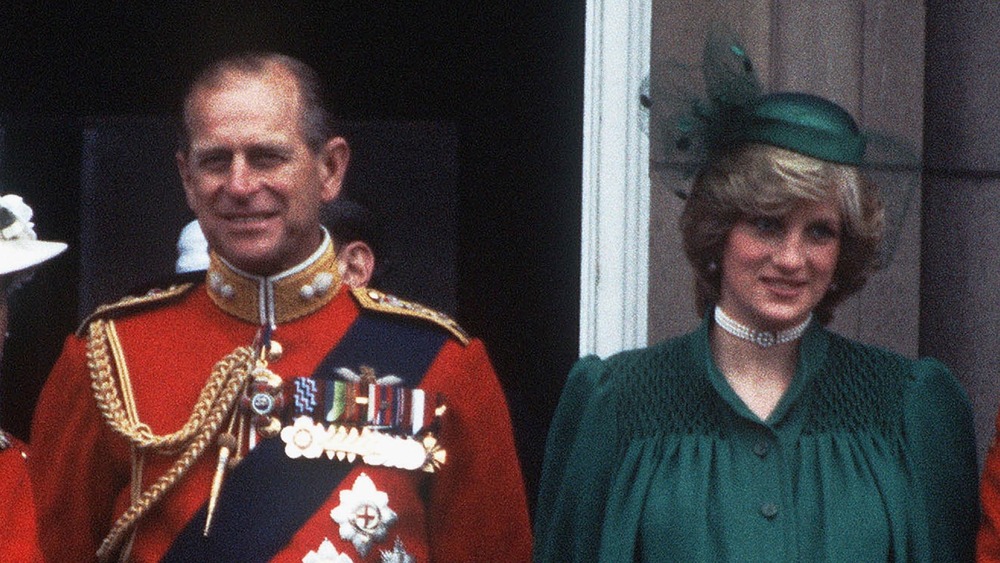 Anwar Hussein/Getty Images
Defying the "family first" convention regarding in-law relations, Prince Philip appeared to throw his support behind Diana when she and Prince Charles divorced. In a series of letters he wrote in 1992, he expressed his disapproval of his son's choice to pursue a relationship with Camilla Parker-Bowles. "Charles was silly to risk everything with Camilla for a man in his position," he stated, offering to help Diana in any way he could. "I cannot imagine anyone in their right minds leaving you for Camilla. Such a prospect never even entered our heads." The letters were signed, "With fondest love, Pa" (via SW Londoner). In turn, Diana wrote, "Dearest Pa, I was particularly touched by your most recent letter which proved to me, if I didn't already know it, that you really do care" (via Evening Standard).
However, royal biographer Ingrid Seward has claimed that the relationship grew frostier as Diana began speaking out about her marriage. The tell-all interview she gave to BBC Panorama reportedly infuriated Philip, who felt that she should lose her rights to being called "Her Royal Highness" if she was determined to cut ties to the palace. Seward quoted sources saying Diana "hated" her father-in-law (via Daily Mail). Biographer Andrew Morton says that Philip also began to blame her "irrational" behavior for the downfall of the marriage (via Elle).
Prince Philip stood by Diana's sons in their time of need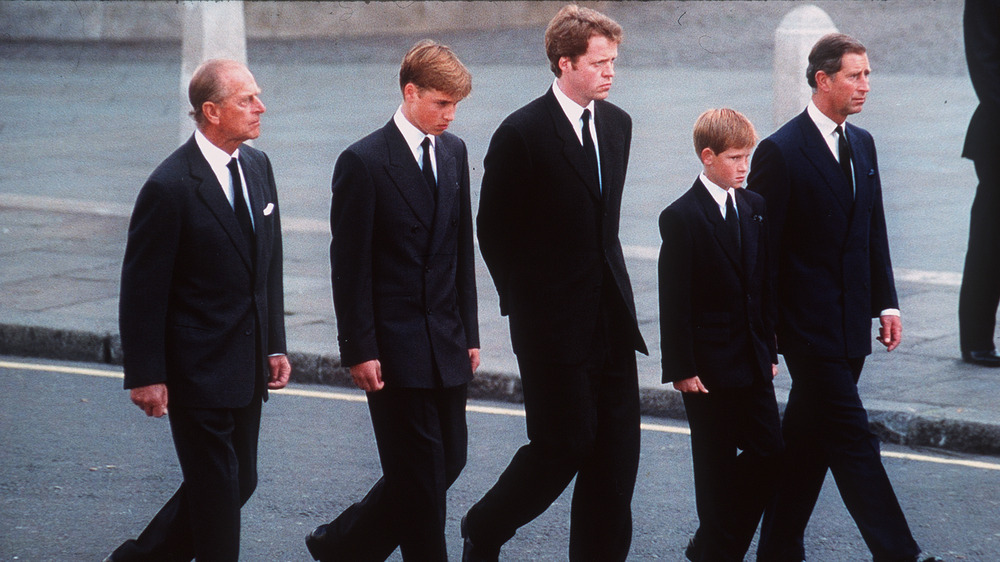 Anwar Hussein/Getty Images
Sadly, any chance for Prince Philip and Princess Diana to reconcile was lost after her tragic death in 1997. However he may have felt about his former daughter-in-law at the time, Philip was deeply concerned about how the loss would affect grandsons William and Harry. As the funeral arrangements were being planned, there was a long debate over whether the children should be asked to walk in the procession from Kensington Palace to Westminster Abbey. A government official recalls that on a conference call, the duke was "anguished" as he discussed the toll this loss was taking on the boys.
In the end, he reportedly told William and Harry, "I'll walk if you walk" (via Today). So the grieving princes made the heartbreaking walk supported not only by their father and uncle, but also by their grandfather. And despite the complicated relationship he had with their mother, Prince Philip remained a loving and involved grandparent to William and Harry for the rest of his long life.