The Truth About Bob Barker's First Game Show Hosting Job
Frederick M. Brown/Getty Images
Before Bob Barker spent 35 years as host of The Price is Right, he had a notable 19-year run anchoring the wacky television quiz show Truth or Consequences. The game's premise hinged on contestants answering convoluted questions before the buzzer sounded. If the player failed to do so, they would face "the consequences," which involved demeaning physical tasks.
During Barker's 1956-75 run, the show added an additional element known as "Barker's Box." The object had four drawers, three of which contained money that the contestant won if chosen. The fourth, however, contained a random surprise that ended the game. Contestants who managed to avoid the game-ending drawer were awarded a bonus prize for their efforts.
Barker, who started in radio, stepped into the role as Truth or Consequences third host after the game's creator, Ralph Edwards, and former Queen for a Day host Jack Bailey. Barker noted in his 2009 memoir, Priceless Memories, "...Truth or Consequences will always hold a special place in my heart for many reasons. It was my first national television job; I had the opportunity to work with one of my heroes, Ralph Edwards."
Truth or Consequences broke new ground with Bob Barker at the helm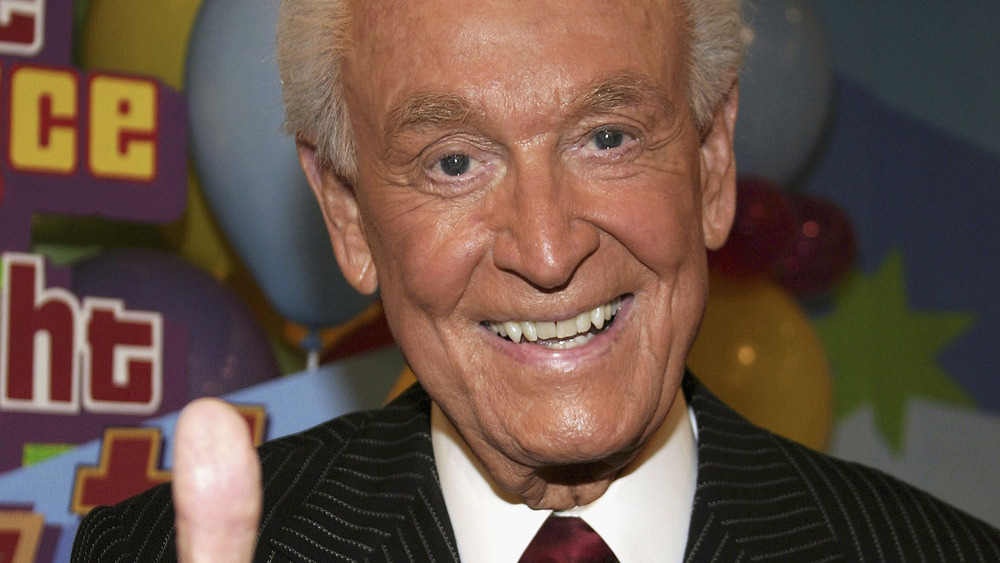 Lumeimages/Getty Images
Truth or Consequences started on the radio in 1940 but had a tough time gaining television success. The program first appeared on the small screen in 1941 as experimental programming for WNBT, a New York NBC affiliate, and again in the early 1950s as primetime fare for CBS.
However, the game show hit its stride in 1956 when NBC opted for a daytime format with Bob Barker as host. His initial contract had a four-week buyout even though he stayed for nearly two decades. Barker explains in his memoir, "The reason for that four-week clause in my contract, I learned later, was that out of 11 people voting in the original hiring meeting, I got only one vote. But I got the right one, Ralph Edwards." During Barker's time with the program, the series became so popular that it earned the distinction of becoming the first show to distribute new episodes for syndication rather than reruns (via Today). 
Barker's popularity rose as well. In 1972, he signed on to host The Price is Right, for which he won 15 Emmy Awards — 12 as host, two as executive producer, and a lifetime achievement award in 1999. He was also inducted into the Academy of Television Arts and Sciences Hall of Fame in 2017.
Barker retired from the spotlight in June 2007 at age 83 and told The Associated Press, "I'm a complete success at retirement. I think it's because I did it, not too soon, not too late, but at just the right time. I have never regretted it."