The Truth About Jane Fonda, Lily Tomlin, And Dolly Parton's Friendship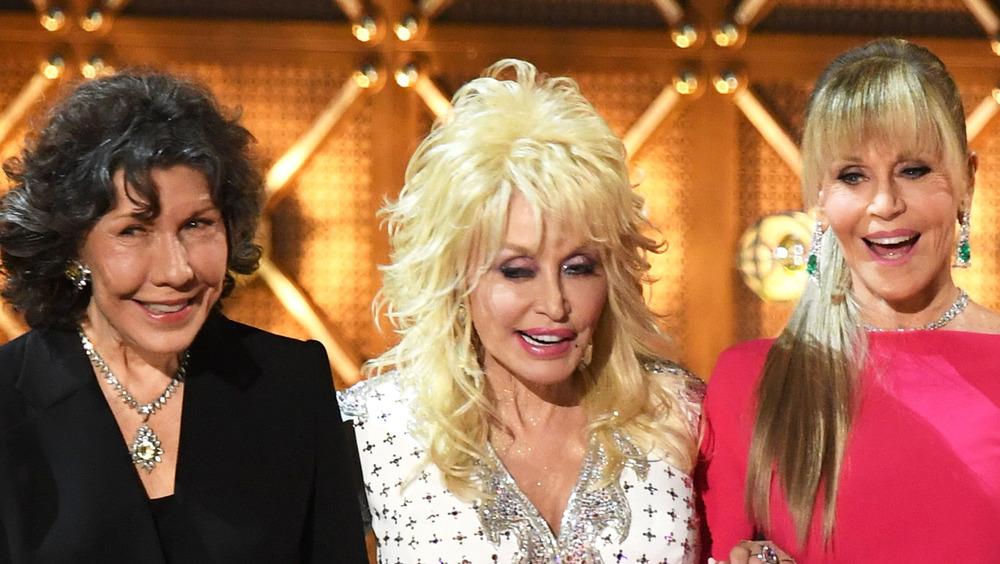 Kevin Winter/Getty Images
A Hollywood activist, a stand-up comedian, and a country music star walk into a bar. It's a great setup for a joke, right? But it isn't a joke — that is, If you swap out "bar" for "movie set," and a decades-long friendship instead of a punchline.
The somewhat unlikely camaraderie between Jane Fonda, Lily Tomlin, and Dolly Parton stretches back to the late 1970s when the trio costarred in the cult-classic comedy 9 to 5 (via IMDb). As a co-producer of the film, Fonda instigated the union. Recounting that time to Steven Colbert, she said, "One night I went to see Lily in her one-woman show Appearing Nightly and — what can I say — I was smitten, and I said, 'I don't want to make a movie about secretaries unless she's in it" (via YouTube). On the way home, Fonda flipped on the radio only to hear Dolly Parton belting her 1978 hit, "Two Doors Down." She knew then she'd found her dream cast. What she didn't know, however, is that her soon-to-be costars would also become lifelong friends.
Jane Fonda and Lily Tomlin credit Dolly Parton's song-writing prowess for the success of 9 to 5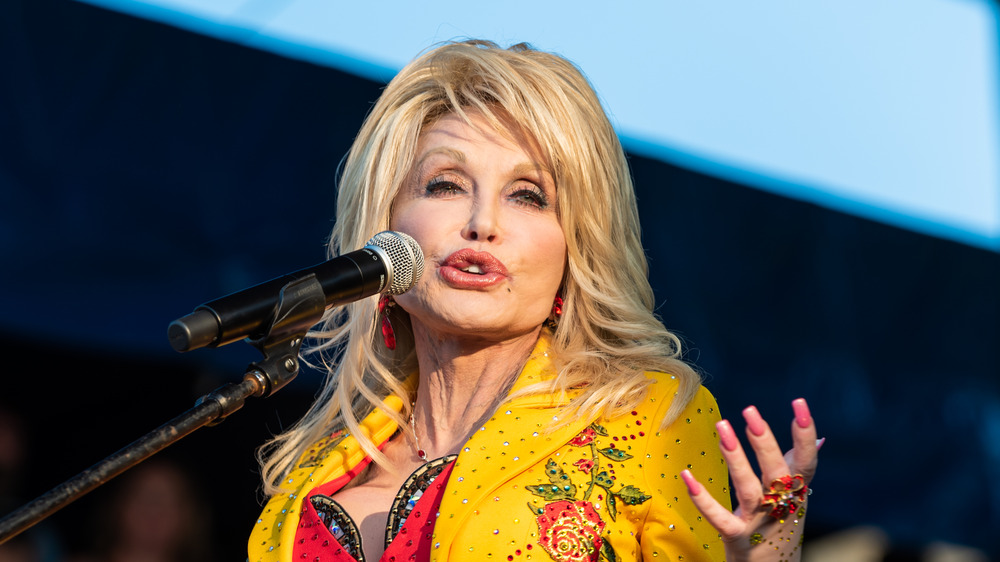 Shutterstock
When Fonda approached Parton about making her acting debut by playing Doralee, the Southern heart-throb agreed on one condition: That she be allowed to write the theme song. As the story goes, the song came to the country crooner after just one day spent wandering the set (via Prevention). When she first sang it to her costars, she used her long acrylic nails as a washboard to accompany her distinctive soprano voice. After the final verse, the women looked at each other with goosebumps on their arms. "Jane Fonda and I were just flabbergasted," Tomlin recounts in A&E's documentary entitled Biography: Dolly (via A&E). "We thought it was so great. I said to Jane this will make the movie a hit if nothing else" (via Heavy).
After earning numerous nominations and garnering a Grammy to boot (via IMDb), the song lives on today. Parton even recorded a special version for a Super Bowl LV commercial, in which she makes a small cameo.
The trio may reunite for Grace and Frankie's final season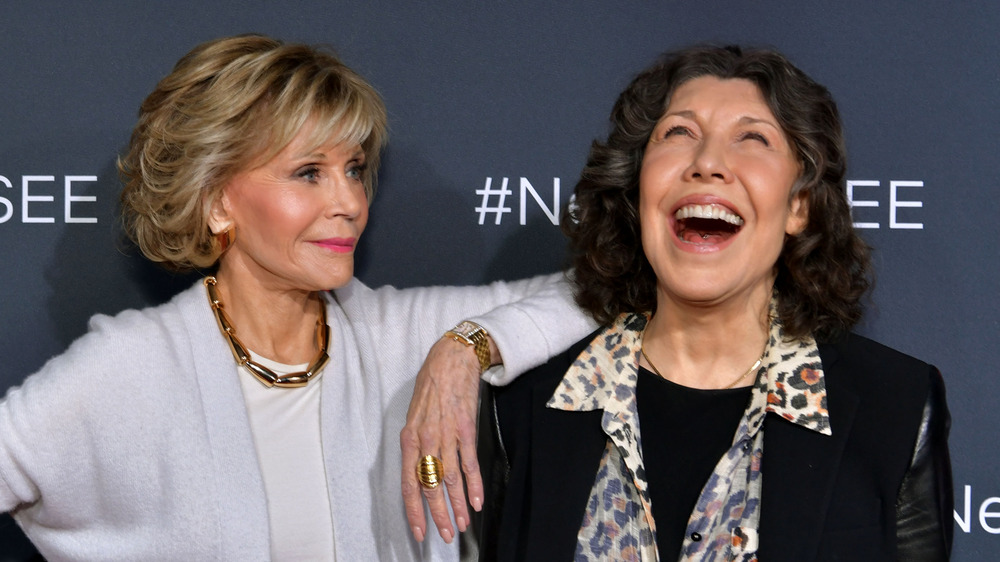 Emma Mcintyre/Getty Images
After witnessing the chemistry and comedic genius of 9 to 5's three leading ladies, fans have anxiously awaited a chance for the trio to share the screen once again. Fortunately, it's looking like that time has finally come.
With Tomlin and Fonda's critically-acclaimed series Grace and Frankie approaching its final season, they're trying to find a way to write Parton into the script as a guest star. "We're always hoping that will happen," Tomlin said on Today. "We have a great role for her this time. I think she will do it. I'm just hoping she will." In an interview with ITV's Lorraine, the singer seemingly gave her response, saying, "When it's safe for us to actually do a production — when they're back — I'll probably get around to doing that." Well, our fingers are crossed. But whether or not the three stars will appear together on the small screen, the formidable bond they've formed on and off set isn't changing anytime soon.