Macaulay Culkin And Brenda Song's Baby's Name Means More Than You Think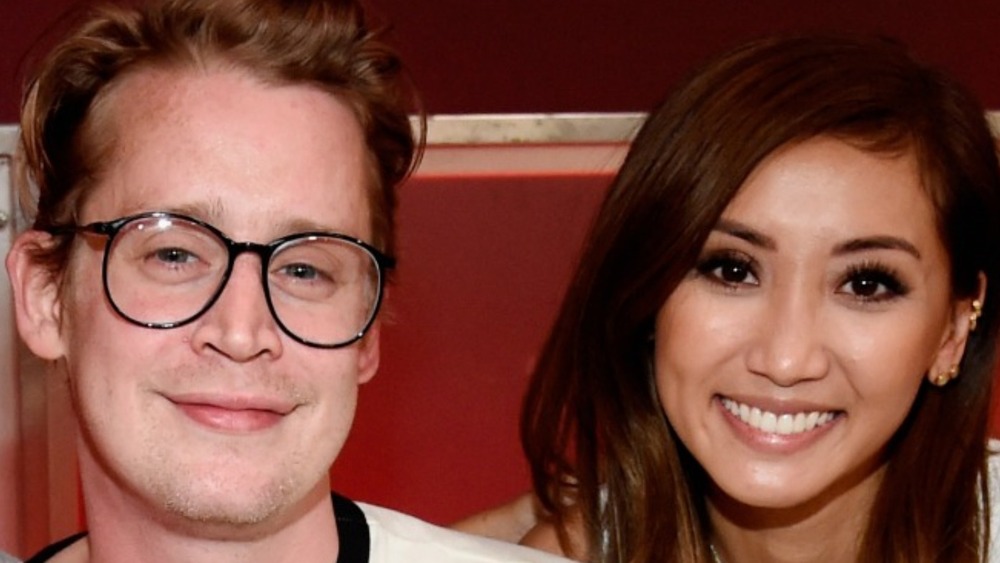 Kevin Mazur/Getty Images
Macaulay Culkin and Brenda Song aren't home alone anymore! On April 5, the low-key couple secretly welcomed their first child and son, Dakota Song Culkin, and they recently announced the news in their own unique way. True to form, the proud parents — who've been together since 2017 and are notoriously quiet about their relationship (via PopSugar) — released a simple statement that read, "We're overjoyed" (via Esquire).
Fans reacted to the news in Esquire's Instagram comments section, with users making connections between the Home Alone alum and Song's Disney tenure as London Tipton in Suite Life. One user pointed out the couple's shared history of playing TV and movie roles set in hotels, writing, "This kid is gonna have some diverging views on hotels." 
Another wrote, "New Home Alone in the next nine years — Kevin as the dad."
Culkin previously hinted at his excitement about starting a family with Song. During a 2018 appearance on The Joe Rogan Experience podcast, he said they wanted a family and were "definitely practicing" (via People).
The meaningful story behind their son's name will move you.
Macaulay Culkin and Brenda Song's son's name holds a lot of meaning
Macaulay Culkin and Brenda Song named their son after Culkin's late sister, Dakota, who tragically passed away in 2008 at just 29 years old (via Esquire). His sister, who worked in production design on the 2009 film Lost Soul, was accidentally hit by a car after stepping off the curb (via Cheatsheet). 
Though the Home Alone alum hasn't spoken publicly about his sister's death, it's clear that the tragedy has had a lasting impact on him and his views on happiness. During his 2020 Esquire profile, Culkin openly admitted to feeling weary and nervous at the beginning of his relationship with Song because it was almost too good to be true. "I was waiting for the other shoe to drop," he shared before realizing, "No — sometimes it's just good" (via Esquire). 
There's no handbook for how to cope with losing a loved one. Now, Culkin continues to honor his sister's legacy through his son's name and growing family.