The Truth About The Archbishop Of Canterbury, Justin Welby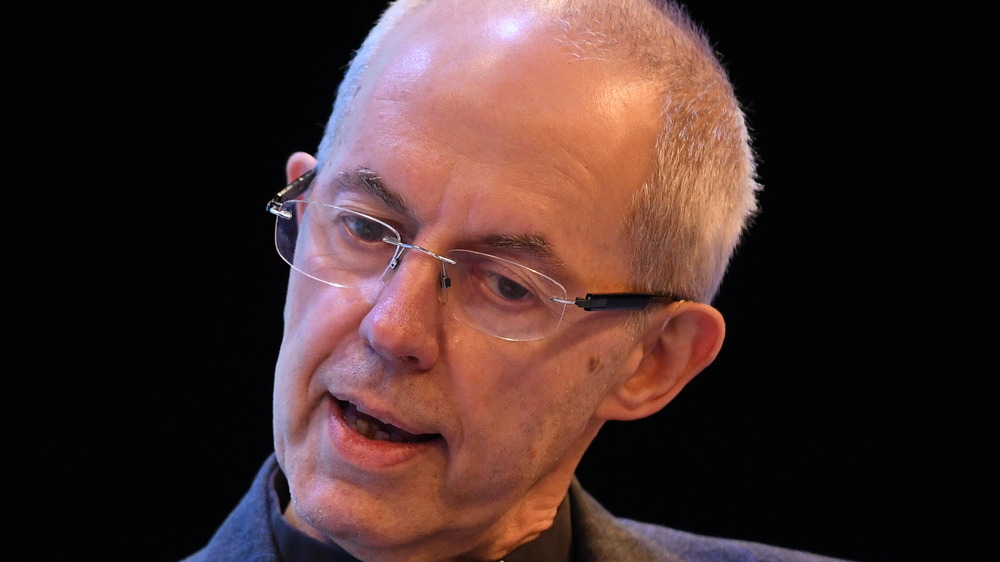 Leon Neal/Getty Images
He has been an important part of every single royal event since he was made Archbishop of Canterbury in late 2012, from weddings including Harry and Meghan's (via CNN) to christenings — George, Charlotte, Louis, and Archie's (via Marie Claire). When Prince Philip is laid to rest, Justin Welby will also be on hand to lead the funeral rites (via BBC).
As the 105th Archbishop of Canterbury, Justin Welby wears several hats. He is the head of the church in Canterbury, and he is also considered to be the spiritual head of the Anglican Church (via The Guardian). The position of Archbishop isn't a lifelong appointment — the person who holds the post is expected to step down when he (or she?) reaches the age of 70. But the Archbishop can also serve past that if the queen, who is head of the church, allows it (via Thinking Anglicans).
Justin Welby was born in 1956, the son of Gavin Welby and Jane Portal, whose marriage ended when Justin was just three years old. Unlike many women of her day, Portal had a career — she was Prime Minister Winston Churchill's personal secretary at 10 Downing Street until she got married. Justin Welby went to Eton and then to Cambridge University's Trinity College, where he obtained a master's degree in history and law (via Britannica). 
Justin Welby used to be an oil industry executive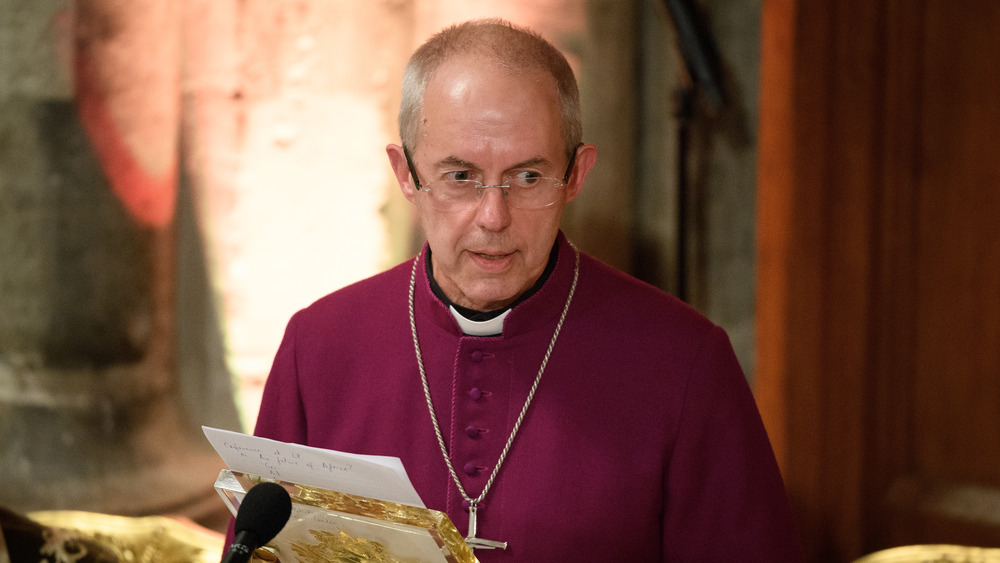 Leon Neal/Getty Images
We might think of priests and ministers as people who are born knowing they are meant to serve, but the current Archbishop of Canterbury forged a more colorful path for himself. After he left Cambridge he joined the oil industry as a financial executive and has worked for companies like the French Firm Elf Aquitaine, and the British firm Enterprise Oil (via Britannica). His stint in petroleum lasted 11 years — and for a time, Welby was even known for his role in championing Elf's interests in the oil-rich African country of Nigeria. 
It was after his retirement from Enterprise that he decided to join the Church of England (via iNews). He was ordained in 1992 and rose through the ranks to become the head of its church just over 10 years later. Since he became its spiritual leader, "Archbishop Justin" has traveled to different places where the Church of England is present and active, and continues to go to places where members of his flock hang out, from schools and food banks to shopping centers (via The Archbishop of Canterbury).
There is more to Justin Welby than meets the eye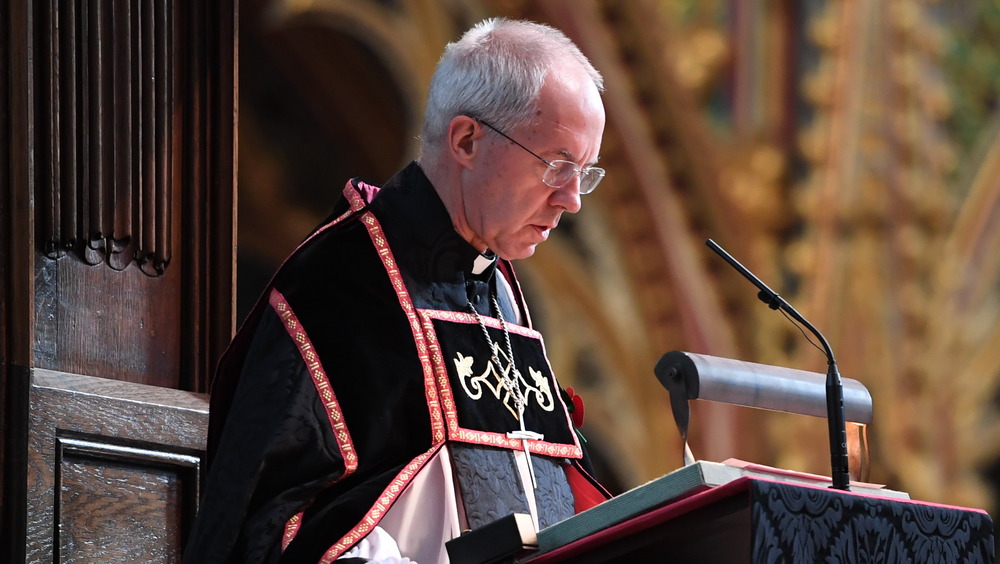 Wpa Pool/Getty Images
In 2016, the Archbishop of Canterbury discovered that he was not who he thought he was. A paternity test revealed that Justin Welby was not the biological son of Gavin Welby, but the illegitimate son of Montague Brown, Winston Churchill's former private secretary (via The Guardian). When the news was made public, his mother Jane said, "Although, as has already been made public, Gavin Welby and I had a short and, sadly, dysfunctional marriage, neither of us ever doubted that we were the parents of our son, Justin, who was born almost nine months to the day after our marriage in America on April 4, 1955." She also described her ex-husband as a "strong, possessive character" who convinced her to leave her job at the prime minister's office to marry — and she developed an alcohol addiction as a result  
Ever the clergyman, Justin Welby put a positive spin on his situation, calling his story one of redemption and hope.