Why Andrew Yang Has The Internet Seeing Red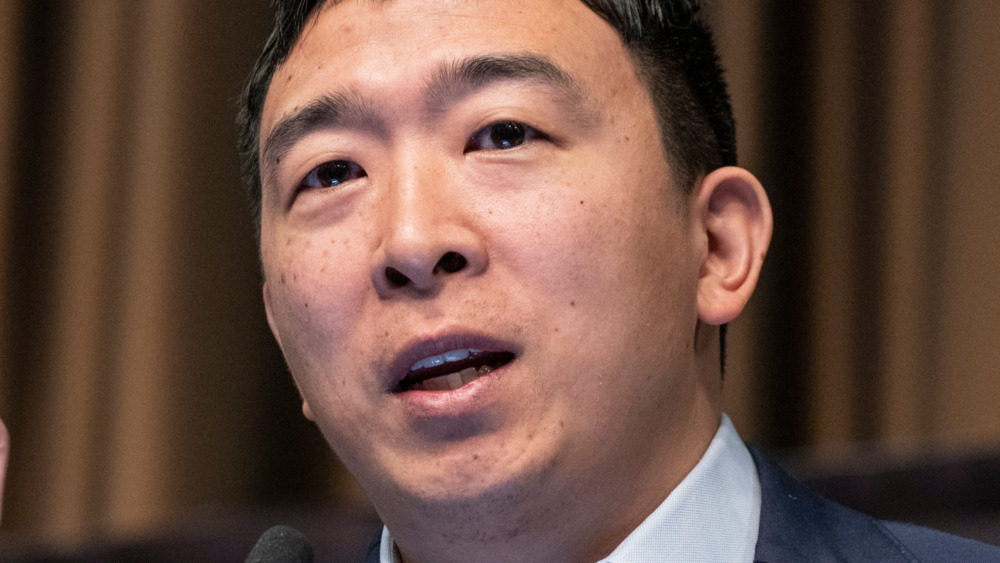 Shutterstock
There are few things more heartbreaking than a failed pet adoption — when, for whatever reason, a dog or a cat ends up having to leave what you both believed would have been a forever home. And while many celebrities took to social media to celebrate National Pets Day with photos of the cat/dog/rabbit they adopted, there was one who opted to put up a photo of a pet that had to be returned.  
New York City mayoral candidate Andrew Yang triggered social media when he posted photos of a sweet pooch named Grizzly on Twitter, along with the note, "On #NationalPetsDay celebrating our dog Grizzly who we raised as a puppy but had to give away because one of our boys became allergic to him. Miss you Grizz!" 
It might not have been the savviest thing to hit the internet with, because it didn't take long before Yang became the target of pet-loving members of the Twitterverse, who took issue with his decision to give Grizzly away — allergies or no allergies. One social media user tweeted, "Science has actually created medicines for such allergies. You broke Grizzly's heart, and mine too for having to read about you doing this to him." 
Andrew Yang's post appeared to be insensitive
Even a tweet from Andrew Yang's wife Evelyn, who offered an update on Grizzly (along with a new photo), failed to save the situation. She tweeted, "He's a happy beach dog now but he'll always be our dog even though he doesn't live with us! Whenever we visit, grizz always gives me a kiss first and then proceeds to hound Andrew non-stop to play."
There was one Twitter user who tried to take Yang's side, writing, "According to Twitter, you should've re-homed the allergic child. That oughta teach them." Others tried to explain that the problem was actually with the post itself. One social media tweeted, "Did your campaign manager quit over a pay dispute but also still have the login to your twitter? That's the only thing that explains anyone bricking a DOG TWEET." Another Twitter user chimed in with, "Do you not have a social media manager, because yikes." As a fourth user tweeted, "he just should have sat out national Pet Day because HE DOES NOT HAVE A PET."