What Does Maren Morris And Ryan Hurd's Chasing After You Really Mean?
John Shearer/Getty Images
Maren Morris and Ryan Hurd are one of the hottest new Country Music couples in Nashville. The pair first met in 2013 and have been married since 2018. Music has been a big part of their relationship since the very beginning. Their first encounter was during a songwriting session, and when Hurd proposed to Morris in 2017 he played her the song "Diamonds of Twine" which he wrote about her (via Country Living). In addition to writing songs inspired by one another, the couple has created beautiful music together.
In February 2021, Morris and Hurd debuted their first official duet. The hit single, "Chasing After You," was written by Brinley Addington and Jerry Flowers years before it was released. Morris told Entertainment Tonight that she recorded the song with Hurd in a familiar place. She said, "We recorded all the vocals in our basement, which is crazy to think about these things, like, making hit records where you sleep. It's nice." The track peaked at No. 32 on the Billboard Hot Country Songs chart and the music video currently has over two million viewers on YouTube.
"Chasing After You" is about Morris and Hurd's real relationship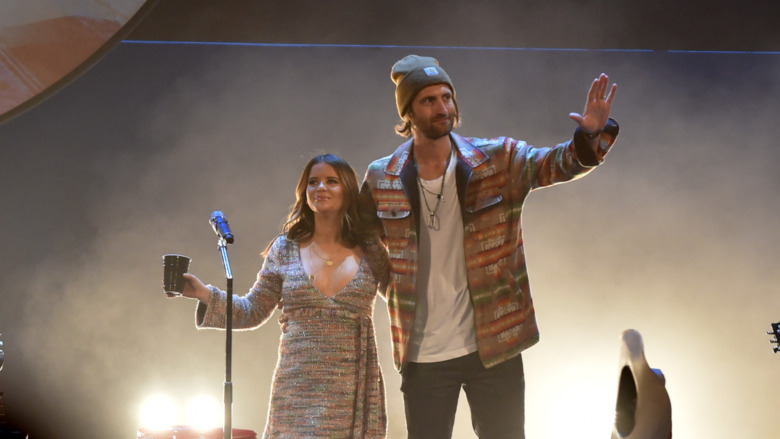 Aaron J. Thornton/Getty Images
"Chasing After You" is a ballad about an up-and-down relationship between two people who just can't seem to shake their feelings for one another. The couple sings about wishing they could quit one another but knowing deep down that they've got something special.
When Maren Morris first heard the song it reminded her of her relationship with Ryan Hurd. She told Billboard, "It wasn't the easiest road for us to come together. We were in separate relationships when we met. We kind of grew a love out of a friendship over many years before we were out of those other relationships and could finally be together after some time. I think it reminds us of falling in love with each other and not being able to really act on it yet."
Hurd shared in an interview with Today's Country Radio that the song had been put on hold by several huge artists before landing in his and Morris' lap. He also added that he feels lucky to get to sing this duet with his wife. He said, "I felt really blessed when it kind of fell to me a couple of years ago. We were on a beach in the Cayman Islands — I think it was the first trip we ever took together — and Maren was like, 'I want to sing on that song with you.' So this is years in the making" (via Taste of Country).