Why No Royal Family Members Could Be In Military Uniform For Prince Philip's Funeral
Shutterstock
For all his breeding and royal titles, Prince Philip was apparently an unpretentious man at heart. It was his wish that his funeral service be free of fuss and pomp, and the family is honoring his wishes by skipping the traditional period of lying in state, and by having a simple memorial service on the grounds of Windsor Castle. (The U.K.'s COVID-19-related restrictions on large gatherings also ensure that only 30 close family members and friends will be attending.)
The Duke of Edinburgh's funeral will also be unusual in that his resting place will be only temporary; once the queen dies, his remains will be moved from the Royal Vault to the King George VI Memorial Chapel at St. George's Chapel so he can be interred next to his loving wife of more than seven decades.
This being a royal funeral and a major ceremonial event, many formal traditions will be observed. The duke's family — including son Prince Charles and grandsons William and Harry — will walk in a procession behind his coffin on its way to the church, and his personal flag will be laid on his casket. But one surprising change will stand out from the rest, and it has to do with the attire of the royal family.
The queen wants to show family unity on the day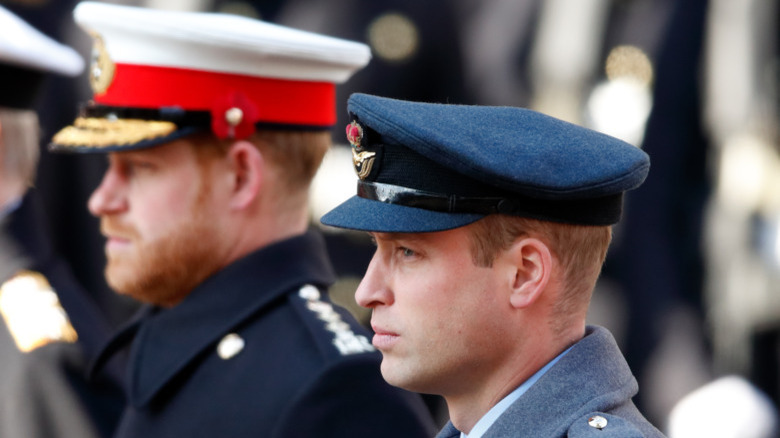 Max Mumby/indigo/Getty Images
The royal family is rightly proud of its tradition of military service. Prince Philip served in the Royal Navy during World War II, and his sons, daughter, and grandsons are all veterans. Even Queen Elizabeth herself was the first woman royal to join the armed forces, as a member of the Auxiliary Territorial Service (via the royals' website). Although protocol dictates that members of the military wear their dress uniforms to official ceremonial events, this would not apply to Prince Harry and his uncle Prince Andrew, who both lost their military titles and privileges when they stepped back from their royal duties.
According to the Daily Mail and other sources, the queen has approved the decision for all senior royals to wear dark mourning suits rather than dress uniforms, putting everyone on equal wardrobe footing and showing a picture of a family united in their grief. One might imagine that Her Majesty wants to avoid distracting attention from her husband on a day devoted to him. This decision also takes some weight off Harry's mind during an emotional time; in addition to mourning his grandfather, he and Prince William are seeing each other for the first time since he became a non-working royal and moved to California with wife Meghan Markle.
The Queen will have to wear unusual funeral attire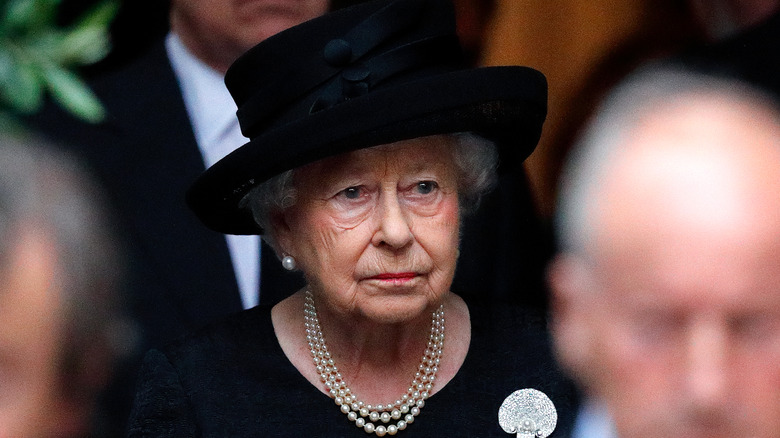 Max Mumby/indigo/Getty Images
According to The Sun, there was also reportedly some "serious Navy displeasure" at being dragged into a row over the possibility of Prince Andrew wearing an admiral's uniform during the funeral ceremony. However, speaking to the publication, a military source said the Queen's personal intervention to suggest all male members of the royal family wear suits and ties is "the most eloquent solution to the problem."
The Queen's decision also resolves another potentially awkward situation. Having lost his military privileges, Prince Harry would not have been allowed to salute Prince Philip's casket. Now, all the family will skip this traditional military show of respect. According to the British site Forces, "Armed Forces personnel only salute when wearing regimental headdress."
Elsewhere, strict UK coronavirus guidelines mean Her Majesty the Queen will be forced to sit alone during what promises to be an emotional service, and will be required to wear a face mask throughout (via Bustle).