The Truth About Queen Elizabeth's Relationship With Sarah Ferguson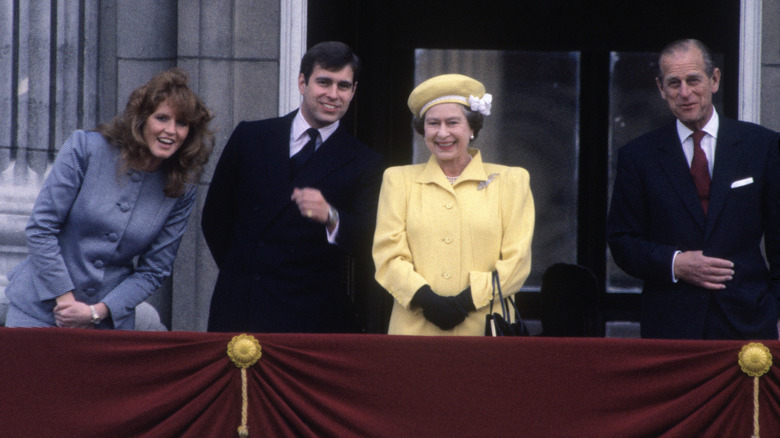 David Levenson/Getty Images
Queen Elizabeth's relationship with her children has been under intense scrutiny for many years, but in the wake of the death of her long-time consort and husband, Prince Philip, family will be more important to the monarch than ever before. As the Daily Mail reports, senior members of the royal family — including Prince Charles and his wife Camilla — will accompany Her Majesty during public outings for the foreseeable future while, at home, the troops are rallying around her accordingly. 
Her son, Prince Andrew's former wife Sarah Ferguson likely won't be welcomed back into the fold, however. As Good Housekeeping notes, they tied the knot in 1986 and divorced a decade later, with Fergie blaming her husband's extensive traveling schedule. The Queen's relationship with her son was strained throughout the separation, but she took his side completely, at least in public. Nowadays, Her Majesty reportedly only tolerates the Duchess of York for the sake of her grandchildren.
Queen Elizabeth and Sarah Ferguson maintain a cordial relationship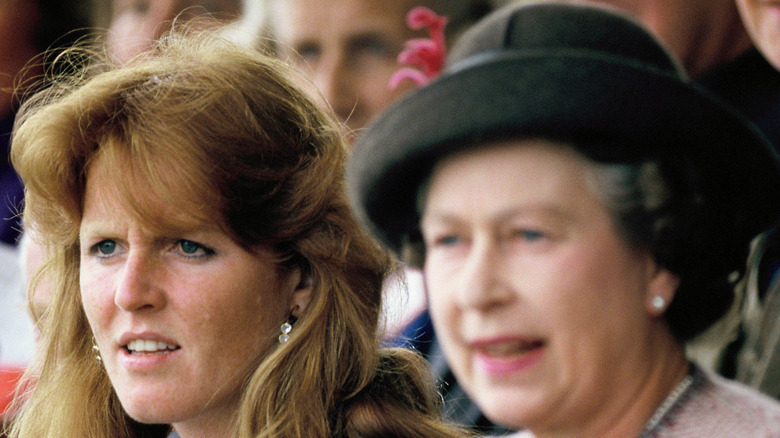 Georges De Keerle/Getty Images
As Pop Sugar notes, Queen Elizabeth and Sarah Ferguson share a love of horses, and the Duchess even admitted in her autobiography, My Story, that she called her "mama" behind closed doors. Her Majesty encouraged Ferguson to reconsider leaving Prince Andrew, and when the Duchess was subsequently photographed in a compromising position prior to the split being publicly confirmed, the Queen took it as a major slap in the face. Royal expert Jenny Bond, speaking in documentary Fergie Vs Diana: Royal Wives at War, noted "the Queen was livid. She was absolutely furious with Sarah," (via The News). Although the two women maintained a somewhat civil relationship, once Fergie lost her royal status, she stopped being invited to official events. 
Likewise, although the Duchess and Andrew remain on good terms, in 2010, tabloids alleged she had tried to sell a story about her former husband — something Ferguson emphatically denied in an interview with Harper's Bazaar. Thankfully, things have calmed down between the Queen and Ferguson in recent years. The Duchess even described her former mother-in-law as "the most wonderful, forgiving, non-judgmental person I know," (via Pop Sugar). She's been invited on family holidays, too, although the late Prince Philip reportedly didn't agree with her inclusion. Sarah Ferguson requested the Queen's friendship in her divorce settlement, as she memorably noted to Harper's Bazaar, so evidently she's serious about being back in the fold.