The Truth About Queen Elizabeth's Relationship With Prince Andrew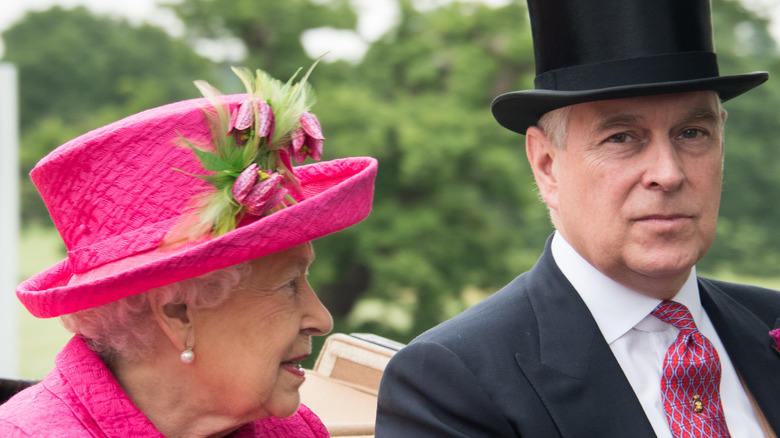 Shutterstock
If you're a fan of Netflix's The Crown, you'll know that Prince Andrew is rumored to be Queen Elizabeth's favorite child. But to what degree is this true and what kind of relationship do they have? 
While we will never truly know whether or not the Duke of York is actually the queen's favorite son, according to Vanity Fair, the two do share a very close bond. This is likely due to the fact that unlike when Prince Charles and Princess Anne were born, the Queen seemed to have a lot more spare time up her sleeve to dedicate to Andrew when he was born. 
And as he grew up, this didn't really change. As reported by Camilla Tominey (via The Telegraph), Associate Editor of the Daily Telegraph and Royal Expert, "The Queen made time for [Andrew and Edward]. She used to turn up at the school with one bodyguard and drive herself sometimes. She would attend sports days and various matches."
According to reports, in the Queen's eyes, Prince Andrew 'can do no wrong'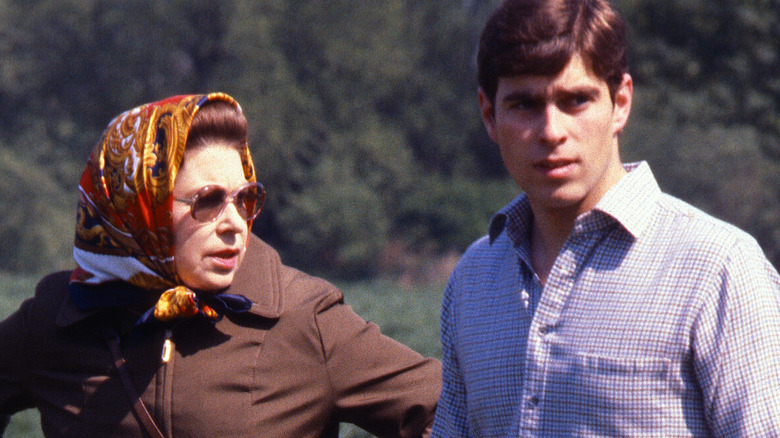 Anwar Hussein/Getty Images
Even today, "Whenever she hears that Andrew is in Buckingham Palace, she'll send him a handwritten note, and he always goes to see her," a former palace aide told The Daily Mail, referencing the queen. "If he's in jeans, he'll change into a suit. And he always greets 'Mummy' in the same way—bowing from the neck, kissing her hand, and then kissing her on both cheeks. It's a little ritual that she adores. Believe me, he can do no wrong." 
This is particularly telling when it comes to Andrew's involvement with convicted sex offender Jeffrey Epstein and the subsequent scandal over the past couple of years. While it has been largely dismissed by the queen and the royal family, Andrew has stepped back from his royal duties in light of the controversy despite Buckingham Palace denying all allegations against the prince (via BBC).