The Truth About Queen Elizabeth's Relationship With Princess Anne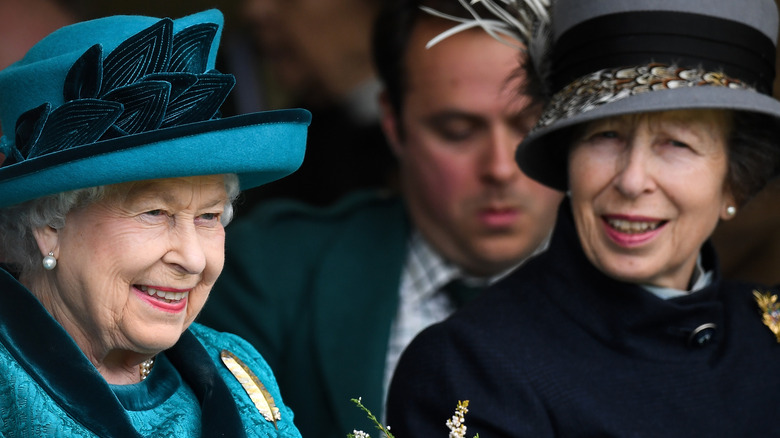 Jeff J Mitchell/Getty Images
Queen Elizabeth is enduring a difficult time in her personal life at the moment, following the sad passing of her husband, Prince Philip. The long-reigning consort to Her Majesty died peacefully at home, in Windsor Castle, on April 9. He was just a few months shy of turning 100. Buckingham Palace made the official announcement, noting the queen did so "with deep sorrow" (via BBC). Tributes soon flooded in from all over the world, as public figures and private citizens alike paid their respects. 
Given how tough this next while is going to be for the queen, her family is reportedly gathering around to ensure she has the requisite support. As the Daily Mail confirmed, senior royals will accompany Her Royal Highness as she conducts public duties over the coming months. At home, it's likely the beloved monarch is spending quality time with her children, too. In particular, her daughter, Princess Anne should prove to be an incredible support given their super close relationship.
Princess Anne defended her mother's parenting style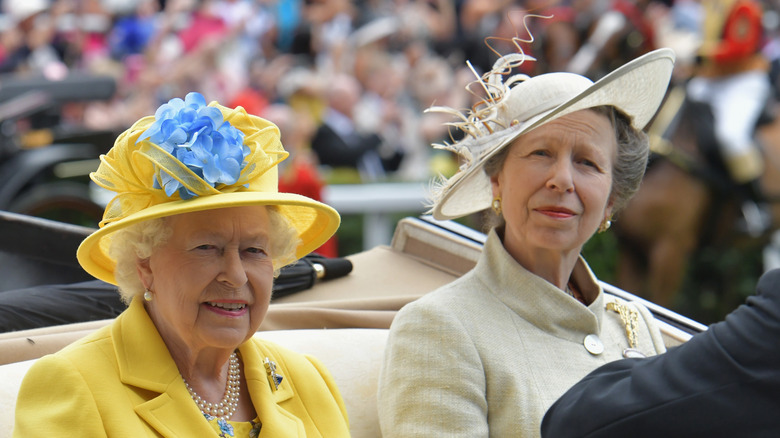 Kirstin Sinclair/Getty Images
As Town and Country notes, Princess Anne was born in 1950, just a few short years before her mother would ascend the throne. She's the middle child and, as the monarch's only daughter, Anne has vocally defended her mother in public several times over the years, fighting back against claims the queen wasn't as nurturing to her kids as she could've been. "I simply don't believe there is any evidence whatsoever to suggest that she wasn't caring. It just beggars belief," she memorably told the BBC. 
Royal historian Robert Lacey, who also served as an advisor on The Crown, confirmed the two women grew close during Anne's teenage years thanks to a shared love of horses and fashion, as per Town and Country. Although reports have circulated for many years about Queen Elizabeth's reliance on nannies, according to Lacey she loved bathing her children, reading bedtime stories to them, and tucking them in at night. 
Queen Elizabeth and Princess Anne share a very close bond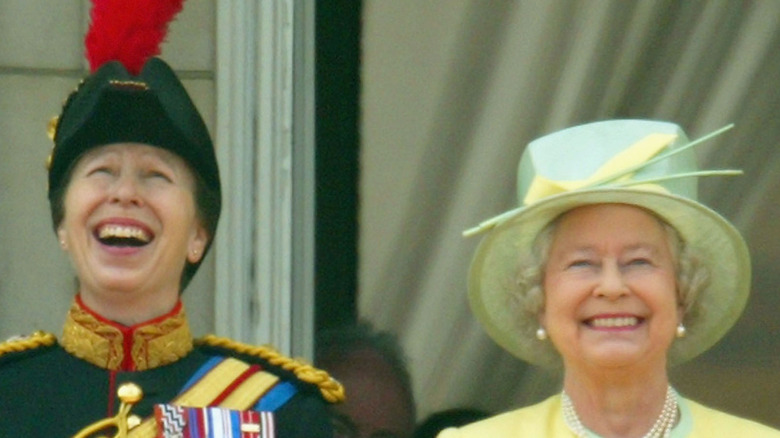 Scott Barbour/Getty Images
Although they've always been close, as Women's Health notes, Princess Anne has been open in the past about how uncomfortable she is living as a public citizen. Likewise her mother reportedly disapproved of her divorce from first husband Captain Mark Phillips. In 2019, she was caught on camera refusing to greet then-president Donald Trump. Princess Anne seemingly shrugged in response to her mother's obvious disapproval (via Cosmopolitan). However, CNN clarified her response had nothing to do with Trump, and she was not being scolded by the Queen.
Body language expert Judi James advised Express the mother-daughter duo appears incredibly close, noting their "rituals together suggest a meeting of minds and complementary traits rather than any fond fussing or more tactile displays." Princess Anne shows respect to her mother by not treating her like an elderly invalid, while their shared sense of humor is indicated in small gestures and raised eyebrows.