Here's What Trisha Paytas Eats In A Day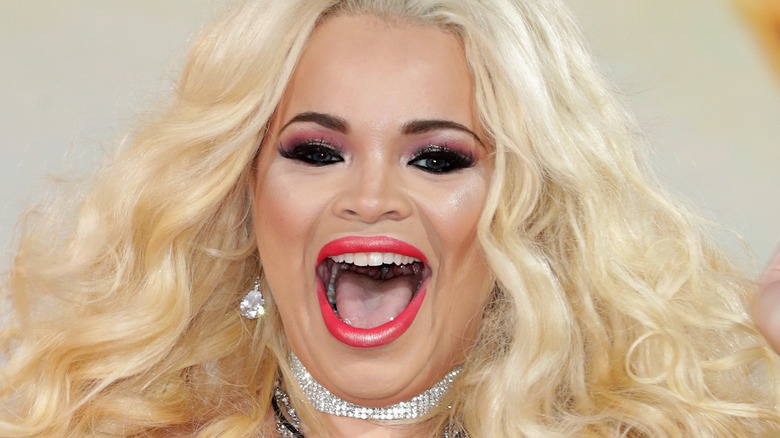 John Phillips/Getty Images
With over 5 million YouTube subscribers and over a billion views of the video-sharing platform, it's clear many of us feel like we know Trisha Paytas pretty well. She's been broadcasting her life since 2006, with the launch of her first vlog blndsundoll4mj. She then created another channel, Trisha's Life, eight years later.
Previously, we've watched the California-born star's mukbang videos, along with those from other internet celebs we know and love. Paytas' mukbangs show her eating food from the likes of Pizza Hut, Taco Bell, and Hooters, but of course these videos don't entirely reflect what Paytas consumes on a daily basis.
However, Paytas revealed what she usually eats in a day over on TikTok, giving fans the chance to really get up close and personal with the YouTuber and see what she eats when the cameras aren't typically rolling. So, just what does Trisha Paytas eat in a day? Let's take a closer look into the YouTube sensation's daily diet.
Trisha Paytas' daily diet, from French toast to pasta
Trisha Paytas begins her day — and the TikTok — with an egg and bacon sandwich, or an "egg bacon sammy", before moving onto a portion of French toast with plenty of maple syrup (via YouTube). While other social media stars like TikTok teen Charli D'Amelio opt for cereal first thing, Paytas clearly likes her breakfasts to have plenty of protein (via Livestrong).
Next up is a cannoli, a tasty Italian treat which is the perfect sweet snack to see Paytas through to the next meal. After the cannoli, Paytas' next meal comes in the form of a big plate of nachos complete with salsa, cheese, and jalapeños. This is pretty simple to recreate at home, of course, if you want to try the same lunch as the YouTube star. Paytas then showcases fried mac and cheese balls topped with grated cheese, before a serving of angel hair alfredo. The creamy pasta dish is the final thing we see in the TikTok video and continues the Italian theme we first saw with the cannoli
This might not be what the YouTuber eats every single day – eating bacon every day isn't necessarily the healthiest option — but we love getting to know what a typical day looks like for Paytas.