The Surprising Way BTS' Kim Nam-Joon Learned English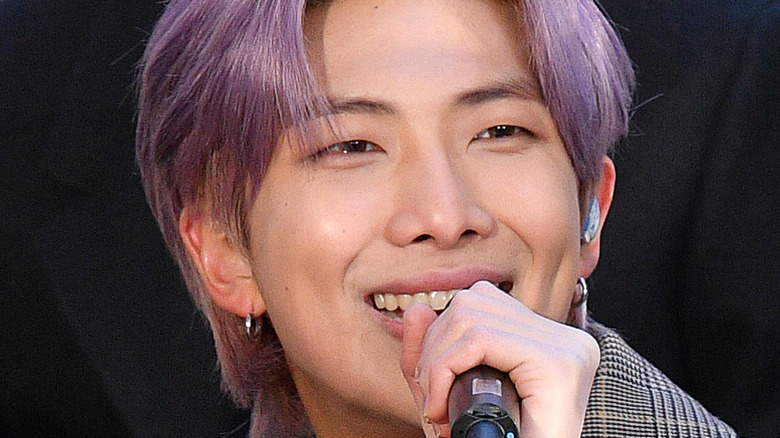 Dia Dipasupil/Getty Images
While it might seem like the K-pop group BTS has been an overnight success, they boy band members have actually been putting in work for years. Per Entertainment Tonight, the group was "formed through auditions by Bit Hit Entertainment in 2010 and 2011, and finalized in 2012." BTS (a.k.a. the Bangtan Boys) — which is comprised of Jin, Suga, J-Hope, RM, Jimin, V, and Jungkook — made their debut in 2013 and the rest is history.
BTS is a record-breaking machine. The group's single, "Dynamite," which dropped in August 2020, broke the Billboard record for "the most weeks spent at No. 1 on Billboard's Digital Song Sales chart." As of this writing, the song has topped the charts for 18 straight weeks, and it's been downloaded over a million times.
Despite being a South Korean group, BTS and the group's leader, Nam-joon (a.k.a RM) have undoubtedly made it big with hit — some of them in English – and they've been honored the world over. English might not be their native language, but RM and his bandmates make rapping and singing in the language seem easy and natural, likely adding to their success. So, just how did this performer learn the language that led to his global fame?
With friends like these, English is easy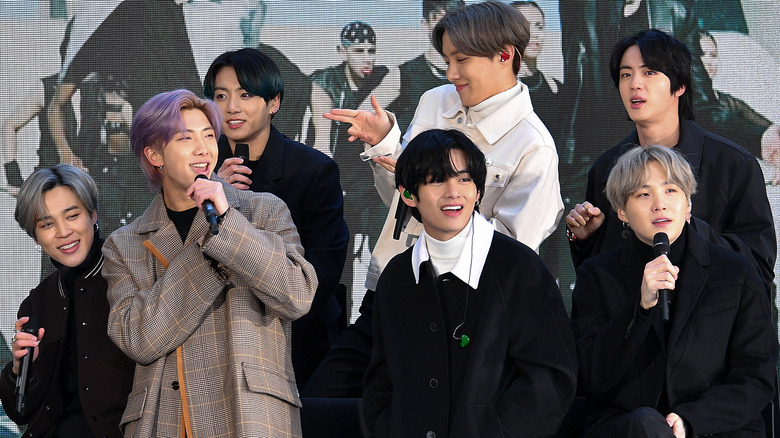 Dia Dipasupil/Getty Images
Apparently BTS' Kim Nam-joon (a.k.a RM) relied on American pop culture for his on-the-fly English language training, which help turn him into an artist who can write and rap songs in a language that's not his native tongue. According to Local Talk News, American rapper Eminem served as a muse of sorts for RM and inspired how he writes lyrics, but it was the popular sitcom Friends that taught him English.
"It was like a cliché for the Korean parents in my hometown to let their kids watch Friends," RM told Yahoo! Entertainment. "Firstly, I had no interest, because I cannot understand a word. But [my mom] thankfully let me watch it in Korean, like, subtitled."
He continued, "She bought the DVDs, 1 to 10 Seasons, and I repeated it like a dozen times. I think that's why [I learned English so well]. Their speech is clear and easy to understand." Friends was more than just a way for RM to learn English, though. He also found himself quite entertained by the show and counts Chandler Bing as his favorite character. He also loved following the soap opera-like love lives of Rachel Green and Ross Gellar.
All that being said, his attempt to master the English language has not stopped BTS and RM from receiving backlash for what some deem cultural appropriation, according to the South China Morning Post, with the outlet reporting that "BTS have copied Asian and Western musical trends and genres." However, a little backlash hasn't appeared to hurt the group's sound nor damaged their popularity, as the BTS boys keep churning out successful songs for their legion of fans worldwide to enjoy.