Here's Why Beanie Feldstein And Jonah Hill Have Different Last Names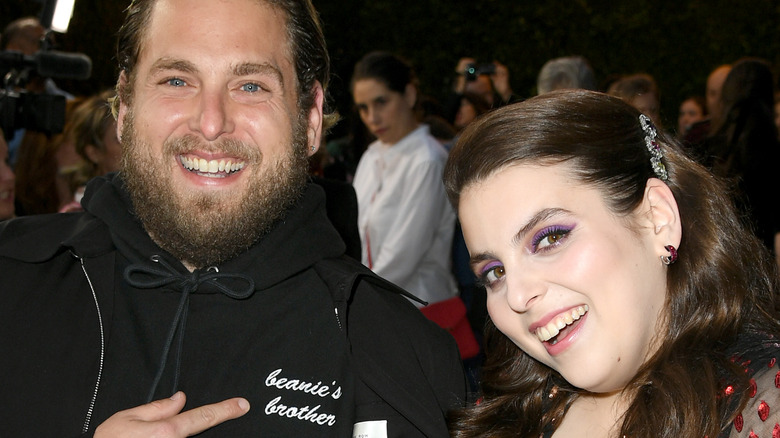 Kevin Winter/Getty Images
When Superbad star Jonah Hill showed up to the premiere of Olivia Wilde's directorial debut and instant teen classic, Booksmart, wearing a jacket embroidered with "beanie's brother," (via GQ) there were two distinct reactions. First and foremost, how cool was it that Hill, the better-known actor of the brother-sister duo, used the moment to shout out his sister, Beanie Feldstein, whose part in the movie was only her second major role following Lady Bird. However, there was also widespread confusion. 
Many social media users had no idea these two were related. In fact, as PopSugar notes, when Feldstein subsequently rocked up to that year's Golden Globes and expressed her happiness over her big bro's engagement news, Twitter was sent into a tailspin as commenters cried out for reassurance they weren't the only ones who didn't realize they were siblings. The fact Hill and Feldstein don't have the same surname doesn't help matters, of course, so what's the deal? Are they really siblings or is it more of a White Stripes situation?
The super close siblings are actually both Feldsteins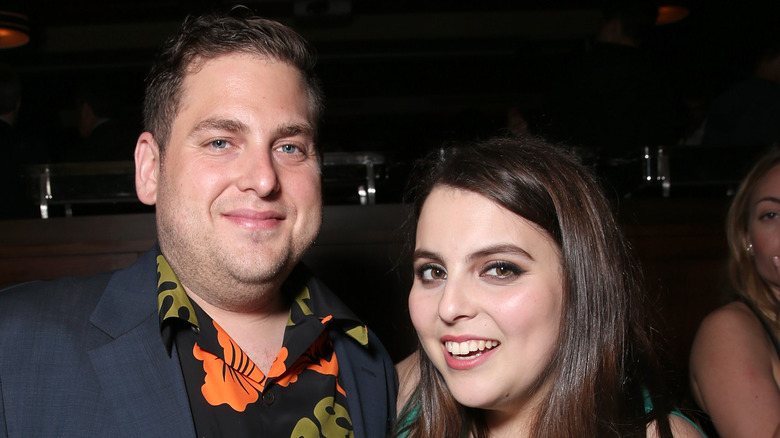 Todd Williamson/Getty Images
In an interview with Us Weekly, Feldstein described her brother as her BFF, admitting, "We are constantly found heart-to-hearting in a corner at a family engagement." The duo is so close Hill got his sister's name tattooed on his arm in 2018, proudly showing off the results on Instagram. As HuffPost advises, the siblings are a decade apart in age and are both Feldsteins, but Hill goes by his middle name. Their mother worked as a costume designer, while Dad was Guns 'N' Roses' accountant, so the kids grew up on the Hollywood fringes (via The Guardian). Although we don't know for sure, it stands to reason Hill wanted a chance to make it on his own merits rather than relying on the family name, when he was first starting out — that or he really hates his last name (in a previous interview with The Guardian, the actor freezes up completely when the subject is raised). 
Regardless, the siblings are incredibly close, with Feldstein even revealing during an appearance on fellow actor Justin Long's podcast that Hill hilariously used to call her Dexter because she was "a serial killer" in relationships (via Cheat Sheet). They've also been fans of each other forever, with the Booksmart star admitting during an interview with her big bro for Interview magazine that she'd loved his stuff since hearing it coming from his bedroom as a toddler. Hill, meanwhile, acknowledged simply, "Everyone who meets Beanie is a fan."