Inside Chet Hanks Relationship With His Parents Tom Hanks And Rita Wilson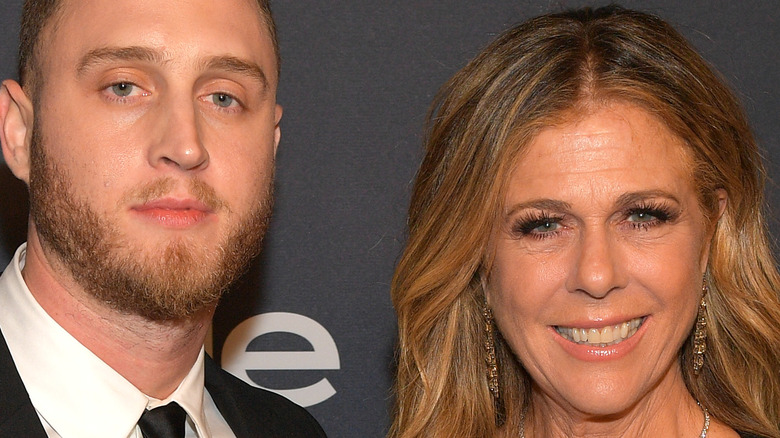 Matt Winkelmeyer/Getty Images
Often called "America's dad," Tom Hanks is a father to four children, including sometimes controversial figure Chet Hanks, who he shares with ex-wife Rita Wilson. 
According to Insider, Chet is a rapper who has also starred in a few notable television shows and movies including Empire, Curb Your Enthusiasm, and Indiana Jones and the Kingdom of the Crystal Skull. He also co-starred with his father Tom in Greyhound. 
According to TMZ, Kiana Parker, Chet's ex, is suing the rapper for $1 million, alleging multiple incidents of physical abuse against her from October 2020 to January 2021. On January 8, a video of one of their fights came out that showed both of them engaging in violent dialogue and ending in Chet having blood run down his face. Parker claims that injury was caused when she threw a pot at his head in self defense after Chet allegedly approached her with a knife. Parker has also alleged that he called her "just a ghetto Black b—h" as well as making threats of killing her in a murder-suicide. Parker was granted a temporary restraining order against Chet in January.
Chet Hanks' has a few controversial moments in the past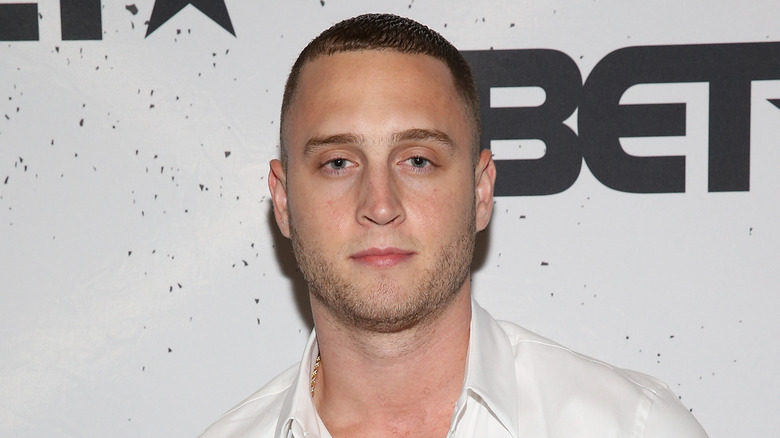 Bennett Raglin/Getty Images
According to the LA Times, Chet Hanks also got in trouble over his April 2021 music video titled "White Boy Summer," which was a parody of Megan Thee Stallion's "Hot Girl Summer." In an Instagram video, he said, "I just got this feeling, man, that this summer...it's about to be a white body summer." Later adding, "Take it how you want. I'm not talking about Trump, NASCAR-type white." 
While Tom Hanks and wife Rita Wilson were quarantining in Australia after being diagnosed with COVID-19 in March 2020, Chet was accused of being in the Illuminati because of the "Eye of Providence" tattoo he got on his chest (via E Online). 
Of course, the rapper took to social media to comment on the backlash. "You motherf–kers are going to believe what you want 'cause you're already so f–king committed to your weird Internet conspiracies, but I'm not actually in the f–king Illuminati, dude." He initially claimed he got the tattoo for spiritual reasons, but then came back and said, "I was trolling in that last video obviously because I'm pissed off at what you motherf–kers are f–cking saying about my family."
Tom and Rita' have always been supportive parents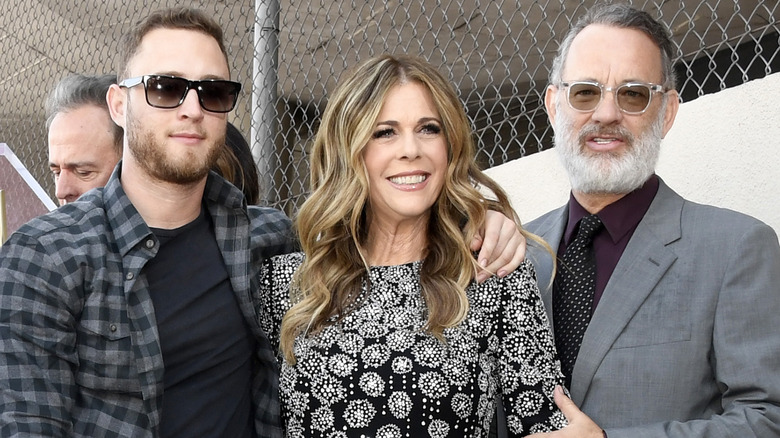 Frazer Harrison/Getty Images
Tom Hanks attended the 2020 Golden Globes award ceremony with his family, where he received the Cecil B. DeMille Award, but it was Chet Hanks who ended up making headlines for cultural appropriation (via The Cut). In a since-deleted clip shared to Instagram, Chet spoke in Jamaican Patois on the red carpet. According to People, his mother Rita Wilson commented on the post, writing, "Maybe the best laugh of the night?" 
In the past, per the outlet, Chet frequently used the N-word and defended his usage of the racial slur. He apologized for using the word in 2018, citing attention-seeking behavior and drug use. In a 2011 interview with Vice, he explained, "Like, growing up, people would want to become friends with me so they could meet my dad. And they didn't care about me at all." He has been sober since 2016, after hitting a breaking point in 2015 when he destroyed a hotel room and was subsequently wanted by the British police. This led him to entering rehab. 
In a 2015 interview with Entertainment Tonight, Tom shared, "As a parent, you love your kids unconditionally. You support them every step of the way." He added, "You got to applaud the bravery and honesty when it actually comes out of your own house." In 2019, Chet told TooFab, "I love my dad, he's a great man, he's a great actor, so I'm in a good position, you know what I mean?"