Inside Mel Brooks' Marriage With Actress Anne Bancroft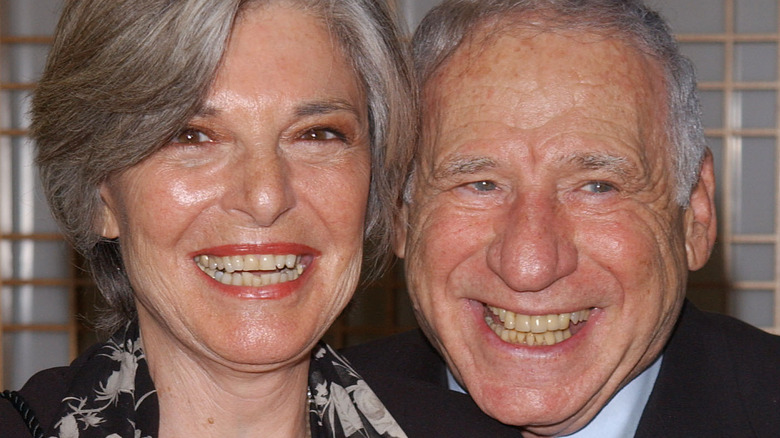 Frank Micelotta Archive/Getty Images
While today's "relationship goals" might be defined by Chrissy Teigen and John Legend, or Meghan Markle and Prince Harry, for decades no other couple fulfilled the meaning of those words quite like actress Anne Bancroft and comedian Mel Brooks.
The pair first met in February 1961, when Bancroft was rehearsing before her appearance during a Perry Como TV special. Brooks, a former TV writer himself, had joined a friend to watch the performance and was immediately taken by Bancroft.
"She finishes the song. It's a rehearsal, so you can talk," Brooks later recalled. "And I scream out, 'Anne Bancroft, I love you!' She said, 'Who are you?' I said, 'I'm Mel Brooks!' She said, 'I got your record!' You know, I did a record with Carl Reiner, 2000 Year Old Man" (via CBS News).
Brooks began to pursue Bancroft, knowing that she was the girl for him. "There was nobody else. She had everything. She had looks, she had brains, she had purpose," he said. The pair married in 1964 and remained together for 41 years, until Bancroft's passing in 2005.
Mel Brooks and Anne Bancroft collaborated on and off screen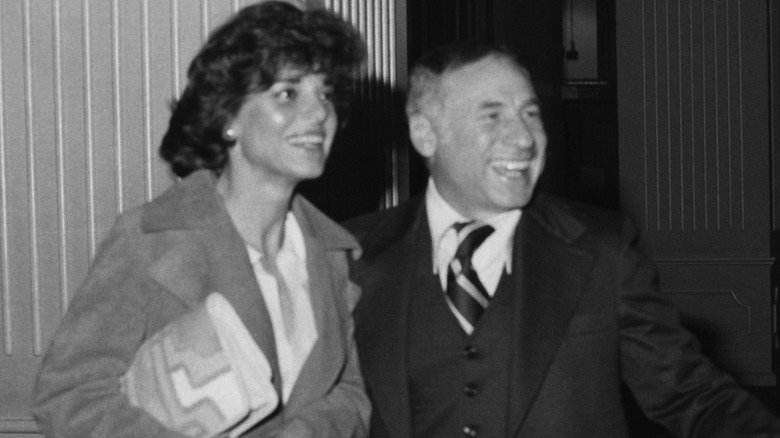 Michael Ochs Archives/Getty Images
Over the course of their marriage, Anne Bancroft and Mel Brooks weren't afraid to bring some of their behind-the-scenes chemistry to film and television roles. Bancroft appeared in three films directed by Brooks, Silent Movie, To Be or Not to Be, and Dracula: Dead and Loving It (via Country Living). They also notably appeared together in a 2004 episode of Curb Your Enthusiasm, portraying themselves in a cameo considered to be among Curb's best (via Time).
While some might think that directing your spouse would prove challenging, Brooks raved about the experience. In fact, during a SiriusXM interview with director Judd Apatow, Brooks pointed to his film To Be or Not to Be as his favorite, because of all the quality time he got to spend on set with Bancroft. "She was easy ... she was fun ... I liked her so much. I couldn't get enough of her," he recalled (via Daily Mail).
Luckily, Bancroft felt similarly. In 2000, she told the New York Daily News, "He makes me laugh a lot. I get excited when I hear his key in the door. It's like, 'Ooh! The party's going to start.'"
Their differences kept them together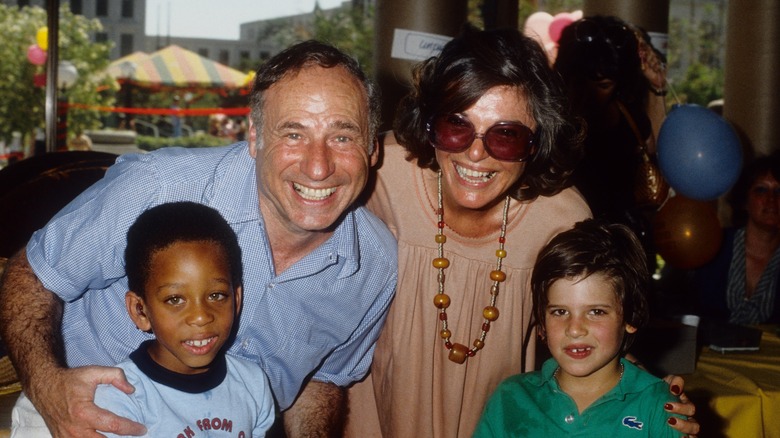 Michael Ochs Archives/Getty Images
At face value, Anne Bancroft and Mel Brooks might have seemed an odd match. Bancroft was a serious, Oscar-winning actress, who is perhaps most famous for her portrayal of Mrs. Robinson in the 1967 classic The Graduate. Brooks, on the other hand, is an incredibly prolific comedian, known for everything from his comedy duo with Carl Reiner to films like Blazing Saddles, The Producers, and Spaceballs.
But it appears as though these differences were what helped bring them together. Reminiscing about their first meeting, Bancroft said, "I want you to know that, in two years, no man had ever approached me with that kind of aggression, because I had just done Two for the Seesaw and The Miracle Worker, and people were very scared of me, especially men" (via People).
"This aggressive voice came out from the dark," Bancroft explained. "And I thought it must be a combination of Clark Gable and Robert Taylor, Robert Redford. It turned out to be Mel Brooks, and he never left me from that moment on."
Even after her death in 2005, Brooks remained Bancroft's biggest champion, creating a box set of her best roles, appropriately titled The Anne Bancroft Collection (via CBS News).
"She could be the leading lady or an aide-de-camp," he said of her work. "She could help people, be quietly on their side pushing them, or she could just be on stage with the spotlight and star in something. She was a great gift. She was a gift from God."