The Truth About Queen Elizabeth's Engagement Ring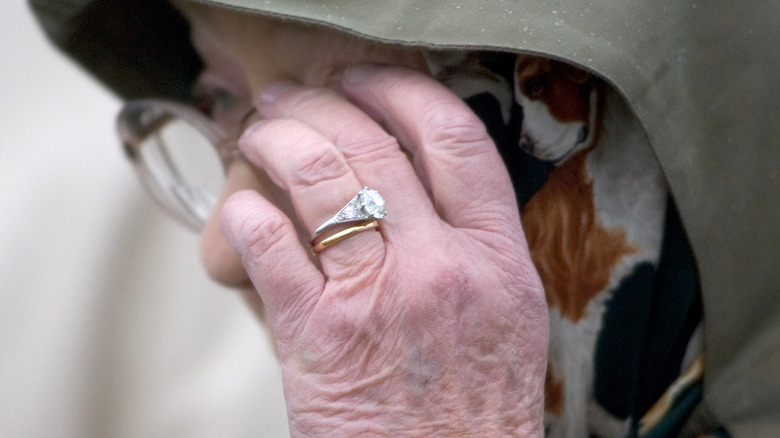 Antony Jones/Getty Images
As the world reflects on the life of Prince Philip, who died at 99 years old on April 9, mourners are remembering the beginnings of his relationship with Queen Elizabeth. The Duke of Edinburgh officially proposed to Queen Elizabeth in 1947. According to Town and Country, however, he first proposed to the Queen in 1946, in Scotland. King George insisted that the couple postpone their engagement until his daughter was a little older.
It was at the second proposal that Prince Philip presented the famous engagement ring, which features a three-carat, round-cut diamond. Interestingly, Prince Philip was outside the norm in proposing with a diamond. Brides reports that a marketing campaign, which was designed by the British company De Beers, launched the same year as Prince Philip's proposal and helped popularize the diamond engagement ring. The slogan "a diamond is forever" resonated greatly with the public. To this day, diamonds are the engagement stone of choice.
Queen Elizabeth's engagement ring also has remarkable significance and meaning. The late Duke designed it himself out of a family heirloom.
The Queen's engagement ring came from an important tiara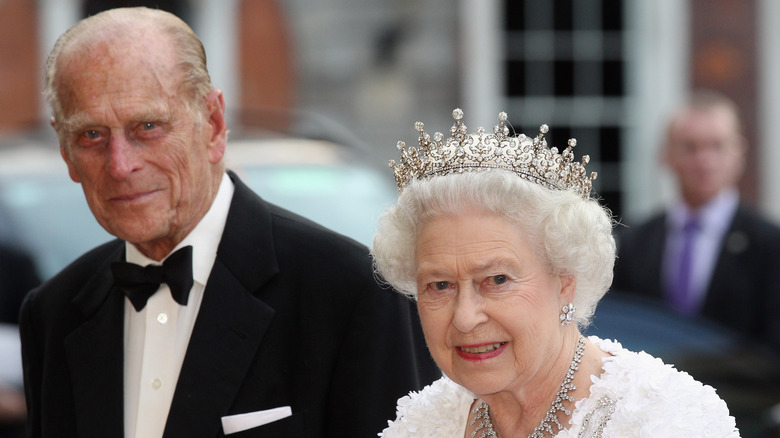 Oli Scarff/Getty Images
As reported by Town and Country, the diamonds in Queen Elizabeth's engagement ring came from a tiara that belonged to Prince Philip's mother, Princess Alice of Battenberg. Princess Alice was gifted the tiara from Tsar Nicholas II and Tsarina Alexandra of Russia. When Princess Alice heard that her son was planning to propose, she gave him the tiara to use as he wished. The Duke of Edinburgh then hired the London Jeweler Philip Antrobus Ltd. to extract the diamonds and create the design. Additional stones from the tiara were later used in a bracelet, which the Duke presented to Queen Elizabeth as a wedding present, via Insider.
Per Good Housekeeping, the Queen's engagement ring features 11 diamonds total, with 10 smaller diamonds set around the three-carat center. The ring made its debut on July 10, 1947, when Prince Philip and Queen Elizabeth announced their engagement. E! Online reports that this custom piece of historical jewelry is now valued at £100,000, or $168,480.