The Truth About Amanda Shires And Jason Isbell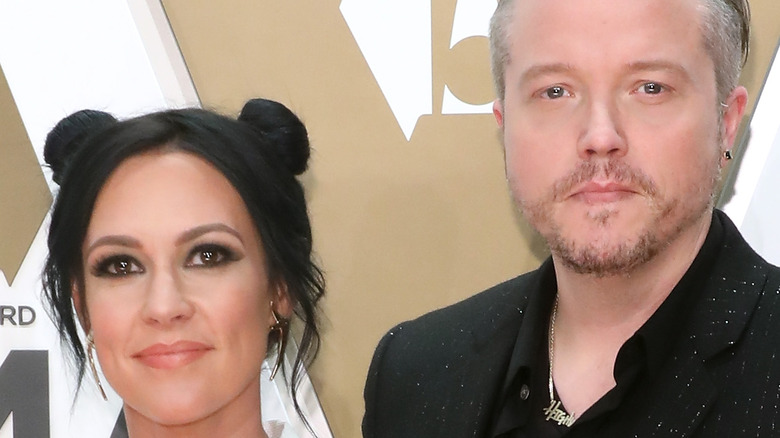 Taylor Hill/Getty Images
From the Thrift Store Cowboys and the Drive By Truckers – two fantastic country group names if we've ever heard – came Nashville's power couple, Amanda Shires and Jason Isbell, respectively. Though it may seem like the two have it all, with bustling careers, a beautiful farmhouse on their own piece of land, and a beaming daughter named Mercy, the pair's love story has been hard won.
Per a 2018 interview with Rolling Stone, Isbell and Shires had been in each other's orbit for a while, but didn't officially meet until a show in Georgia where Shires teased Isbell for how "famous" he was supposed to be well before he'd hit it big. She playfully made him autograph a polaroid for her, a beloved bit of ephemera that hangs in their bathroom today. But not every memory from their early courtship is a happy one.
Isbell struggled deeply with alcoholism and drugs early in his career. "I had it timed where, by the very end of the show, I'd done just about all I could do standing up," he told NPR. "I knew I needed two or three before I went on, and then during the show, we'd just pass a bottle around between the band." Later in the interview, Isbell recalled drunkenly musing that he "needed to go to rehab," to which Shires replied, "'You're telling the wrong person. If you say this again, then you're gonna be held to it." Which, she did.
Amanda and Jason hold high standards for each other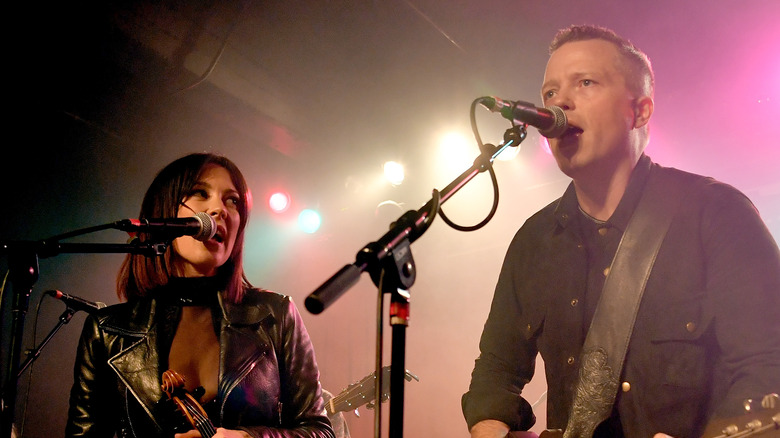 Erika Goldring/Getty Images
The next time Jason Isbell told Amanda Shires he wanted to quit, she began talking with his manager about facilitating a trip to rehab. However, the "night-before bender" nearly broke them. 
Shires told WNYC Studios, "He wanted to do every drug, drink every thing, drink the moonshine, all the late night stuff, it was crazy. It started out like a cool night, you know, and ended up being the worst night ever, ever ever ever. At that point I was not having any more to do with him. Because I was so mad the next morning." But as Isbell worked through rehab, he wrote to Shires, sending her drawings and progress updates. By the time he was through with rehab, the pair moved into a duplex in Nashville together to give it another try.
Though it hasn't been smooth sailing, it's abundantly clear that their marriage has the tools to last – mostly because they're both committed to their values and their communication. "As a team, our family is a collaborative effort, and we really want to get the best out of everybody," Isbell told NPR. "I don't want to do something that's gonna prevent Amanda from doing what she's best at...If I were to say, 'I would rather you stay home and watch the baby while I'm out touring,' that wouldn't be allowing her to do what she's best at."