Who Is Brandi Carlile's Wife, Catherine Shepherd?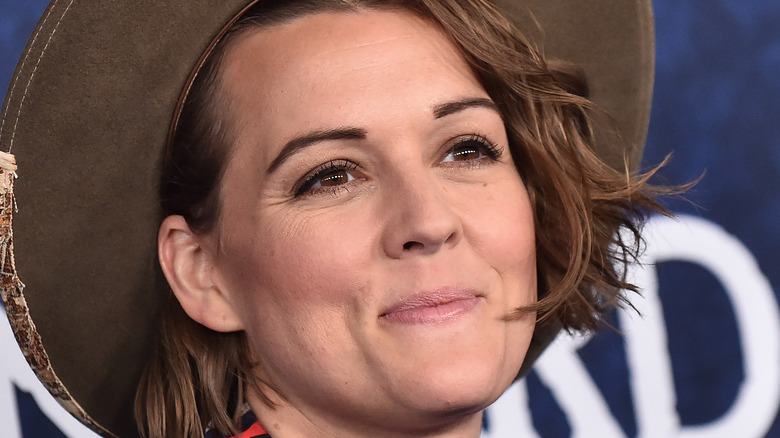 Shutterstock
Though musician Brandi Carlile has been happily married to her wife, Catherine Shepherd, since 2012, the public did not receive a real glimpse into their life until they appeared together at the 2019 Grammy Awards. After Carlisle's three Grammy wins, she and Shepherd posed together for a series of sweet photos that led to an increased public interest in their love story (per Variety). Carlile first met Shepherd, who was managing Paul McCartney's charity work at the time, when she reached out to see if she could donate any of McCartney's memorabilia to the singer's Fight the Fear campaign, which provides self-defense training to women in abusive situations. "We met through our activism and interest in charity," Brandi said in an interview with Rolling Stone. "We communicated for about a year, and the entire time I thought I was talking to somebody who was 65. It was an interesting way to fall in love."
During one of her three acceptance speeches at the 2019 Grammys, Carlile recalled coming out of the closet and how that act made her life a bit more difficult in the beginning. "Americana music is the island of the misfit toys [and] I am such a misfit," Carlile said (via HuffPost). "I came out of the closet at 15 years old, when I was in high school, and I can assure you that I was never invited to any parties."
Brandi Carlile and her wife live happily together on a secluded compound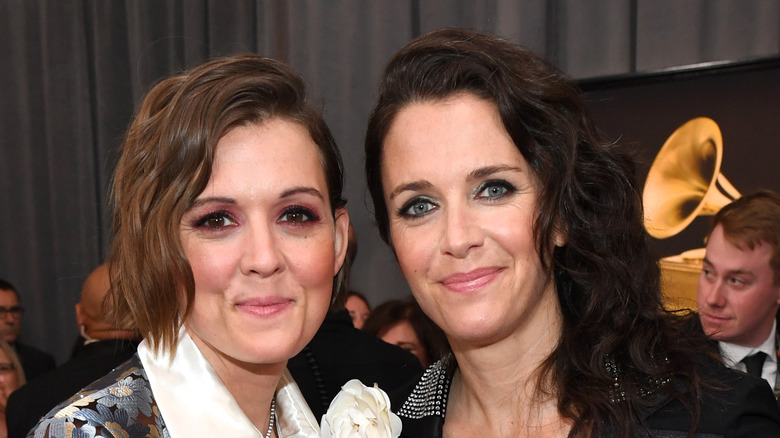 Kevin Mazur/Getty Images
In an exclusive essay for Parents Magazine, Barndi Carlile detailed the cozy life that she has established with Shepherd and their daughters, Evangeline and Elijah, on a compound of sorts in rural Washington state. On this compound, Carlile and her family live close to Carlile's bandmates and a few members of their extended families. While the situation is idyllic, Carlile admitted that navigating parenthood as an LGBTQ+ parent could be difficult. "I wish there had been more for me to read or to absentmindedly absorb through TV sitcoms, movies, and ads — things that could have prepared me for the strangeness of being wholly responsible for a child without much representation or mirror to show me what it would look like," she wrote. "Now I want to be a part of building some of that history for other LGBTQ+ parents."
Though not much is known about Shepherd, as she is not active on social media and the couple has been fairly private about their life together, we do know that Shepherd is currently serving as the executive director of the Looking Out Foundation, a non-profit founded by Carlile and her band members (per LinkedIn). Aside from occasionally appearing on the red carpet with her wife, Catherine Shepherd likes to steer clear of the public eye.