Prince Philip Will Be Carried To His Funeral In A Custom-Made Land Rover. Here's Why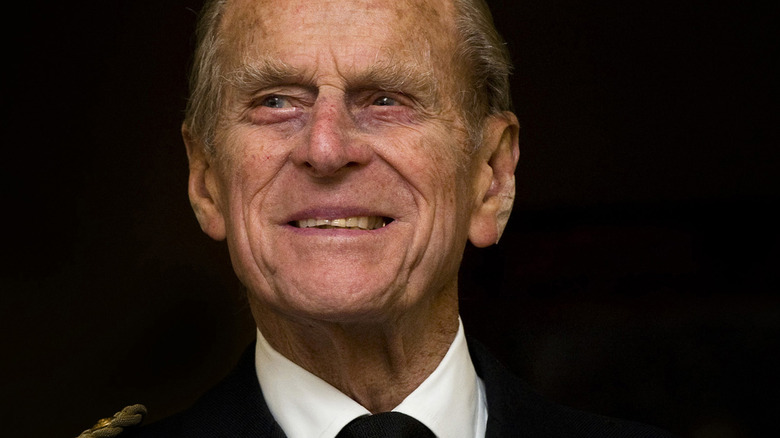 Wpa Pool/Getty Images
In 2003, Prince Philip began working on designing the vehicle that would carry his casket: a modified Land Rover Defender TD5 130 cab chassis from Land Rover's factory in Solihull (via BBC News). He would continue working on it for over 16 years, putting the finishing touch on his Land Rover hearse in 2019, the same year that the then 97-year-old royal made international news by crashing another Land Rover into a Kia Minivan (via The New York Times). That, in turn, was only three years after the Duke of Edinburgh personally chauffeured Barack and Michelle Obama to lunch at Windsor Castle in, you guessed it, a Land Rover (via The Guardian). Barack Obama sat in the front with the prince. Michelle and the queen sat in the back, and, maybe, dished the dirt (or, more likely, discussed the weather). 
But back to the Land Rover that Philip designed, specifically for his funeral. It's got an open-top back and customized "stops" that will hold his coffin in place, according to new information released by Buckingham Palace (via Australian Broadcasting Corporation News). The Land Rover's color, a dark bronze-green, pays tribute to the prince's military past. As per BBC News, Prince Philip's hearse also comes with green wheel hubs, and without a registration plate. Car and Driver reports that its interiors are also green, and its trim, french oak.  
Inside Prince Philip's love affair with Land Rovers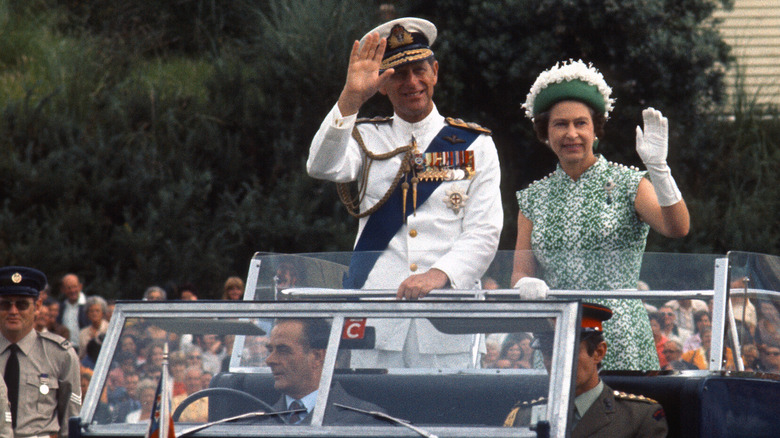 Anwar Hussein/Getty Images
In some ways, Prince Philip's final ride in a Land Rover is also his final joke. There is a rumor circulating the media that, while discussing funeral arrangements, Philip once quipped to Queen Elizabeth, "Just stick me in the back of a Land Rover and drive me to Windsor" (via The Washington Post). His custom-designed Land Rover is also, however, a final goodbye to one of the prince's passions. As Car and Driver notes, Philip was driving almost exclusively Land Rovers by the 1970s. As per the publication, the Duke of Edinburgh probably owned, rented, or drove every generation of Range Rover that came out in his lifetime. At the royal family's Balmoral Castle, there's an L322 third-generation Land Rover that both Queen Elizabeth and Prince Philip drove. Over an 11-year period, it racked up 81,000 miles. And, if you want perspective, that's enough mileage to drive between Washington D.C. and Los Angeles over 30 times (Travel Math).
You don't need British Prime Minister, Boris Johnson, to tell you that the Land Rover is a perfect funeral hearse for Prince Philip. But he did, anyway. "That vehicle's unique and idiosyncratic silhouette reminds the world that he was above all a practical man, who could take something very traditional — whether a machine or indeed a great national institution — and find a way by his own ingenuity to improve it, to adapt it for the 20th or the 21st century," the Prime Minister told his parliament (via Reuters).