Who Is Queen Elizabeth's Lady-In-Waiting?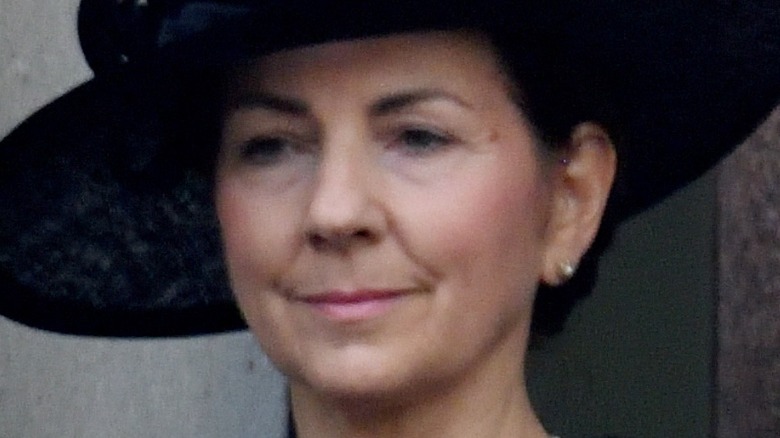 Pool/max Mumby/Getty Images
Queen Elizabeth is expected to be accompanied to the funeral of Prince Phillip by her lady in waiting, Susan Rhodes, but will sit alone (via The Sun). Lady-in-waiting is a historic position, which in U.S. terms would likely be considered an attendant or a companion. It is traditional that senior royals have at least one lady-in-waiting, although most have more (via Royal Central). While the position was limited to those of royal lineage in historic times, in modern practice this job is often given to close friends or family. The assistant will typically help the royal with personal matters, accompany them to events, and often act as an additional "set of hands" doing tasks such as picking up extra flowers.
Susan Rhodes became lady-in-waiting in 2017, a position that was also held by her mother-in-law Margaret Rhodes until her death at the age of 91 in 2016. Margaret Rhodes was considered the best friend of the queen as well as a cousin.
The queen's health and safety is paramount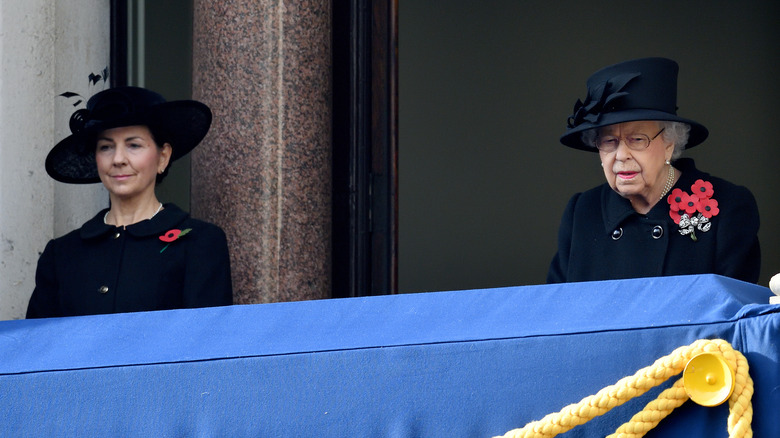 Pool/max Mumby/Getty Images
Susan Rhodes is one of five ladies-in-waiting including Lady Susan Hussey, Mary Morrison, Lady Elizabeth Leeming, and Fortune FitzRoy, the Duchess of Grafton. Since the position is typically given to close associates of the elder monarch, many of the queen's companions are also seniors (via Meaww) who would be at higher risk for complications from the SARS-COV-2 coronavirus. As a younger companion, Rhodes has also been said to be part of Her Royal Majesty's "covid bubble" allowing for safer interactions for the aging queen. In previous times, this companionship may have instead been provided by the Duchess of Cornwall.
Susan Rhodes has previously been pictured with the queen at the National Service of Remembrance at the Cenotaph in Westminster in 2020. Rhodes was appointed as an extra lady-in-waiting at the same time as the queen's first cousin, Lady Elizabeth Leeming, and is married to Simon Rhodes. We hope she is able to provide the needed comfort and assistance to the queen on this somber day.