What A Psychic Medium Noticed About William And Harry At Prince Philip's Funeral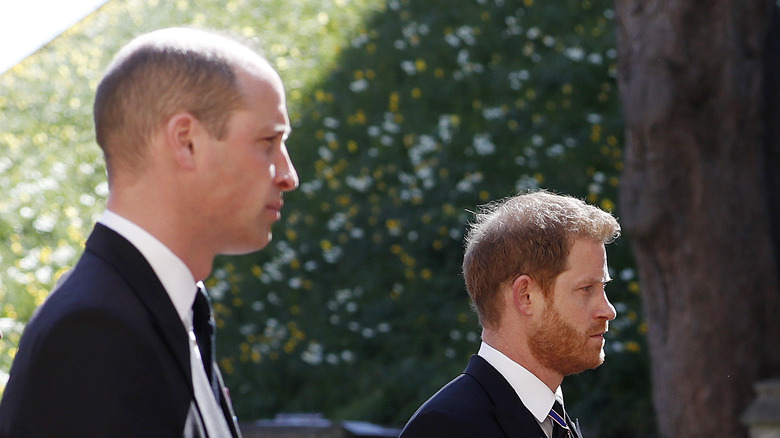 Wpa Pool/Getty Images
Prince Philip, Duke of Edinburgh, was the longtime Windsor family patriarch before his death at the age of 99. While the Queen may have been the head of the English royalty, the duke was clearly part of the glue that united the senior royals as family. Describes Princess Eugenie in the documentary Our Queen at Ninety, "He really is strong and consistent. He's been there for all these years, and I think he's the rock, you know, for all of us," (via Town & Country). This loss must be affecting Princes William and Harry very strongly.
Celebrity aura reader, psychic medium, and spirit guide Megan Michaela Firester, who goes by "Mystic Michaela," hopes to provide us some insight. She told The List, "The loss of Philip was like losing a father figure for both Harry and William. Their old relationship of leaning on one another has transformed and shifted. William feels to be responding with anger and hurt, Harry feels to be responding with sadness and overwhelm."
What we know about the family relationships would seem to back up this statement.
Prince Philip played a central role in William and Harry's lives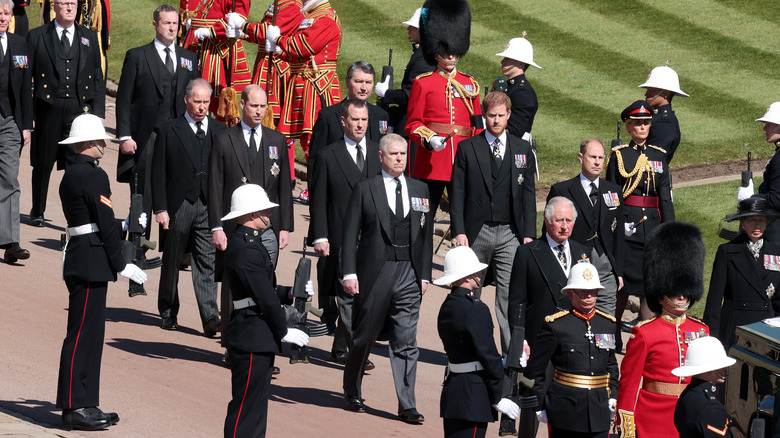 Wpa Pool/Getty Images
Prince Philip was said to be a key protector of the young princes upon their mother's death in 1997, shielding and protecting them from the media frenzy at the family's Balmoral estate. Says The Diana Chronicles author Tina Brown, he likely drew upon his own temporary loss of his mother at 10, and  "... was brilliantly effective with his grandsons, offering them gruff tenderness and outdoor activities like stalking and hiking to tire them out" (per Town & Country). This rock and anchor of the family could not have gone at a more inopportune time in the royal brothers' relationship either.
In a list of disagreements that continues to grow, Prince William and Prince Harry did not even walk next to each other for the funeral procession, instead being buffered by a beloved cousin (via Mercury News). Definitely not leaning on each other, coronavirus protocols have further distanced the two siblings with Harry's need to isolate upon arrival in England and William's choice to stay at home with his family. It seems the hurt, anger, and sadness may not be going anywhere anytime soon.