The Controversial Moment You Missed At Prince Philip's Funeral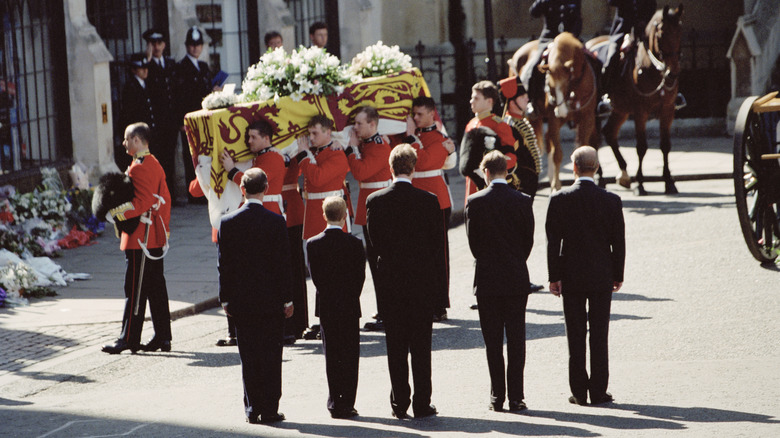 Colin Davey/Getty Images
Prince Philip, the longest-serving consort died on April 9 at the age of 99 (per BBC). Even though he didn't want all the fuss of the pomp and circumstance he was given a perfectly British send-off. Sadly, the day was not without its hiccups as Wales Online reported a topless protestor outside Windsor Castle. The woman in question ran onto the road shouting "save the planet." The woman on a mission ran alone onto the empty pavement right as the minute of silence ended and mourners started clapping. 
According to the outlet the protester then jumped on a statue of Queen Victoria before the police officers were able to remove her from the scene on Castle Hill. The person wore very little clothing, as she had no bra or shirt on. After the police were able to apprehend the protester they could be seen taking the person away from the Castle (via The Independent). They were also seen retrieving her clothing after she shed them for her moment in the limelight.
The funeral proceeded despite the outburst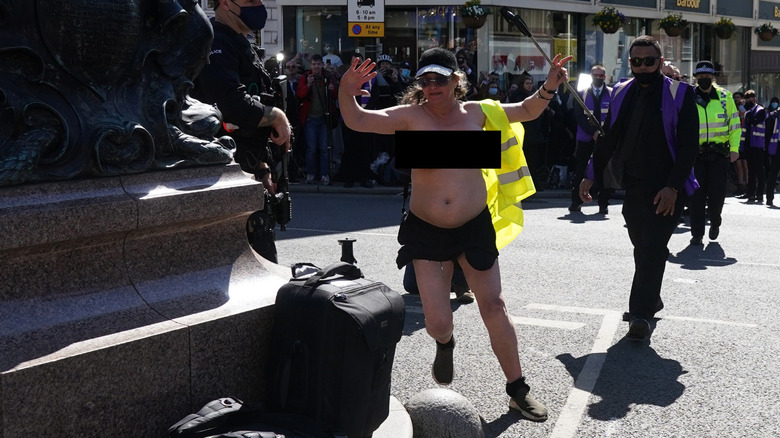 Christopher Furlong/Getty Images
Even after the small disturbance, the funeral procession went on, abiding by the wishes of the late duke and modified in accordance with constraints necessitated by the coronavirus. Around Windsor, visitors left flowers and some even stood outside the castle. Mourners noted the duke's love of the military and how it was reflected due to the pageantry of the ceremony. Royal marines removed the coffin and slowly carried him up the steps to the chapel where his beloved wife and queen waited for his arrival (per The Guardian). 
As the west doors opened viewers watched as the coffin was laid in front of the altar. One would hazard a guess that the late prince might have gotten a good chuckle out of the outburst though those around did not find the outburst funny.