How Many Royals Are Buried Alongside Prince Philip In St. George's Chapel?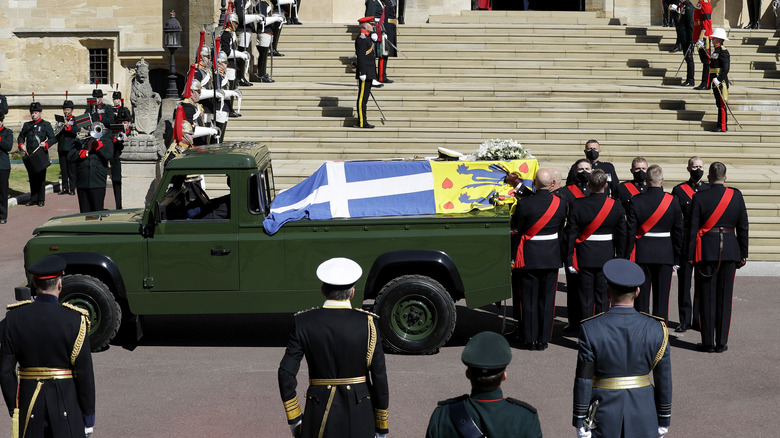 Wpa Pool/Getty Images
Today is a despondent day in the United Kingdom and throughout the world, as Prince Philip is finally laid to rest after a week of mourning. While the parade marches on with the solemn faces of his loved ones looking on, royal enthusiasts can't help but be drawn back to the same funeral march of Princess Diana as both Prince William and Prince Harry walked together like they did with their grandfather so many years ago. The Duke of Edinburgh will be laid to rest at Windsor Castle below St George's Chapel. Prince Philip died last Friday at the age of 99, surrounded by his family (per The Guardian). The Duke's English oak coffin will be carried from the Private Chapel in the Castle to St George's is a specialty built Land Rover.
After the 15-minute procession, there will be one minute of silence. The Buglers of the Royal Marines will perform the wartime alert, which is a tradition closely associated with naval funerals. This will be to pay tribute to Prince Philip's active service in the Royal Navy during the Second World War (per Wales Online).
A chapel of history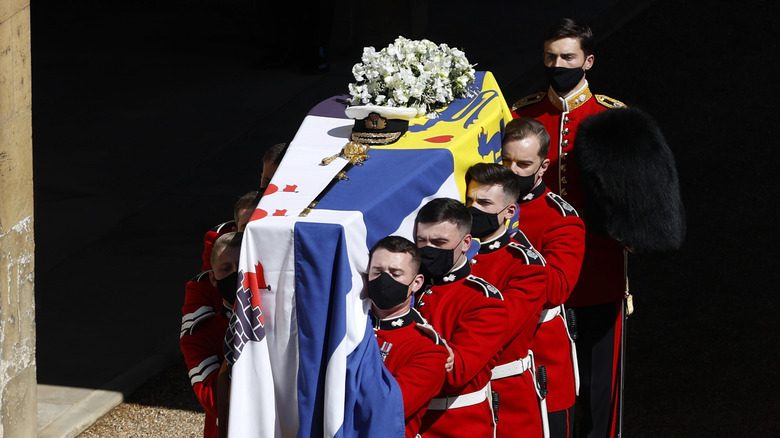 Wpa Pool/Getty Images
According to the Daily Mail, the duke will be the 25th royal buried in the vault 16 ft underground. Once Queen Elizabeth II passes away, the consort will then be moved to King George VI Memorial Chapel to spend all eternity next to his wife. Currently, the 200-year-old vault hidden below the castle's grounds holds some other notable names, including George III, George IV, George V of Hanover and William IV, Queen Victoria's father Prince Edward, George III's wife Queen Charlotte, and Queen Mary's grandfather Prince Adolphus.
Wales Online shared that the gothic church has a long history behind it and has been around since the 15th century. The chapel has been the scene for many weddings, funerals, and christenings. Royal watchers will recognize it as the backdrop for Meghan Markle and Prince Harry's wedding back in 2018. The funeral today will only consist of 30 family members and millions watching the televised funeral.