How Long Does It Take To Get A Bayalage Hair Treatment?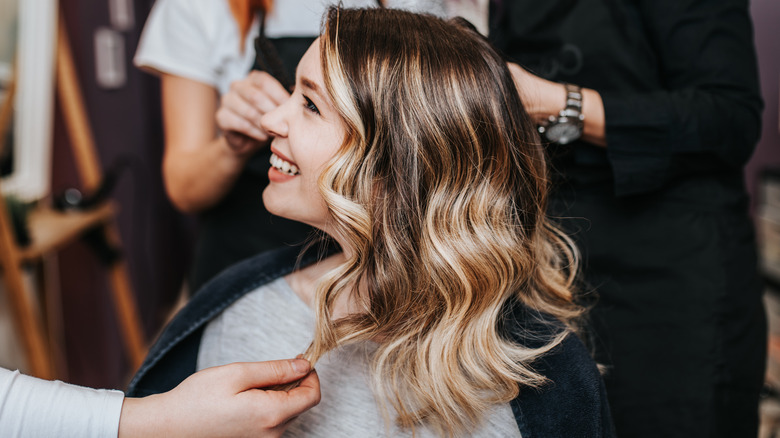 Shutterstock
If you're interested in getting a balayage hair treatment for buttery-blonde tresses (or rich, caramel tones) then you're probably wondering how long the process will take. As a technique that involves coloring the hair freehand, where the dye is painted directly onto hair without using foil (via John Frieda), balayage is heavily artistic and can be time consuming. Even then, colorist Olivia Cassanova told Byrdie that balayage "is good for anyone who wants a more natural look, and also to someone who wants something low maintenance and easy to manage." So what does the process entail?
According to Cassanova, balayage guarantees "undone, cool surfer girl hair," and who doesn't want that? But instead of spending days surf-side, the treatment involves being in the salon chair for longer than you may expect. As your stylist applies the color on your hair as if they were painting a canvas, the finished product is a "soft, multidimensional and natural looking highlight," with lighter strands framing the face and on the ends (via Byrdie). Although the process is complex, balayage is known for a seamless grow-in, allowing some clients to go for touch-ups just twice a year.
Everything to know about the bayalage process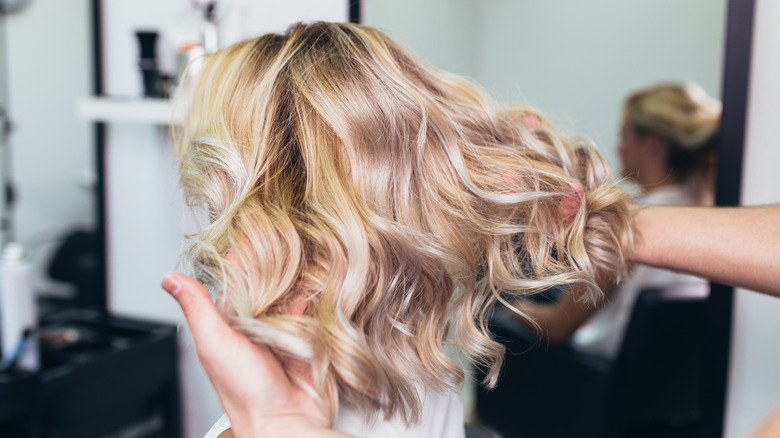 Shutterstock
As explained by John Frieda, the hand-painted nature of balayage makes it a bit more time consuming than typical highlights. A simple balayage treatment with just a few painted sections can take just 45 minutes, but all-over balayage can take up to 3 hours. That being said, according to Byrdie, the treatment can take anywhere from 3-5 hours, so bring a book, a Netflix series on your iPad, or even some work to do as you prepare to sit in the salon chair for quite some time.
Once you're at the salon, you will most probably have a conversation with your stylist about the end goal, so bringing photos is always recommended so both of you are on the same page. Next, your hair will be sectioned off and hand-painted, which can take anywhere from 1-2 hours. Some colorists recommend coming in with clean hair for the best results! After hair is painted, you will be put under a dryer for up to 45 minutes so the color lightens fully, which is followed by rinsing, sometimes a protein treatment, and a toner to get your strands cool-toned (via Byrdie). 
Many stylists recommend using a purple shampoo to avoid balayage turning brassy or orange, followed by weekly deep conditioners (via John Frieda). This will help you maintain balayage's signature natural, sun-kissed look (via Grazia), making the time-consuming process totally worth it in the end.