Here's What's Really Going On With Keith Urban's Face At The 2021 ACMs
Kevin Mazur/Getty Images
If there is one thing we can count on, it's that the social media rumor mill is quick — and unrelenting. Country music star Keith Urban is co-hosting this year's Academy of Country Music Awards, and Twitter is ablaze with comments — not about his music, but about the way he looks. "Keith Urban, let yourself age gracefully. Plastic surgery is making you look like a cross between Siegfried & Roy and a lesbian. #ACMAwards" wrote one Twitter user. 
"Keith Urban has spent lockdown getting some super creepy plastic surgery. Wow. #ACMAwards," wrote another. 
Another member of the Twitterati tried to be positive, but ended up lobbing a comment that came across looking more like an insult: "Usually I'm like, 'Oh god, so and so overdid it with the cosmetic stuff,' but tbh Keith Urban does not have a face that would have aged well so on him I think it's fine."
Are Keith Urban and Nicole Kidman getting his-and-hers Botox treatments?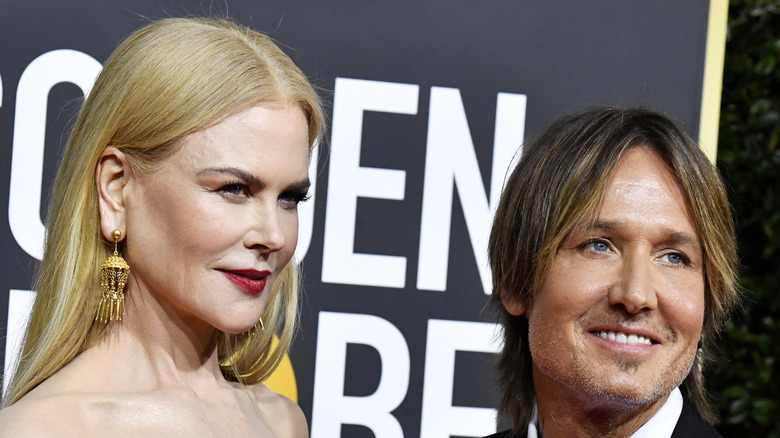 Frazer Harrison/Getty Images
Twitter may be busy buzzing about the way Keith Urban looks, but they've got nothing on the tabloids, which link Urban and his wife, Nicole Kidman to Botox use in a unique way. A "source" has reportedly revealed that Urban and Kidman respond to stress — and the fine lines and wrinkles it can produce — by getting Botox treatments together. "They've gone in for solo treatments, of course, but they also have a cosmetic surgeon who comes to see them in the privacy of their own home," a source reportedly told Life and Style (via New Idea). The source also alleged that Kidman and Urban are doing this "to keep the spark in their relationship alive."
The rumors have come up before. Nicole Kidman has, at least, gone on the record to refute them by saying that the reason her skin looks so smooth is because she doesn't smoke, and she always wears sunscreen (via HuffPost). But as New Idea notes — the couple aren't saying anything about the his-and-hers Botox rumors.