Twitter Had Quite The Reaction To Mickey Guyton's Cardi B Impression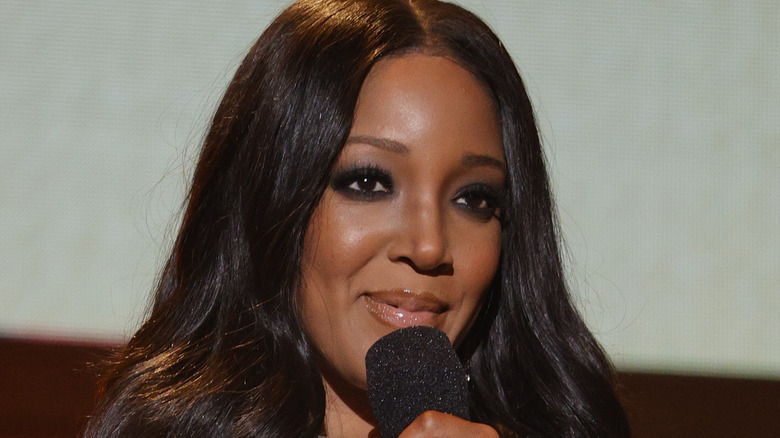 Jason Kempin/Getty Images
ACM Awards host Mickey Guyton brought a never-before-seen twist to the show, and fans on Twitter are sounding off. The "What Are You Gonna Tell Her" singer is happy to bring diversity and representation to the country awards show, telling Variety that "the people in the community are so inclusive, and it's time that the award shows show that." Unapologetically herself, the stunning host and new mom gave the show her all – and that included an ode to a very famous rap star.
When presenting fellow Texan Miranda Lambert's performance, Guyton showed her excitement with a very Cardi B-like (and impressive!) "okurrr." The best part of the unexpected move? The "Black Like Me" singer might have been paying tribute to Cardi for their friendship, coming after a fun feature earlier this year on the rapper's Facebook show Cardi Tries (via People). As the two entertainers tried their hand at ranching together, milking a cow and shearing sheep, it seemed clear the pair had become fast friends.
Now after Guyton's now-famous Cardi B impression, viewers are taking to Twitter to share their thoughts.
Viewers sounded off on Guyton's impression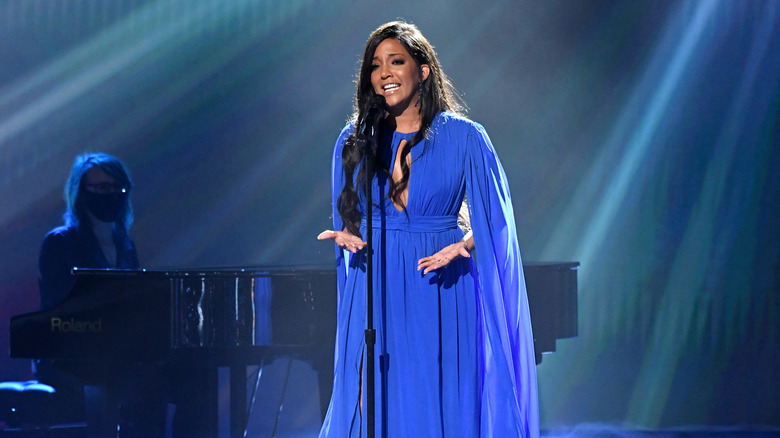 Kevin Mazur/Getty Images
An ACM first, Guyton's "okurrr" was much-lauded by Twitter users, who took to the social platform to discuss. One fan tweeted, "Yes girl! Okurrr! Love it! I can't do it & you did it the first time @MickeyGuyton," making a case for how difficult Cardi B's signature phrase is.
Another viewer tweeted, "Is it me, or did Mickey Guyton just hit a Cardi B 'okurrr'?" voicing their shock. We suspect that surprise was the most common reaction to the country singer's impression, with another Twitter user writing, "I'm pretty sure [Mickey] Guyton doing @iamcardib 'okurrr' at the #CMA was a country music first but I'm here for it!" 
No one said it better than one user who simply wrote, "@MickeyGuyton bringing OKURRR to the#ACMAwards is what America needs," and we just have to agree. Guyton brought her fun, charismatic personality to the awards show, and it's safe to say fans loved it!