Lip Reading Experts Reveal What Harry Said To William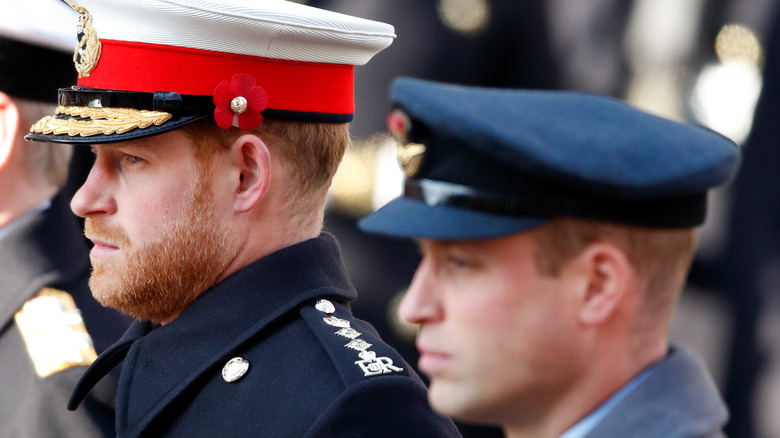 Max Mumby/indigo/Getty Images
Shortly after the ceremonial funeral of Prince Philip, the Duke of Edinburgh on Saturday, April 17, Prince Harry and his older brother Prince William were seen talking to one another for the first time since the Duke and Duchess of Sussex's bombshell Oprah Winfrey interview back in March (via Page Six).
Although cameras were unable to figure out what the royal siblings were saying to each other following the emotional ceremony at Windsor Castle, professional lip readers have weighed in and revealed what they believe Prince Harry and Prince William were discussing. Speaking to the Express, the Duke of Cambridge is thought to have said, "Yes it was great, wasn't it," to which younger brother Harry replied, "It was as he wanted." Following a conversation between the pair and the Archbishop of Canterbury, Prince William also said to his brother, "Absolutely beautiful service, ah, the music," some interpreters claim.
The sight of Prince Harry and William engaging in what appeared to be a good-natured exchange may have come as a surprise to many, especially after reports from The Mail on Sunday that revealed Prince Harry had experienced "a great deal of frostiness" since arriving back in the UK for the first time in over a year.
Speaking to the newspaper, sources revealed that Prince William had requested for cousin Peter Philips to stand between himself and his younger brother during the funeral, adding that the royal family are "still very upset" with Harry and Meghan Markle's tell-all interview back in March.
Prince Harry has reportedly begun mending bridges with his family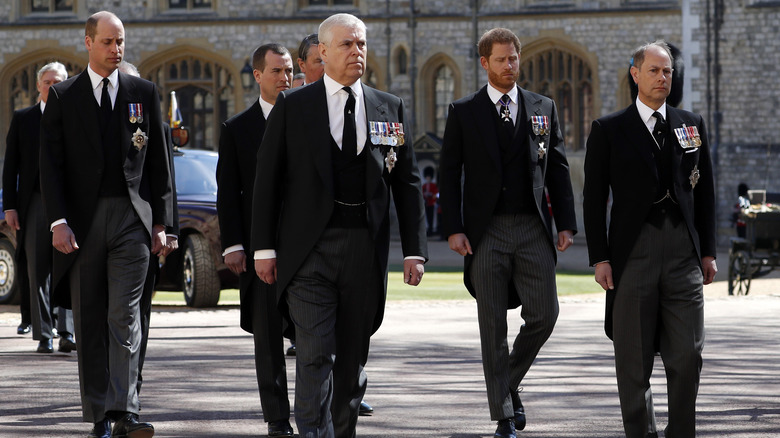 Wpa Pool/Getty Images
Speaking to The Mail on Sunday, one source revealed, "There is a deep sense of protection towards the Queen and resentment towards Harry. There is little sympathy for him after what he and Meghan said on Oprah... They are still very upset. They are putting on a united front for the Queen. They all think he has behaved appallingly."
However, the mending of bridges between Harry and other members of the royal family, including his father Prince Charles, are said to be underway. As The Sun reports, Charles had a private discussion with his sons following Prince Philip's funeral. The father-son trio reportedly met up away from the onlooking media and talked for around two hours within the grounds of Windsor Castle. "It's early days but you'd hope this is exactly the first step Philip would have wished for," one source revealed to the newspaper.
"It is not known what was said behind closed doors and when the cameras were turned off, but it's unfathomable to think Megxit and Oprah did not come up." The source continued, "Harry and William appeared cordial as the cameras rolled and that seemed to pave the way for Charles to join them when everyone had left." Elsewhere, royal biographer, Penny Junor, also explained to The Sun, "There is a lot to be unravelled here. This is a falling-out that has gone on for a long time. They need the time, space and the trust."
Other members of the royal family weren't so forgiving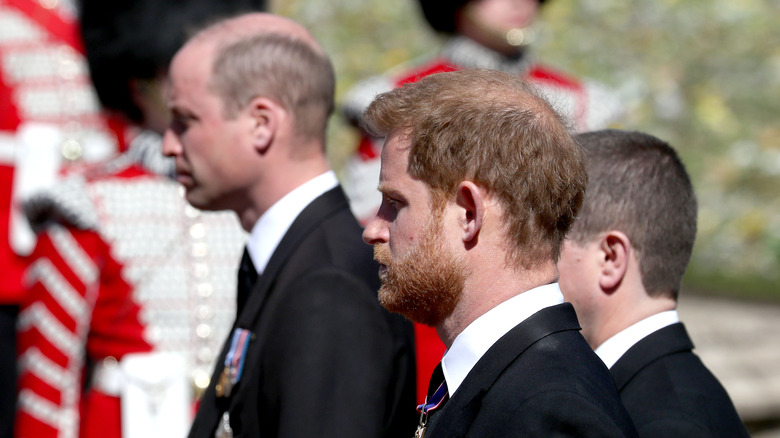 Wpa Pool/Getty Images
Although, for other members of the royal family, it might take a little while longer to reach a good place with Harry and Meghan. Per The New York Post, he Queen's children Princess Anne and Prince Edward reportedly didn't acknowledge Harry before, during, or after the funeral ceremony on April 17, and the only family member to show "any sympathy towards him" was his uncle Prince Andrew, who understands the feeling of being an outsider.
Despite this, the result of Prince Harry's reported peace talks with both Prince Charles and Prince William might prompt the Duke of Sussex to delay his return to the United States and remain in the UK to celebrate his grandmother the Queen's 95th birthday on Wednesday, April 21. As the Metro reports, Harry was planning on immediately returning to his home in California to be with his wife Meghan Markle, who was advised not to travel overseas to attend Prince Philip's funeral as she is thought to be around six months pregnant. "If all goes well, he could stay for the Queen's birthday," a source revealed to The Sun.
Elsewhere, as the Daily Mail reports, Prince Harry may have another opportunity to bond with his older brother William later in the year, as the siblings are expected to unveil a new statue of their mother, Princess Diana, at Kensington Palace on Thursday, July 1, to mark what would've been the late Princess of Wales' 60th birthday.