The Sweet Momento Queen Elizabeth Had In Her Purse At Prince Philip's Funeral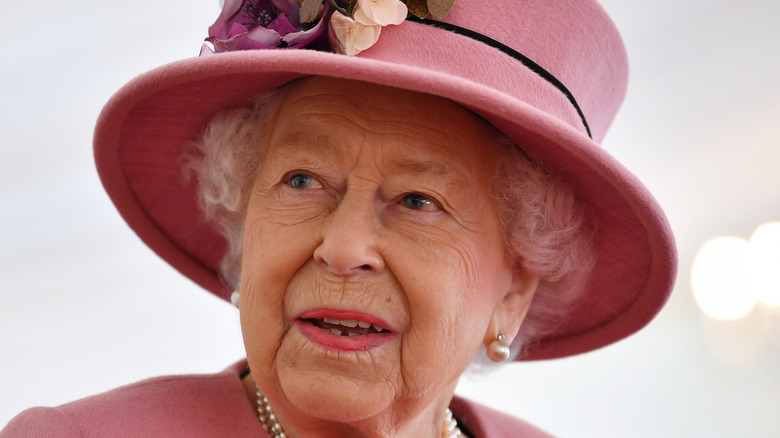 Wpa Pool/Getty Images
Queen Elizabeth's life greatly changed with the passing of her husband, Prince Philip. The couple was married for over 70 years before his death at the age of 99 on April 9. Elizabeth and Philip first met as children in 1934 at the wedding of his cousin Princess Marina (via Brides). Their paths crossed again as teenagers and they began to write letters to one another in the years that followed. The couple are said to have fallen in love through their correspondence and, in 1946, Philip asked Elizabeth's father, King George VI's permission to propose. They married in November 1947.
Elizabeth went on to become Queen and the couple welcomed four children together, Prince Charles, Prince Andrew, Princess Anne, and Prince Edward (via BBC). The duo was married for 73 years before Philip's passing. "She is so used to bereavements. It's not as if she didn't think this was coming — she knew this was going to happen. I think she would have loved it if at least he could have lived through her birthday, which is April 21, or even if he'd managed to live to hit 100. But she knew he didn't really care about being 100 and only everyone else cared about it," royal author Ingrid Seward told Us Weekly of Elizabeth's current emotional state. Meanwhile, the Queen was said to bring a very special memento to Philip's funeral to help honor her late husband.
Queen Elizabeth brought special items to Prince Philip's funeral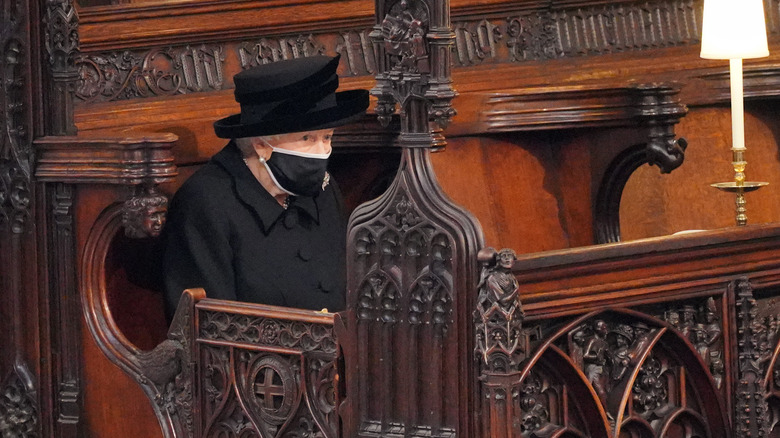 Wpa Pool/Getty Images
Queen Elizabeth sat alone during Prince Philip's funeral (via CNN). She was dressed in a black button-down dress and matching gloves. She wore a dark hat on her head, and a black mask over her face to comply with COVID-19 mandates. She was the picture of grace and strength as she honored her late husband during the service (via The Sunday Post). According to the Daily Mail, the monarch also had a private tribute to Philip tucked away in her purse.
The Queen reportedly kept a photograph of herself and Philip from a trip they took to Malta as newlyweds. She also carried one of her husband's white handkerchiefs with her during the service. In addition, Elizabeth left a handwritten note to Philip on his coffin. She reportedly signed the letter "Lilibet," which is a nickname she was given as a child. Philip is said to be the last person to have called her by the name. Philip's funeral took place at St George's Chapel. His body was placed into the Royal Vault. However, that vault won't be his final resting place (via USA Today). When Elizabeth dies, Philip will be moved to King George VI memorial chapel, where the couple will take their final resting places with the Queen's parents.