The Real Reason Jinger Duggar Stopped Posting Pictures Of Her Kids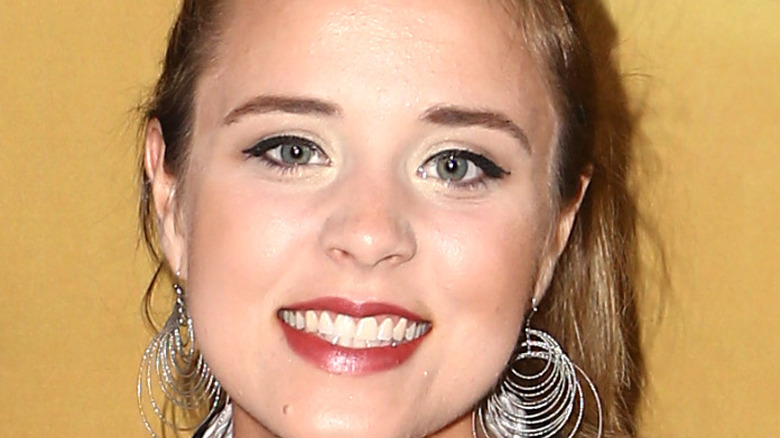 Tommaso Boddi/Getty Images
From a very young age Jinger Duggar was forced into the public eye when her family's documentary 14 Children and Pregnant Again was released in 2004 (Via IMDb). Soon after the documentary premiered, the Duggar family began starring on the TLC series 19 Kids and Counting (formerly 18 Kids and Counting and 17 Kids and Counting). This reality show put the Duggar family's way of life under a microscope and forced Jinger Duggar to have to share her personal life with the show's millions of viewers.
Since 19 Kids and Counting was cancelled in late 2015, Duggar has been staring in the spin-off series Counting On which focuses on the lives of the older Duggar children (Via Showbiz Cheatsheet). In the popular series, Duggar shares what her life is like with her husband and her two adorable daughters Evangeline Jo and Felicity Nicole Vuolo. For many years, Duggar also often shared photos of her family on her Instagram account for her 1.4 million followers to enjoy. However, a few months ago Duggar stopped posting photos that show her children's faces.
Jinger Duggar addresses Evangeline and Felicity's absence from her Instagram
Many Counting On Fans has expressed their feelings about Jinger Duggar's decision to stop posting photos where you can see Evangeline and Felicity's faces. For months many Duggar fans have been commenting on her Instagram photos asking why they can't see more of the girls. In November of 2020, Duggar shared a picture of her husband Jeremy Vuolo and only the top of Evangeline's head. A follower commented "That's all we've seen of this darling big sis in a while... I hope she's OK – and that she doesn't mind playing second fiddle." Duggar did not respond to this comment directly, however, she recently addressed her followers' concerns.
During a Q&A session on her Instagram Stories, a follower asked Duggar "Why no pictures of your girls?" (Via Pop Culture). The reality star replied, "The girls are doing great! Felicity is absolutely smitten with her little sister and Evy adores Felicity. You haven't seen much of them simply because we are wanting to give them a bit more privacy while they're so young." She also added, "We appreciate how you love and support our family. It means so much to us! Thanks for asking." Considering, Duggar has lived in the spotlight for most of her life, it's completely understandable for her to decide to keep her children out of the public eye for as long as she can.