Demi Lovato Is Facing A Frozen Yogurt Backlash. Here's Why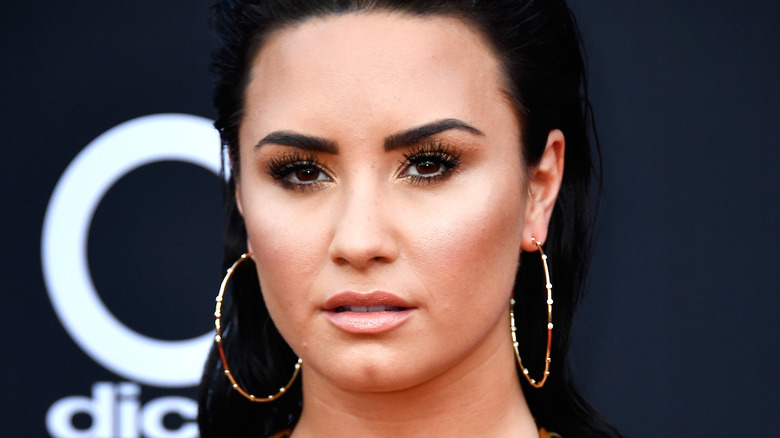 Frazer Harrison/Getty Images
Demi Lovato was called out by fans on Saturday, April 17, after the singer took aim at a Los Angeles-based frozen yogurt shop, The Bigg Chill, due to their "triggering" menu options. As Page Six reports, Lovato, who has been open about her personal battle with bulimia in the past, shared direct messages between herself and The Bigg Chill owners on her Instagram Story. 
"Finding it extremely hard to order froyo from @thebiggchillofficial when you have to walk past tons of sugar-free cookies/other diet foods before you get to the counter," she wrote, adding "do better please" and the hashtag "#dietculturevultures."
Per the Daily Mail, the singer also accused the frozen yogurt shop of "harmful messaging from brands or companies that perpetuate a society that not only enables but praises disordered eating." The LA establishment, which is owned by Diane Dinow and her daughter Cary Russell, responded to Lovato's concerns in a direct message that read, "We are not diet vultures. We cater to all of our customers needs for the past 36 years. We are sorry you found this offensive." However, the disgruntled singer later shared the private messages to her millions of followers and doubled down in her criticism of the popular dining spot. 
If you are struggling with an eating disorder, or know someone who is, help is available. Visit the National Eating Disorders Association (NEDA) website or contact NEDA's Live Helpline at 1-800-931-2237. You can also receive 24/7 Crisis Support via text (text NEDA to 741741).
Demi Lovato said her "whole experience was triggering and awful"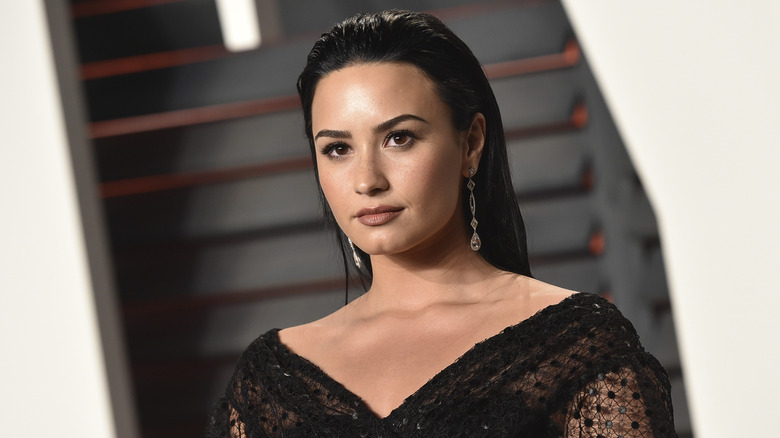 John Shearer/Getty Images
As The Independent reports, the Grammy Award-nominee replied by accusing the fro-yo shop of having "terrible service," adding that her "whole experience was triggering and awful." She continued, saying, "You can carry things for other people while also caring for another percentage of your customers who struggle DAILY just to even step foot in your store. You can find a way to provide an inviting environment for all people with different needs. Including eating disorders — one of the deadliest mental illnesses only second to (opioid) overdoses. Don't make excuses, just do better."
In a later Instagram Story, the company responded publicly to Lovato's accusations, stating that, in addition to offering "many indulgent items," The Bigg Chill caters to a range of customers, including those who are vegan, and those who have diabetes and celiac disease.
According to Page Six, Demi again responded to the shop's owners with some business ideas that would be "more beneficial" for everyone. "I was thinking, maybe it would help if you made it more clear that the sugar-free options and vegan options are for that," Lovato wrote. "Labeling the snacks for celiac diabetes or vegans. When it's not super clear, the messaging gets confusing and being in LA it's really hard to distinguish diet culture vs. health needs."
Social media called out the singer's criticism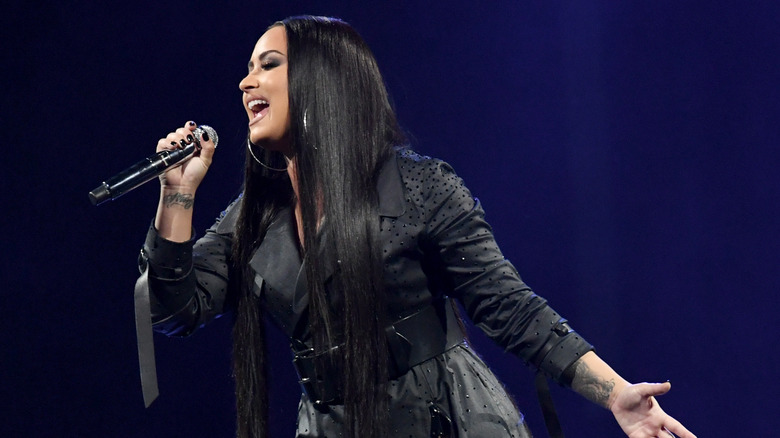 Kevin Winter/Getty Images
Following the online spat, fans took to social media to express their disapproval of Lovato's complaints. "Did you expect the shelves to be stocked with carrots and kale? This is truly a stupid take. Shaming the best frozen yogurt spot in LA," wrote one Twitter user. "She is blaming them for her own problems. Yep, they're not nice problems to have, but if we all went about cancelling businesses and people because they offend our sensitivities, we'd all end up living in a desert. Or a dessert if that's less appealing," tweeted another.
As the Daily Mail reports, The Real Housewives of New York City's Leah McSweeney also joined the online criticism of Lovato, writing on her Instagram Stories, "To drag a frozen yoghurt spot, because she's mad that they sell diet frozen yoghurt, and sugar-free options because that triggers her. Therefore they should just be harassed and go out of business... what the f***k!" Writing for the Mail Online, journalist and broadcaster Piers Morgan also called out the singer's hash complaints, and described the singer as a "nasty, arrogant, frozen-yogurt-brained celebrity."