Inside Paul McCartney's Marriage To Linda Eastman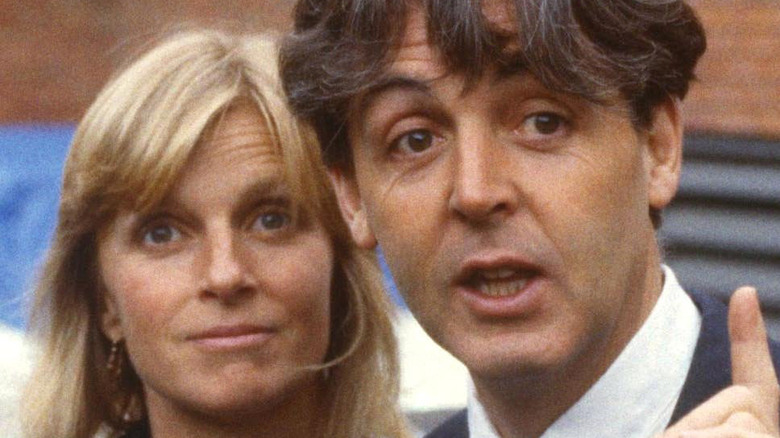 Bryn Colton/Getty Images
Paul McCartney was one the most eligible of The Beatles' members when he first laid eyes upon Linda Eastman at the Bag O' Nails nightclub in London's Soho district in May 1967, where he had his own table. He attended the famous club after attending Brian Epstein's dinner party to celebrate the completion of The Beatles album Sgt. Pepper's Lonely Hearts Club Band.
Georgie Fame and the Blue Flames played when Paul was approached by the blonde American rock photographer who was there with some friends from the rock band The Animals. She was in London for an assignment to shoot photos for a book titled Rock and Other Four-Letter Words (via Ultimate Classic Rock).
This chance meeting began one of rock music's greatest love stories. The cute Beatle and the determined young rock and roll photographer started a love affair that culminated in marriage a little over one year later.
What was the real story inside Paul McCartney's marriage to Linda Eastman? What was it about this one particular woman that set made Paul hang up his single status for good? What was their life together like and how does her memory still influence Paul today? There's a lot you don't know.
Paul used his best line to woo Linda that fateful evening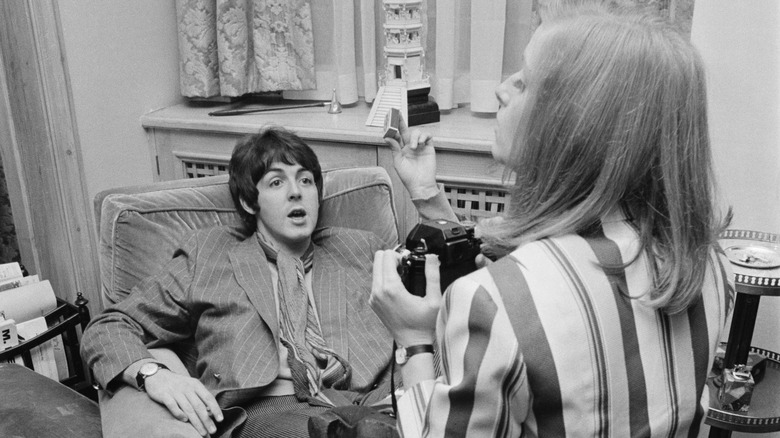 John Downing/Getty Images
After making eye contact with Linda, Paul recalled to Barry Miles in the book Paul McCartney: Many Years from Now that he knew he had to think fast if he was going to get Linda's attention.
"The band had finished and [Linda and the Animals] got up to either leave or go for a drink or a pee or something, and she passed our table," he said. "I stood up just as she was passing, blocking her exit. And so I said, 'Oh, sorry. Hi. How are you? How're you doing?' I introduced myself and said, 'We're going on to another club after this. Would you like to join us?' That was my big pulling line! Well, I'd never used it before, of course, but it worked this time! It was a fairly slim chance, but it worked."
Linda was intrigued enough when Paul told her that he had original paintings by surrealist Rene Magritte, of whom Linda was a fan. She went back to his place and stayed with the rocker until the following day.
At the time, Paul was still romantically involved with actress Jane Asher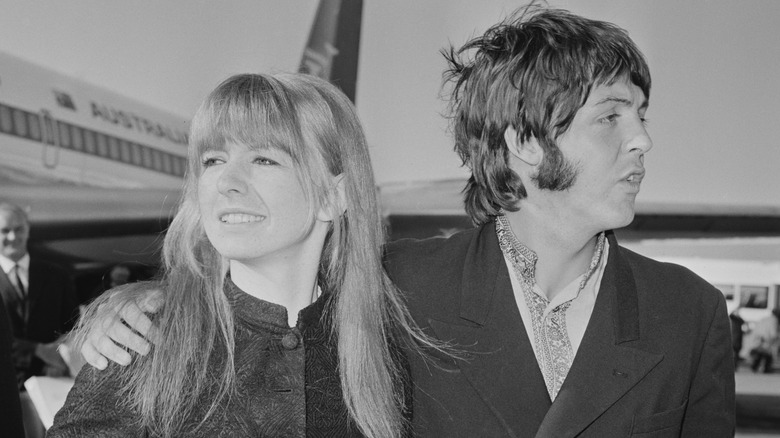 George Stroud/Getty Images
Paul had met Jane early on in The Beatles' career, in 1963. They spent their first evening together discussing their favorite foods, as Jane was only 17 at the time and a virgin. Paul was 21. They went on several dates in London, and their romance became public when they were photographed leaving the Prince of Wales theatre after watching Sumner Arthur Long's play Never Too Late (per The Beatles Bible).
He would become very close to the Asher family, moving into the attic apartment of the family's six-floor townhome, where he would live for the next three years. The couple would move into their own home in 1966, and Paul put a ring on it with his longtime love on Christmas Day, 1967. Jane would accompany Paul, John Lennon, George Harrison, and Ringo Starr with their spouses to India in early 1968. Their relationship came to a screeching halt shortly after when she found Paul in bed with a fan. At that time, ladies man Paul was still wooing Linda from across the pond.
His path was clear to woo Linda, but their wedding almost didn't happen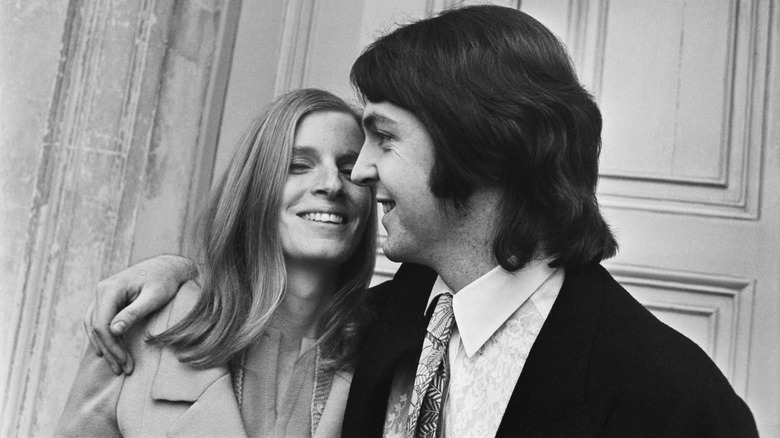 C. Maher/Getty Images
In late 1968, Paul invited Linda to live with him in London with her daughter Heather, from her first marriage to Joseph See. Heather and Joe separated after 18 months of marriage. Heather was six when Paul married Linda.
The couple's wedding day was overcast and rainy. Hundreds of Beatles fans crowded the steps at the Marylebone registry office where the marriage took place. Paul's brother Mike was the best man. However, his train was late arriving from Birmingham to London due to a breakdown. Mike and the Beatles' assistant Mal Evans were witnesses to the wedding, as was Linda's daughter Heather.
However, the wedding almost didn't happen as the couple had a significant fight hours before they were to tie the knot.
"We were crazy," Paul said (per Ultimate Classic Rock). "We had a big argument the night before we got married, and it was nearly called off. We were very up and down, quite funky compared to the eventual image of '25 years of married bliss! Aren't they lucky for people in showbiz?' But we are. You get this picture of us swanning along in a little rowboat, managing to avoid the white water, but we were right in the middle of that white water, man, so it's even more miraculous that we made it. But we did."
Linda helped steer Paul onto a new path upon the breakup of The Beatles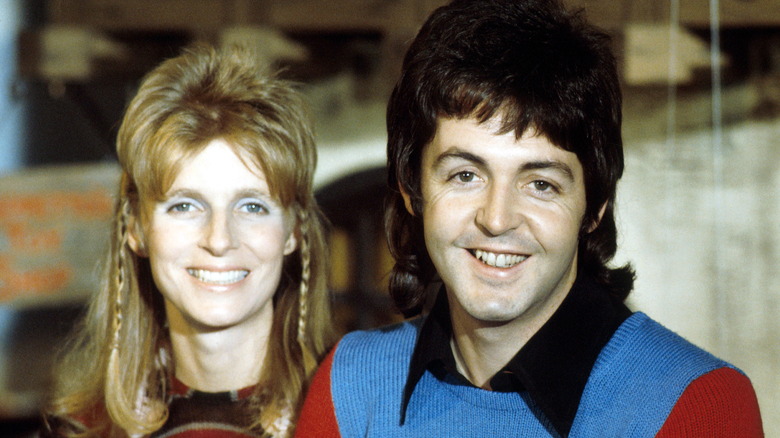 Michael Putland/Getty Images
Linda helped Paul steer Paul onto a new life path upon the breakup of The Beatles in 1970. The couple moved to Scotland, where Paul had a plot of land he rarely visited. It was there that they made a home together with Heather, whom Paul would formally adopt right after his and Linda's wedding.
Paul's former girlfriend Jane encouraged him to purchase the land called High Park Farm in Campbeltown near Argyll's Mull of Kintyre in 1968 (via the Daily Record).
"Going up to Scotland was real freedom. It was an escape — our means of finding a new direction in life and having time to think about what we really wanted to do. It was like, 'Let's escape — we'll just run away. And we did; we just ran away," he said (via the Daily Record).
"And Linda was a great nature lover. That very much informed our relationship," he continued.
It was there that Paul's next project was born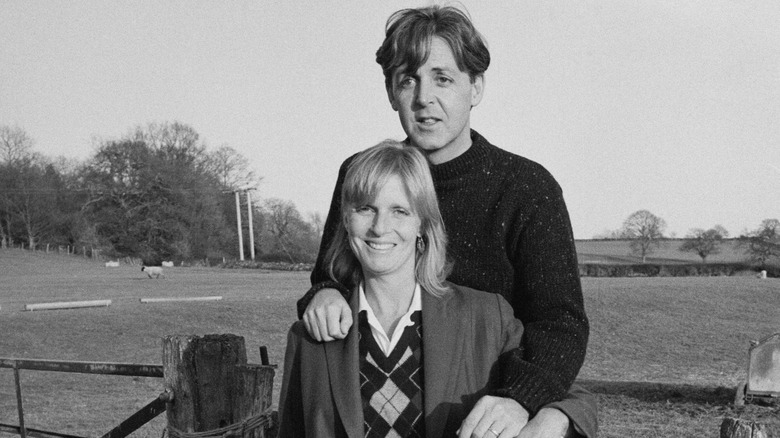 John Williams/Getty Images
Paul recorded two solo projects during that time, McCartney and Ram. These albums were inspired by the life he had created with Linda and their family, which included daughter Mary, born in 1969, and Stella in 1971. Linda sang backing vocals on the records, and Paul taught her how to play the keyboards. When he formed Wings, he wanted Linda to remain with him in the band.
Paul McCartney and Wings made their debut in 1971 with the albums Wild Life and Red Rose Speedway. Following that, the band released 1973's Band on the Run, both a commercial and critical success that spawned two top ten singles, "Jet" and "Band on the Run."
The band also released the title track to the James Bond film Live and Let Die. Wings continued to be successful, releasing four subsequent albums before formally disbanding in 1981. During that time, the McCartneys welcomed their first son and fourth child, James, born in 1977.
Linda spreads her wings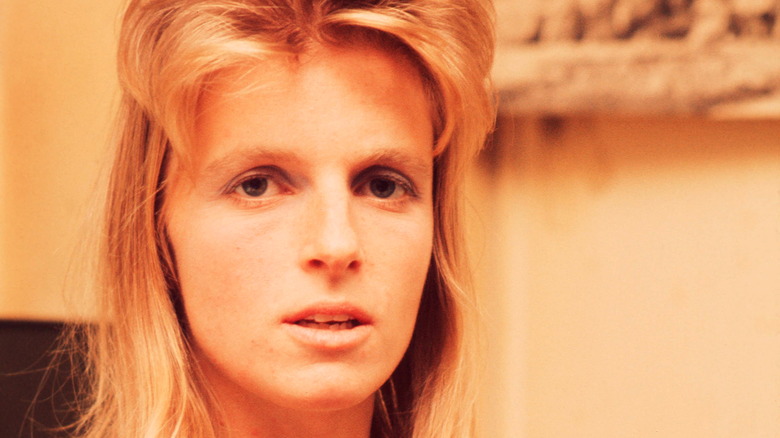 Michael Putland/Getty Images
When the family was not on tour, Linda continued to document their lives together in photographs. Many of her images were used on the covers and interiors of the albums released by Wings.
Paul began releasing his solo works in the early 1980s. Linda was also the first female photographer to have work featured on the cover of Rolling Stone magazine and exhibited in the Victoria & Albert Museum and the National Portrait Gallery in the U.K. and the U.S. (via Paul McCartney).
She tended to her family and became an animal activist after serving lamb for a family supper. Paul and Linda saw the beautiful creatures playing on the land outside their farm window and declared they would not eat meat again. It was partly because being vegetarian during that time was so difficult for many to understand that Linda published a best-selling vegetarian cookbook in 1989, titled Linda McCartney's Home Cooking, and established a food brand in 1991 (via The Guardian).
Linda's dedication to a cruelty-free way of life rubbed off on her children. Her fashion designer daughter Stella's designs are vegan. Mary is a photographer and cookbook author who now hosts a cooking show, titled Mary McCartney Serves it Up, and both she and her father set up the Meat Free Monday campaign in 2009 (via The Guardian). Mary also took the photographs for Paul's latest release, McCartney III.
Paul and Linda were married until her death in 1998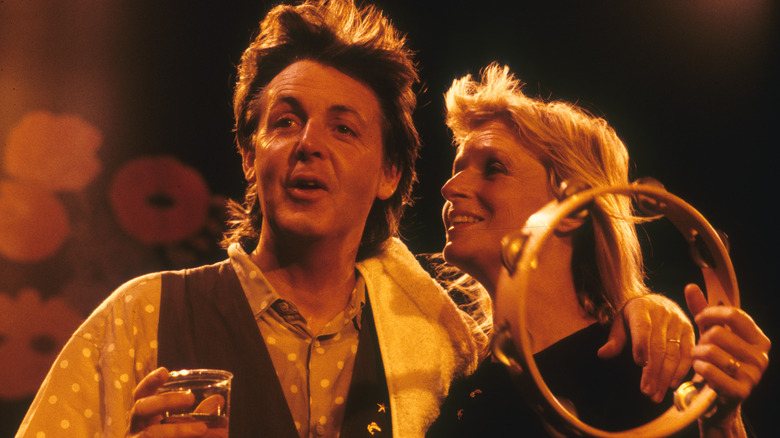 Luciano Viti/Getty Images
Paul and Linda were married for 29 years before she died of breast cancer at 56.
Her memory lives on in the work of her former husband and their children. Paul shared an Instagram post on March 26, 2021, where he posed with daughters Mary and Stella. Together they announced that a new book, titled Linda's Family Kitchen, will be published on June 24, 2021.
"Years ago, before anyone had woken up to the idea of environmental and health and animal welfare issues, Linda was blazing the trail with vegetarianism, telling people about it and promoting it. In the book there are family photographs and stories from those days, and of course lots of great, beautiful tasting healthy recipes," said Paul (via Instagram).
"At home, she would cook for the family and these recipes have been now brought up to date for a modern audience, so they're all now plant-based and fabulous. In the book there are family photographs and stories from those days, and of course lots of great, beautiful tasting healthy recipes. So I hope this book inspires conversations about sustainability and about modern living amongst people besides also just giving them some great recipes to eat," he said (via Paul McCartney).