The Reality Show You Didn't Know Was Inspired By Chrisley Knows Best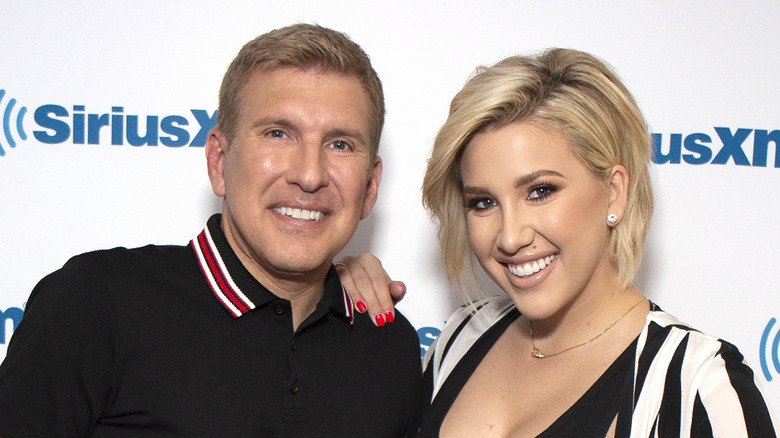 Santiago Felipe/Getty Images
Chrisley Knows Best debuted in 2014, but the show feels like it's been a part of our lives for much longer. Patriarch Todd Chrisley leads the charge alongside wife Julie, with their gaggle of kids and, as the series goes on, grandchildren rounding out the cast. Originally presented as a fly-on-the-wall study of a wealthy southern family doing whatever they could to entertain themselves, typically within the confines of their opulent mansion, the show was an instant hit. It's since morphed into something deeper. 
These days, the Chrisleys have massive social media followings, keeping fans hooked on their lives in between seasons with cryptic posts and tell-all tabloid interviews. Everything they touch turns to gold, and impressively, the famous family frequently uses their voices for the greater good. Everybody wants to be a Chrisley, and whether you love them or hate them, we can't stop watching. Unsurprisingly, their meteoric rise inspired another famous family to get into the game. 
DeMarcus Family Rules was a passion project for Todd Chrisley
During a Season 5 episode of Chrisley Knows Best, Rascall Flatts star Jay DeMarcus showed up to play golf with Todd and Chase, making quite an impact on fans (via YouTube). Evidently, he caught the bug because DeMarcus and his own family soon appeared in a dedicated reality show, DeMarcus Family Rules, which began on Netflix in 2020. Todd actually served as an executive producer, with DeMarcus' wife, Allison, gushing to E! News, "He has been an integral part of the process and we are truly grateful for that because him and Julie are fine, fine people." The Rascall Flatts musician even suggested fans of the Chrisleys would find plenty to like about the DeMarcuses' show. 
He noted, "It has a lot of the same heart in it, love for family and unpredictable moments." Speaking to Taste of Country, DeMarcus noted his family had never even considered doing a reality show, but "We had gone on theirs a few times and had fun." Then, "after a few episodes, they took us out to dinner one night, and Todd said, 'I think you guys have a show.' He had to talk us into it, but as it unfolded, we developed a love for doing it as a family. That's what makes it special." Evidently, the Chrisley patriarch was right, as fans were immediately clamoring for more from the DeMarcuses following the short debut season of their show (via Twitter).