Kelly Ripa Has A Good Reason For Wanting Her Kids To Live Further Away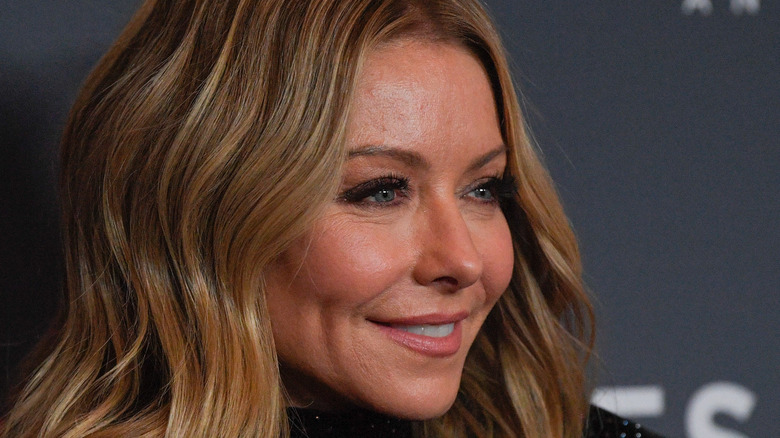 Shutterstock
Kelly Ripa — co-host of the long-running talk show Live with Kelly and Ryan — and her husband — actor Mark Consuelos — have been known as some of the strictest parents in Hollywood, according to Yahoo. On her talk show, Ripa frequently discusses motherhood and life with her three children — 23-year-old Michael, 19-year-old Lola, and 18-year-old Joaquin — and has made headlines over the years for the rules she makes her children follow, including sharing the passwords to their phones (via Good Morning America), keeping their Instagram accounts private (via InStyle), and writing thank-you notes for every gift they receive (via People).
Ripa has been outspoken about her no-frills parenting style in interviews, even telling Wendy Williams in 2014 that she didn't think her daughter, Lola, liked her. "I don't care," Ripa told Williams (via Redbook). "I'm not your friend, I'm your mom." But despite being strict, Ripa isn't overprotective. In fact, she wants nothing more than for her kids to leave the nest — but she can't seem to get rid of them.
Kelly Ripa's kids can't stay away from the comforts of home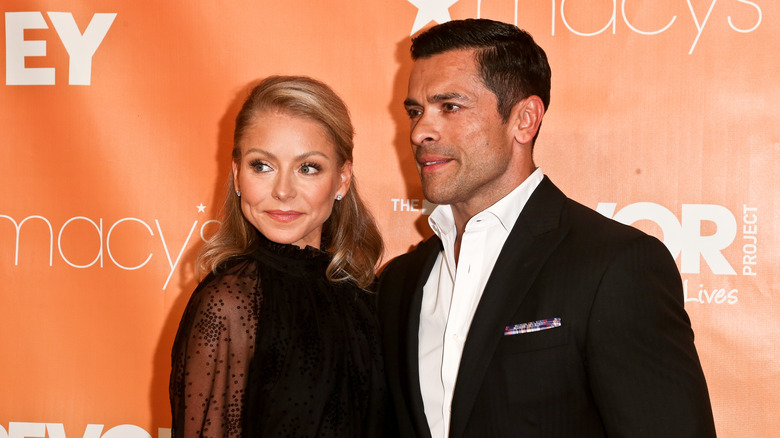 Shutterstock
Kelly Ripa and Mark Consuelos raised their three children in New York, and Ripa wanted them to go to college outside of New York City to experience life away from home. "I didn't think the kids should live in the city where they grew up," Ripa told Jimmy Kimmel in a 2019 interview. "I felt like they needed an experience." Ripa was insistent that both of her kids needed to leave the nest and experience college life. "You're gonna be like other kids, and come home when it's regular visiting hours," Ripa joked about telling her kids. "Your dad and I need to rediscover each other." 
But, despite Ripa's protests, her two oldest children, Michael and Lola, chose to study at New York University. In her interview with Kimmel, Ripa described walking through her front door to find Michael standing in the hallway mere hours after dropping off him at his dormitory. Lola hasn't strayed too far from home either; Ripa described dropping Lola off at college, only to find her back at home having a party on her parents' roof the next day. "She was gone 12 hours and came home," Ripa said. 
Ripa wants her kids to experience the challenges of the 'real' world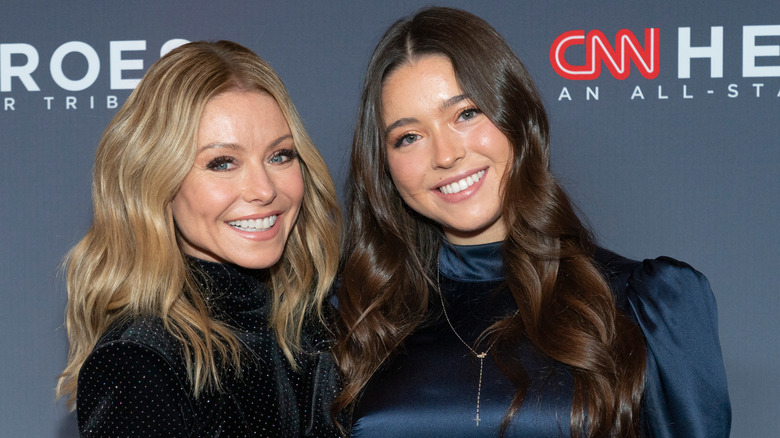 Shutterstock
Aside from spending more time with her husband of over 20 years, Kelly Ripa wants her children to face challenges and grow from them. In her interview with Jimmy Kimmel, Ripa talked about her oldest son's struggles to live without financial support from his parents after moving to Bushwick, Brooklyn. "I think he loves the freedom. He hates paying his own rent and he is chronically poor," Ripa joked. "I don't think he ever experienced extreme poverty like now." Ripa told Kimmel that Michael's independence has made him grateful for the $20 bill his grandparents send him every Halloween. "For years my kids sort of ignored the $20," Ripa said. "But now that he's living on his own, he's called three times and said 'Has the Halloween envelope arrived?'"
Struggle builds character, and Ripa wants to ensure that her children get to learn life's lessons on their own, which is why she's kicked them out of the nest. But she's also adamant that none of her Hollywood friends offer them a hand. In a 2018 appearance on Live With Kelly and Ryan, Ryan Seacrest offered Michael Consuelos the keys to his pad in Los Angeles. "If you need to be out in Hollywood, if you need a place, the keys to my house are always yours," Seacrest told Consuelos. But Ripa intervened. "No, no, no, that's too nice," she told her son. "You need to struggle."