Inside Michelle Obama's Skincare Routine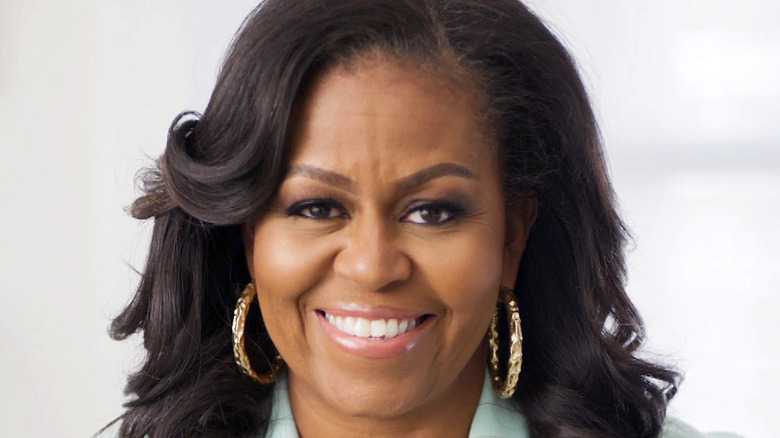 52nd Naacp Image Awards/bet/Getty Images
We might have an inside look into a former FLOTUS skincare routine. Unfortunately, Michelle Obama didn't release the details herself, but rather her skincare facialist, Jennifer Brodeur.
Brodeur, a known skincare "guru" with celebrity clients such as Oprah Winfrey, is releasing tips and tricks to fans on getting Obama's picture-perfect skin, according to Refinery29. The outlet revealed that Brodeur met Obama through Winfrey and the two did a few facials together before Brodeur was hired to do a six-month strategy on her face. Brodeur said to Refinery 29, "What was beautiful about the first meeting was that she was a true believer of not just a healthy lifestyle and self-care and self-love, but also being as natural as possible and aging gracefully."
When it came to the Becoming author's skin, ter only concern Brodeur had was pigmentation: how do you even out the skin? The answer, according to the outlet, was an anti-inflammatory concoction that brought in more Vitamin C and Vitamin A's. Per Women's Health, Brodeur creates personalized potions for her client, and her Peoni line is something Obama (and her skin) can't live without. Brodeur explains, "It's an anti-inflammatory and makes sure the skin stays very hydrated. She can even use it on her cuticles."
The secret behind Michelle Obama's clear skin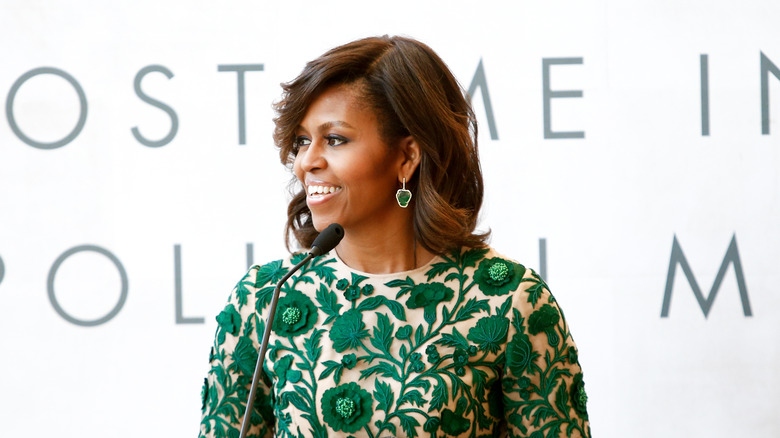 Shutterstock
While Jennifer Brodeur's products help the former FLOTUS' skin, the answer behind clear skin isn't actually skincare.
According to Refinery29, taking care of oneself is the way to clearer skin. Brodeur told the outlet that Michelle Obama's routine of gels and creamers is a display of self-love and self-care. Her goal isn't to achieve clear skin, it's to take care of yourself. "She learned from a very young age that she needed to put herself first," Brodeur explained. "The whole gesture of cleansing your skin and applying your serums and creams, all of those things you can do for yourself and it's the best display of self-love — it's not vanity."
While Obama does get a little bit of help from Nars concealer (via Elle), the answer behind her clear skin remains true: putting yourself first. Brodeur even revealed that being around her boss makes her feel more graceful and confident. "If there's one thing [Mrs. Obama] taught me from the first day I met her was, 'It's OK to stand up tall,'" she shared. "When you're around her, you want to stand taller. That's the grace that she exudes. It's about being your best self."