The Heartbreaking Death Of Queen Elizabeth's Close Friend, Sir Michael Oswald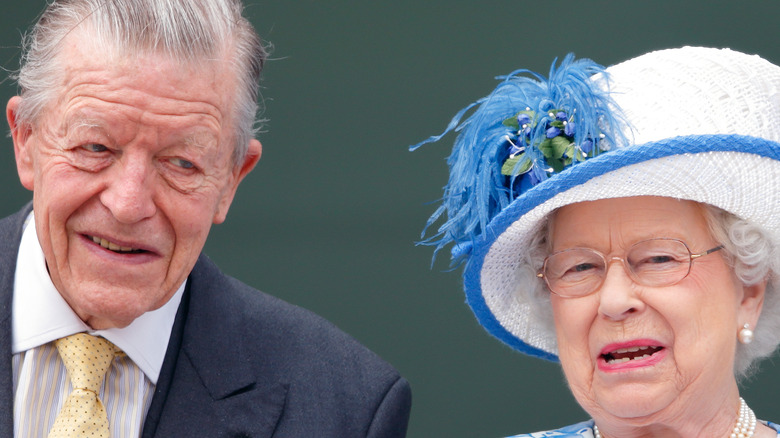 Max Mumby/indigo/Getty Images
Queen Elizabeth is dealing with a lot of loss in her life at the moment. The monarch announced the death of her beloved husband, Prince Philip, on April 9. Philip was 99 years old at the time of his death, and the couple had been married for over 70 years (via BBC). Philip's funeral was held on April 17 at St George's Chapel at Windsor Castle. The Queen sat alone at the service, wearing a black dress, with matching gloves and hat (via CNN). She also wore a black face covering to comply with COVID-19 mandates.
The Daily Mail reports that the Queen kept a photograph of herself and Philip as newlyweds in her purse during the funeral. She was also said to have one of her husband's white handkerchiefs tucked away as a private way to honor her longtime love. In addition, Elizabeth left a handwritten note on Philip's coffin. She reportedly signed the letter, "Lilibet," a nickname that Philip called her during their marriage. Sadly for the Queen, she was forced to mourn yet another person close to her when news of her friend Sir Michael Oswald's death came on the same day as Philip's funeral.
Inside Queen Elizabeth and Michael Oswald's friendship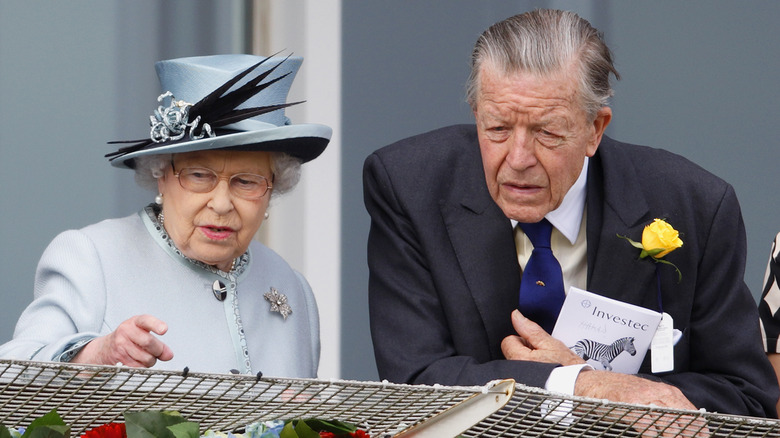 Max Mumby/indigo/Getty Images
Queen Elizabeth's close friend, Sir Michael Oswald, sadly died on April 17, the same day as Prince Philip's funeral. Oswald was not only a good friend of Queen Elizabeth's, but also her horse racing advisor, per People. Oswald was named head of the Royal Studs in 1970, and kept the job for nearly 30 years. He was often seen sitting at the Queen's side during racing events. Oswald's widow, Lady Angela, is also a close friend of the royal family as she served as the Queen Mother's lady-in-waiting for years. Angela released a statement about her husband's passing in a loving tribute that she penned for Racing Post. "He always said he had the most wonderful job anybody could ever have had and that for all his working life he was simply doing what he would have done had he been a rich man who didn't have to work," she said.
While the past few days have been filled with mourning for Queen Elizabeth, she's also set to celebrate a huge milestone on Wednesday. The Queen will celebrate her 95th birthday on April 21. The Today show reports that Elizabeth will likely have a private lunch with her closest family members to mark the occasion, but the festivities will be muted due to her period of mourning, as well as the COVID-19 pandemic.