Dr. Viviana Coles Shares Advice For Dating During A Pandemic - Exclusive
As we've all spent the last year limiting our interaction with others, a worldwide pandemic may not seem like the ideal time to start dating. However, "Married at First Sight" expert Dr. Viviana Coles believes there are actually benefits to beginning a relationship now.
Sure, a first date may not include snuggling up in a movie theater or feeding each other chocolate-dipped strawberries, but there are other perfect ideas that can be done during a pandemic. Even though we're all forced to social distance, looking for love today is easier than ever. "You can have lots of dates that are digital," Dr. Coles told The List exclusively.
Leading up to the day when you can meet the love of your life in person, now's the time to really get to know them from afar. "Take advantage of the first longer courtship," she said. That's not the only solid advice she has to share during these challenging circumstances.
Slow and steady is the best way to establish a successful relationship, says Dr. Viviana Coles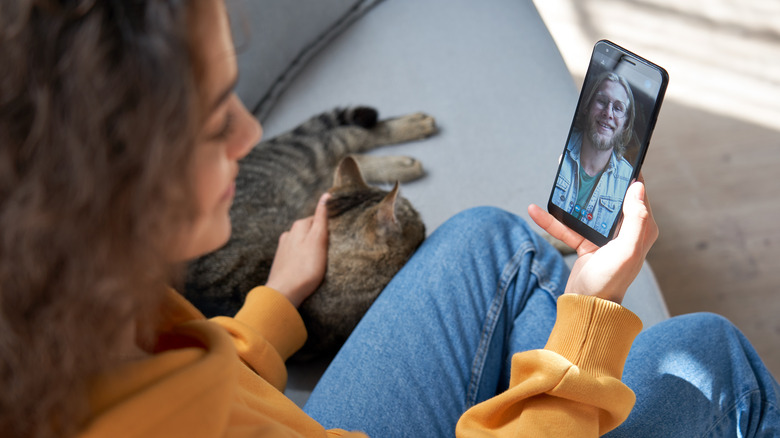 Shutterstock
During a time when most of us are barely even able to see our families, there's a plus side to dating during a pandemic. Starting a relationship strictly over your phone is perfect for a person who's looking for something serious. Since all there is to do is chat on the phone, you're bound to get to know that special someone even better than ever.
With social distancing in place, pushing off the physical aspects of a relationship is easier than ever, too. While that's not necessarily a plus for every person, licensed therapist Dr. Viviana Coles said we should "take advantage of these externally set boundaries." Being forced to date digitally can help singles really get to know each other before anything physical happens. It's especially important, too, if something serious like marriage is on your mind. "If you're looking for something long-term, I think that sex and the pleasure that comes from everything that is sexually intimate, comes from being comfortable, and being open and vulnerable," she explained. "And that's something that you can really work on creating before you get into the bedroom."
"Married At First Sight: Unmatchables" (produced by Kinetic Content) airs tonight at 10 p.m. on Lifetime. Right after a brand-new "Married At First Sight."