What's Really Going On With Katie Holmes And Her Boyfriend?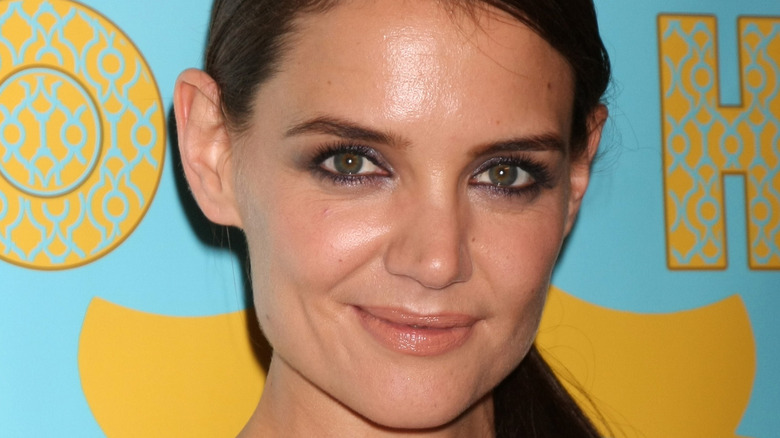 Shutterstock
Critically-acclaimed actress Katie Holmes was previously one-half of one of the most talked-about couples in the world. When she married A-Lister Tom Cruise in 2006 at a castle in Italy, her Scientologist wedding ceremony made headlines (via The Daily Beast). Since her high-profile split from Cruise in 2012, Holmes garnered much attention for her subsequent relationship with Academy Award-winning actor Jamie Foxx.
After six years of dating, the couple split in 2019. Over a year later, Holmes began making headlines again when she was spotted on a date with a mystery man in New York City. The pair were seen at the Mediterranean restaurant, Antique Garage, in SoHo by TMZ. After spotting the pair on a few more PDA-packed date nights, investigators soon discovered that Holmes' new man was the son of Emilio Vitolo Sr., who owns one of the most star-studded restaurants in NYC (via the Daily Mail).
Things are cooling down for the couple
Though Katie Holmes and Emilio Vitolo Jr. have been spotted together many times over the past year, things appear to be cooling off for the couple. According to Page Six, Holmes hasn't been spending a lot of time in New York lately because she is spending a lot of time shooting her latest film. One of the biggest indicators that the pair may be going their separate ways is the noticeable absence of Vitolo Jr. from Holmes' daughter Suri's 15th birthday party.
A source told Page Six, "Katie has a lot of big priorities in her life—she's a single mom, her daughter always come first and things were moving very fast." The couple has reportedly only been together for about a year and Holmes is frequently spotted at Emilio's Ballato, which is where Vitolo Jr. works alongside his father. Considering we're in the midst of a pandemic and Holmes has a very busy schedule, it makes sense that she would need to re-prioritize how her time is spent.