Here's Why You Should Be Buying Your Coffee From Costco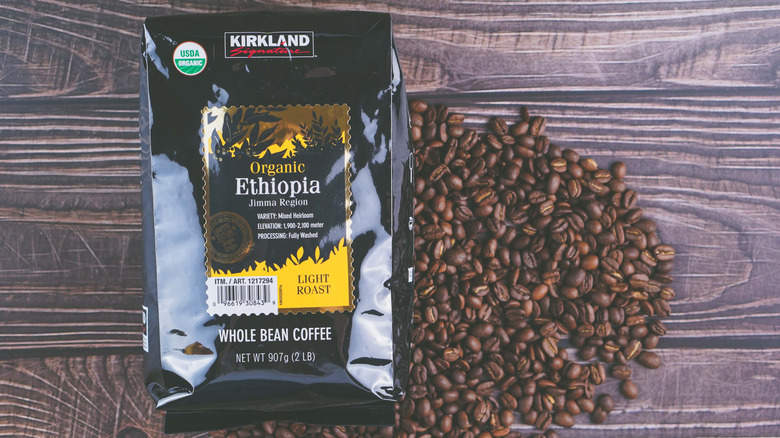 Shutterstock
There's a reason Costco has more than 105.5 million loyal members, the vast majority of whom keep renewing year after year (via Statista). Once you have that precious card in your hand, you can unlock a world of savings and start raving about the many food items that have amassed cult followings of their own. From the five-dollar rotisserie chicken, to the brownie brittle, organic maple syrup, pre-mixed margaritas, or $1.50 hot dog and soda combo in the food court, there's something for everyone.
Many fan-favorites fall under the warehouse giant's private label, Kirkland Signature. Although some suppliers of such products are well-kept secrets, many of them are well-known companies who sell their own branded products at double the price (via Hip2Save). Quality products, at half the price. What more could you ask for?
If you haven't already added coffee to your list of Costco faves, the time has come. Here's why.
Costco's House Blend coffee is roasted by this multi-national chain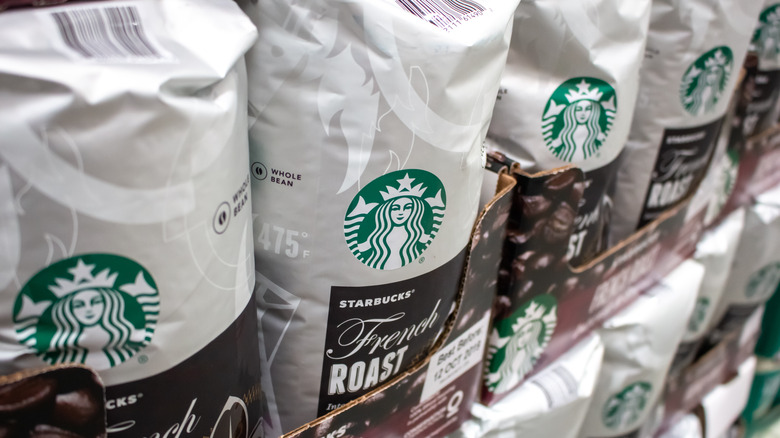 Shutterstock
Several varieties of Kirkland Signature Coffee are roasted by the one and only Starbucks Coffee Company. Their highly-rated House Blend, for example, is a smooth medium roast from Latin America that's custom roasted at Starbucks' own roasteries. According to Hip2Save, you can snag a 2.5-pound bag of the stuff for around $11.99 (which comes out to 30 cents per ounce), whereas a 12-ounce bag of a similar Starbucks Coffee costs $8.49 at Target (71 cents per ounce). Those are some pretty hefty savings. 
You'll also find the familiar Starbucks logo on the Kirkland Signature Espresso Blend Dark Roast. For the coffee snobs among us, that mermaid logo may conjure up the unpleasant flavor of burnt beans, but according to Purely Beans, this Kirkland variety is "surprisingly mild and smooth." Rumor has it, the Kirkland Starbucks Ground Organic Blend, which comes in a two-pack for all the caffeine fiends, is also roasted by the Seattle-based company. But despite its popularity, the product is increasingly hard to come by in Costco stores.
Kirkland Signature coffee is organic and fair-trade compliant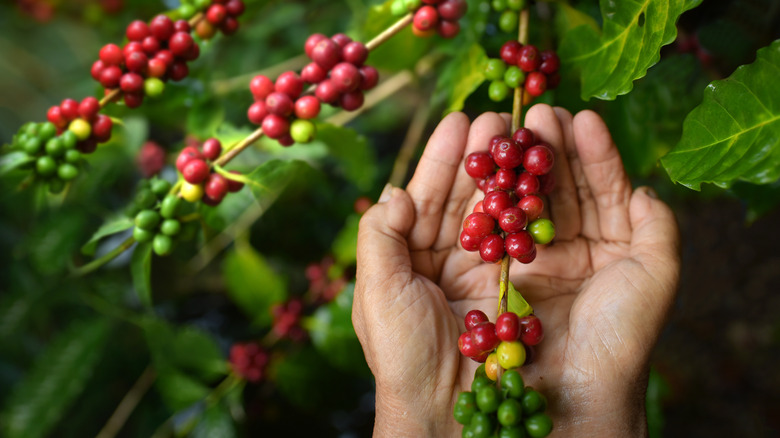 Shutterstock
There are quite a few options of Kirkland Signature coffee gracing Costco shelves, from the 100% Columbian Coffee in a three-pound tin, to the Organic Pacific Bold Dark-Roast coffee that comes in packs of 120 K-Cup pods or a two-pack of the beloved whole bean Sumatran. Coffee Cup News declares them all winners, saying, "Kirkland Coffee achieves the perfect balance between a rich flavor profile that is also quiet and understated in taste. The flavors unfold one after the other and comprise of dark chocolate and almond notes with accompanying aromatic notes that are a complex blend. A clean but drying finish rounds off the experience of each mouthful."
What makes the taste that much better is the fact that the majority of these products are organic and fair-trade certified, according to Coffee Cup News. Costco is committed to improving the quality of their blends by refusing to use pesticides and insecticides in their crops, which helps minimize toxic effects to consumers and also helps farmers meet market demands. The brand also fairly compensates the farmers for their labor, preventing the exploitation that commonly occurs in the coffee industry. Are you convinced yet?
Remember: If you're not completely satisfied with one of Costco's Kirkland Signature products, your money will be fully refunded. But we have a feeling that won't be necessary.