The Real Reason Why Jinger Duggar Once Questioned Her Future With Jeremy Vuolo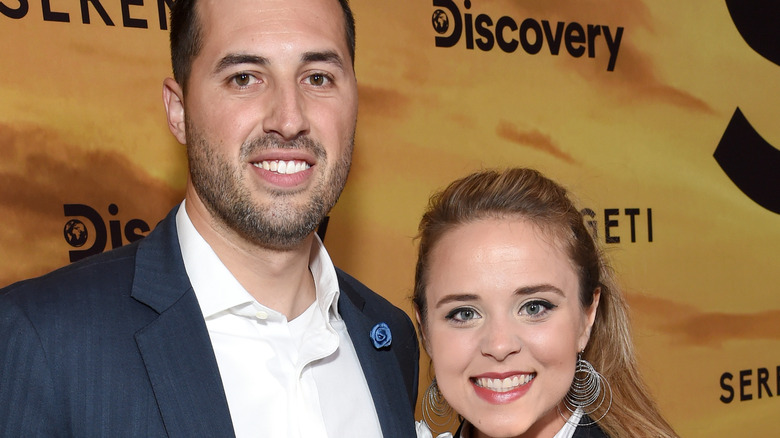 Michael Kovac/Getty Images
Jinger Duggar and Jeremy Vuolo may appear to be happily married on the TLC reality hit "Counting On." However, in a recent interview, "19 Kids and Counting" alumni, Duggar, revealed she once questioned if she had a future with now-husband Vuolo. Speaking exclusively to Us Weekly about the couple's new book "The Hope We Hold: Finding Peace in the Promises of God," Duggar explained, "There were some ups and downs in that time, and ... at one point I kind of froze, and I was like, 'Do I want to do this?'"
Per Hello!, Jinger added that it can be painful to discuss a time in which she doubted her relationship with Jeremy. However, she believes reflecting on her past in the pair's new book will help readers overcome their own relationship problems. "That was something for me that was really tough. I don't like to think about that day."
She continued, "I don't like to think about that time. But realizing that, OK, that's something that could help someone [with their own relationship issues] because it's something that everyone's going to have to walk through ... will we be able to come together as two completely different human beings from different backgrounds and make this work?" 
Jeremy Vuolo also had doubts about their relationship
The Daily Mail reports, Jinger wasn't the only one to have doubts about the relationship, as husband Jeremy Vuolo also revealed he'd previously questioned their future as a couple. Speaking in the recent interview, the former Major League Soccer player said, "What I can say is there was a couple of ups and downs, and there was a moment where it did seem like the relationship was a no-go at that point. I just remember thinking one thing is I can't give up. I don't have the faith to give up."
Prior to their engagement and subsequent marriage, Vuolo also revealed that his now-father-in-law, Jim Bob Duggar, had asked him to complete a 50-page questionnaire to prove his intentions. "It was intense, but I was actually pretty eager to fill it out and say, 'OK, look, this is a good opportunity for them to get to know me,'" Jeremy revealed to Us Weekly, adding, "It's tough for Mr. Duggar, man. He's got all these girls [and] all these guys hanging around. I think if I had all those girls I'd probably come up with a document too."
Per The Sun, Jinger Duggar and Jeremy Vuolo first met back in 2015 during a mission trip to Central America. A year later in 2016, the couple tied the knot and have since gone on to have two children together, two-year-old Felicity and newborn Evangeline Jo.