How Prince Philip Helped Prep Prince William To Become King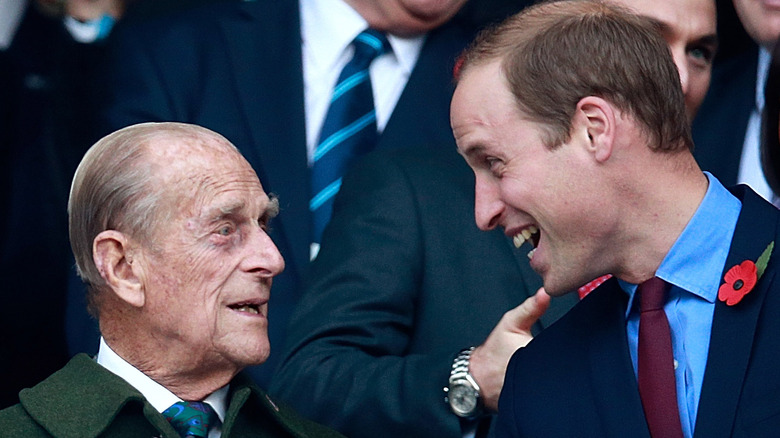 Phil Walter/Getty Images
Prince William is slowly starting to resume royal duties after the funeral of his grandfather, Prince Philip. Decked out in black, the Duke and Duchess of Cambridge visited the 282 (East Ham) Squadron, Air Training Corps on April 21, according to Hello!. William, per Tatler, is also expected to meet with his father, Prince Charles, and his grandmother, Queen Elizabeth in the coming weeks, to discuss the future of the British monarchy.
And if that seems like a heavy load to shoulder, it's one that William has literally been prepping for all of his life. UK media outlets, like My London, speculate that the Duke of Cambridge, who will ascend to the throne after his, father Charles, might be king by 2048. At that point, a 65-year-old Prince William would have spent the better half of his life thinking about becoming a monarch. And, according to what historian Robert Lacy told  People, it was his grandfather, Prince Philip, who was instrumental in laying the groundwork for his grandson to one day feel comfortable as the king.
Why Prince Philip used to invite William over for tea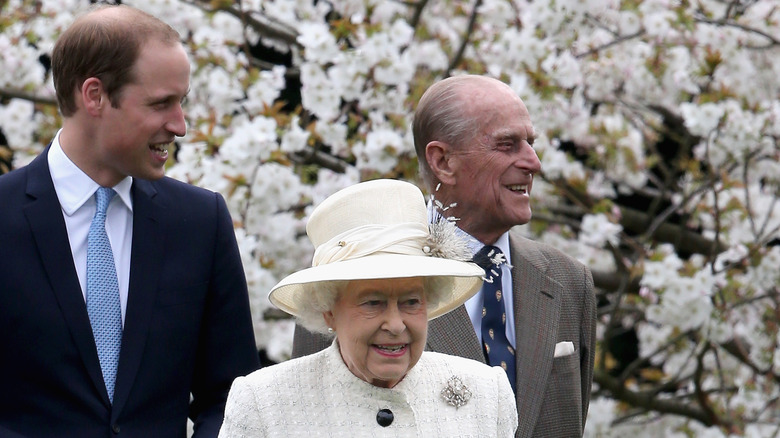 Chris Jackson/Getty Images
From his grandfather, Prince Philip (who passed on the hobby to his son, Charles) William probably inherited his talent for playing polo (via Express). The Duke of Edinburgh also passed down a number of his most valued royal patronages to his grandson, including the Fauna & Flora International and the British Trust for Ornithology (via People). Beyond that, Philip worked hard to ensure that William would know exactly how to perform his future, kingly duties. 
When William was much younger and, per Express, grappling with his lot in life, he used to hang out with his grandparents every Sunday. "It was Philip's idea to set up the lunches between William and his grandmother," historian Robert Lacey told People. "When the time came for the queen to talk business with William, Philip would quietly excuse himself because he didn't feel that the constitutional side of the Queen's job was something he wanted to interfere in." And so, slowly, and thanks to Prince Philip, Prince William got one-on-one time with Queen Elizabeth: one-on-one time that she used to teach everything she picked up from her own father. 
 "I feel lucky to have not just had his example to guide me, but his enduring presence well into my own adult life – both through good times and the hardest days," Prince William wrote in his tribute to the Duke of Edinburgh (via BBC).