The Tragic Truth Of Dr. Ruth's Past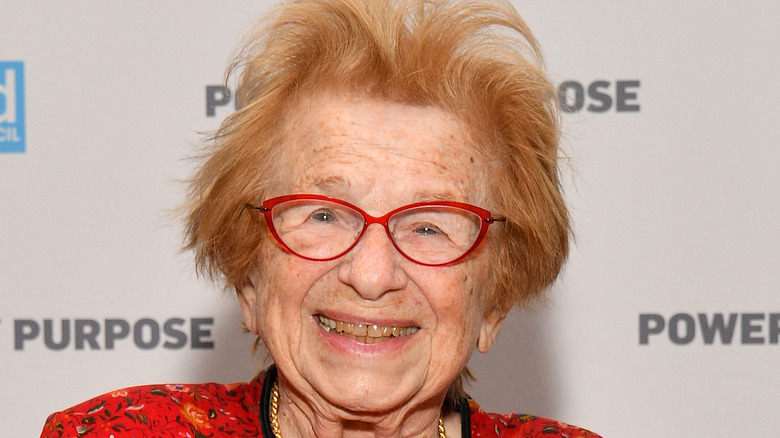 Dia Dipasupil/Getty Images
Don't let the height fool you. Although Dr. Ruth — whose full name is Ruth Westheimer — stands at just 4 feet, 7 inches, she's overcome enough in her 92 years of life to make her stand tall and mighty. Widely recognized as one of the top authorities on sex, she's spent decades offering advice on TV, over the radio, and in print (via Biography). Oh, and also on Twitter. In one tweet, in which she tagged a Vogue article entitled "Breathless: Am I Having Enough Sex?" she wrote: "This article is a good one to make you think about the subject. My take? Keep your mouth shut about your sex life and then you won't have all that pressure of having to live up to someone's else expectations." Not one to mince words, that Dr. Ruth. 
According to an NBC News profile on her, Dr. Ruth's breakout moment came in 1980 when she was asked to host a talk show that aired on Sunday nights at midnight called "Sexually Speaking." Since then, she's made a name for herself as a woman who has the answers to all the uncomfortable sexual questions we're afraid to ask. Long before she became known as "America's sex therapist," though, Dr. Ruth lived in war-torn Germany. Here are the harrowing details of her tragic past.
Dr. Ruth believes her family perished in the Auschwitz concentration camp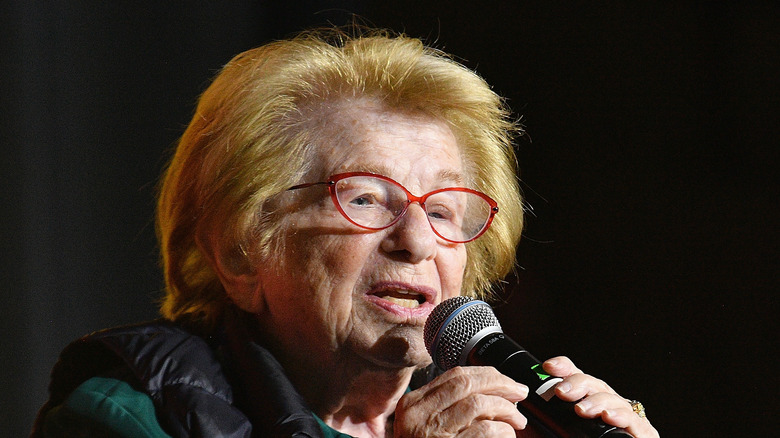 Dia Dipasupil/Getty Images
Dr. Ruth was born on June 4, 1928, in Frankfurt, Germany. As the only child of an Orthodox Jewish family, she often snuck into her father's library to sneak peeks at his many books, some of which discussed the taboo subject of sexuality (via Biography). But any semblance of a carefree childhood abruptly ceased when the Nazis came to power in 1933. On Kristallnacht, which translates to "The Night of Broken Glass," Nazis infiltrated her area. After the SS took her father and sent him to a labor camp, her family made the difficult decision to send, Ruth, who was just 10 years old at the time, away to Switzerland (via HistoryNet).
Young Ruth entered a Swiss school-turned-orphanage for Jewish refugees. When the war came to a close, the orphanage read out a list of survivors. Sadly, her family members weren't among them. She later found her parents' and grandparents' names in documents the Nazis kept to record the deceased and believes they may have perished at the infamous Auschwitz concentration camp. 
When Dr. Ruth looks back on the horrendous events of the Holocaust, she finds it in her heart to be grateful for her parents' sacrifices. "My parents gave me life twice — once when I was born, and once when I was forced to go to Switzerland," she told HistoryNet. 
Recounting that time to Newsweek, she said, "I was fortunate." Well, we're certainly fortunate to be her pupils, soaking in her sage wisdom in all its forms (even tweets).