Inside Dick Van Dyke's Relationship With Julie Andrews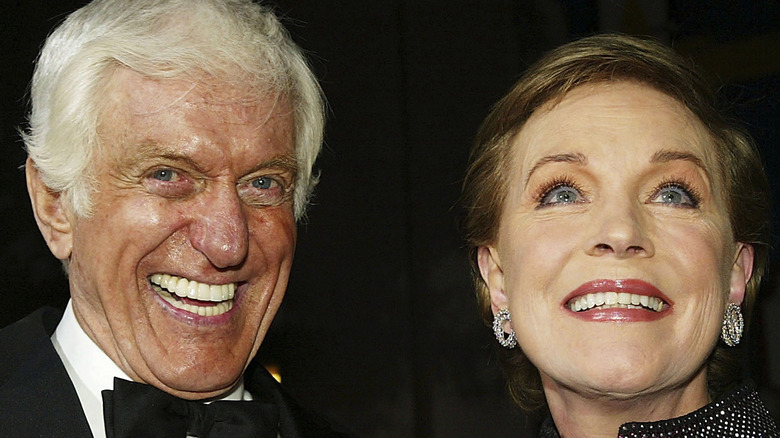 Kevin Winter/Getty Images
"Mary Poppins" wouldn't be the timeless Disney classic it is if it weren't for its leading stars. The chemistry between acting legend Dick Van Dyke and Academy Award winner Julie Andrews was pure Disney magic, and their friendship wasn't far off either. Despite only starring in one film together, the silver screen legends took to each other immediately, so much so that they were nearly cast together again in major film. So what was Van Dyke's relationship with Andrews like off-screen? 
According to Andrews, the two "hit it off from day one" as she told Vanity Fair. They met during dance rehearsals, and Van Dyke immediately had the "Sound of Music" actress in stitches. "He was dazzlingly inventive, always in a sunny mood, and he often made me roar with laughter at his antics," she said, especially when they were filming the "Jolly Holiday" scene. "I performed with Mary Poppins' demure, ladylike version of the step," Andrews explained. "But Dick flung his legs up so high that I burst out laughing. To this day, he can still execute that step." 
As for Van Dyke's impressions of his co-star, he was "scared" at her perfectly tuned singing voice, so much so that it was a "challenge" to record with her. "One thing that surpassed Julie's spot-on instincts ... was her voice," he said in his memoir (via the Daily Mail). "It scared me to death. It could have been used to tune a piano. She was pitch-perfect — and I never was." 
Julie Andrews turned down "Chitty Chitty Bang Bang"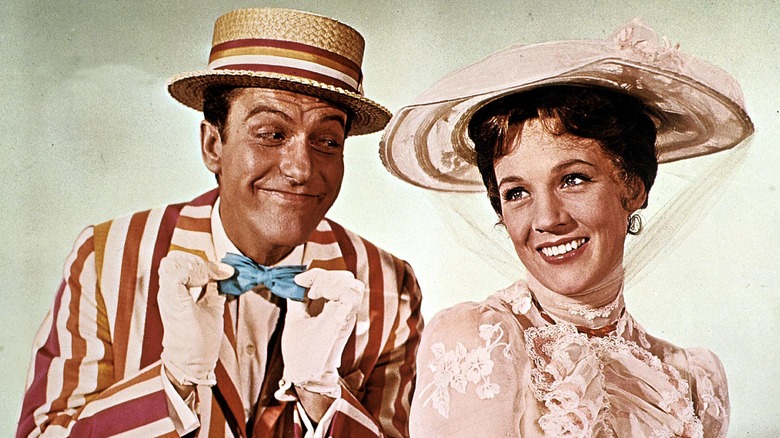 United Archives/Getty Images
Dick Van Dyke, unsurprisingly, only had nice things to say about Julie Andrews. He described his former co-star as having "a whimsical sense of humor," and that he never once saw her "get angry about anything or utter a single complaint" (via the Daily Mail). 
You'd think with a co-star relationship like theirs, Van Dyke and Andrews would have been in more than one film together. As it turns out, they very nearly were. In his memoir, Van Dyke revealed that Andrews was originally meant to act alongside him in "Chitty Chitty Bang Bang" — the role was taken by Sally Ann Howes. According to Van Dyke, the film's producer Albert 'Cubby' Broccoli "desperately" wanted to cast Andrews "after the success [they'd] enjoyed with 'Mary Poppins.'" 
"I can't speak for Julie's reasons, but both of us turned it down," he explained. "I thought the script had too many holes and unanswered questions. However, each time I said no, Cubby came back with more money." Once the money hit over seven-figures, well, Van Dyke was officially on board with only one stipulation — that he didn't have to do a British accent. "Not a problem. My character was suddenly an eccentric American inventor," he said. 
So while the world didn't get the ultimate reunion between Van Dyke and Andrews in "Chitty Chitty Bang Bang," at least there wasn't a reprise of that questionable British accent in "Mary Poppins."